Achiievers Trading Software Review 2023 - Features, Platform, and Demo
Achiievers Trading Software Review - Features and Demo
Kolkata based, Achiievers Equities Limited is the big brand of the stock broking industry. In 1999, it was started as a financial services provider with the brand name 'Loknath Enterprise' and later on, it was converted into 'Achiievers Equities Limited' as a discount broker of India. In this digital world, it is very necessary to provide unmatched services to create a unique name in the market. Achiievers offers unique brokerage plans which proved as a game changer and it created a new revolution in the share market industry. Such plans are flat Rs.15/trade plan, flat Rs.50/day plan, flat Rs.750/month plan and traditional plan. It provides demat and trading account services as it is a member of CDSL and registered with national exchanges BSE, NSE, MCX, ACE and USD.
NRIs can also trade in Indian stock market through this platform. Only they need NRI demat/trading account on Achiievers which is a very easy process. It provides free trading software to their clients which have a lot of modern features and accessible in both mobile and computer.
Achiievers Trading Software
Achiievers provide free and common trading software to NRIs and resident Indians. It provides 3 types of trading software to their clients which are as follows:
1. Achiievers Mobi (Mobile based)
2. Achiievers Web (Browser based website)
3. Achiievers Desk (Trading Terminal)
Achiievers Mobi
Achiievers Mobi is a lightweight and user-friendly mobile application to trade and invest in the market. This application allows you to trade and invest in BSE, NSE and MCX. It has a wide range of features.
• Allows you to make your own watchlist.
• You can trade from any place around the world.
• Available in Google play store and App store respectively for Android and IOS users.
• Hassle-free and user-friendly platform.
Achiievers Web
Achiievers web is a browser-based website, you need only id and password to login from your laptop or desktop and start the trading. It has many good features.
• Enables you to trade in BSE, NSE and MCX.
• Trending charts available.
• Access to historical data.
Achiievers Desk
Achiievers Desk is a desktop-based trading application which has a wide range of features. It is ultra-fast and customized application.
• In-built option strategies.
• Customized application.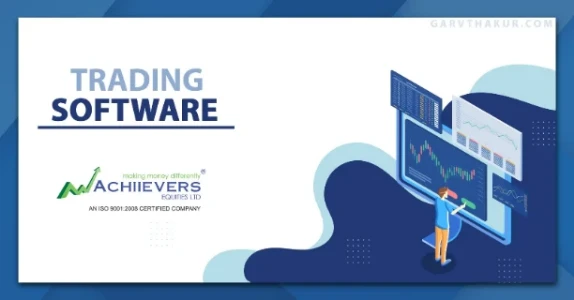 Comments for Achiievers Trading Software Review 2023 - Features, Platform, and Demo
Frequently Asked Questions
---