Achiievers Demat Account Opening 2023 | Charges, Plan, and Details
Achiievers Demat Account Opening Charges and Details
"Making Money Differently" is the tagline which tells us that Achiievers Equities Limited is fully dedicated to provide you every unique and best trading services in a very affordable price. It was established in 1999 with the name 'Loknath Enterprises' as a financial services provider and converted as 'Achiievers Equities Limited' on 15th October 2009. To be a full-service broker of India is the one of the main objectives of the Achiievers equities. Currently, it is a discount broker and it facilitates you to invest in equity, derivative, currency, commodity, mutual fund and IPO. Achiievers provides leverage on equity intraday, equity future, currency option and commodity future segments.
It offers free demat account opening on its platform. In 2018, company has started online KYC system which results that now you can open account in just 15 minutes. Achiievers follows the principle of integrity, responsibility, transparency, unity, honesty and excellence.
Achiievers Equities Limited Demat Account Opening Charges
Given below are the relevant charges on demat account:
| | |
| --- | --- |
| Account | Charges |
| Demat Account Opening Charges | Free |
| Demat Account AMC | Rs.400 |
Achiievers Equities Limited Demat Charges
Achiievers Equities Limited does not charges anything for demat account opening but there are various other charges as dematerialization charges, transaction charges, pledge charges etc.
| | | | |
| --- | --- | --- | --- |
| Transaction | Individual (Regular) | Individual (BSDA) | Non-Individual |
| Account Opening Charges | NIL | NIL | NIL |
| Annual Maintenance Charges (AMC) | Rs 400 p.a. | NIL | Rs 900 p.a. |
| Dematerialization Charges | Rs 3 per Certificate + courier charges of Rs 40 per Demat request for every 500 grams | Rs 10 per Certificate + courier charges of Rs 100 per Demat request for every 500 grams | Rs 3 per Certificate + courier charges of Rs 40 per Demat request for every 500 grams |
| Transaction Charges Market/Off market/Inter depository | Rs 12 + CDSL charges at actual | Rs 50 + CDSL charges at actual | Rs 12 + CDSL charges at actual |
| Pledge Charges (Creation/Closure) | 0.02% of the transaction charges subject to a minimum of Rs 50 + CDSL charges at actual | 0.05% of the transaction charges subject to a minimum of Rs 100 + CDSL charges at actual | 0.02% of the transaction charges subject to a minimum of Rs 50 + CDSL charges at actual |
| Pledge Charges for Invocation | 0.05% of the transaction charges minimum of Rs 50 | 0.10% of the transaction charges minimum of Rs 100 | 0.05% of the transaction charges minimum of Rs 50 |
| Re-materialization Charges | Rs 25 per certificate or 0.05% of the value whichever is higher + CDSL charges | Rs 100 per certificate or 0.10% of the value whichever is higher + CDSL charges | Rs 25 per certificate or 0.05% of the value whichever is higher + CDSL charges |
| Failed / Rejection Charges | Rs 50 per transaction | Rs 100 per transaction | Rs 50 per transaction |
| Demat Rejection charges | Rs 35 per rejection for every 500 grams | Rs 35 per rejection for every 500 grams | Rs 35 per rejection for every 500 grams |
| Statutory & processing charges at the time of account opening | NIL | Rs 100 | NIL |
Charges for the modification of client details – Rs.30
CDSL charges for non-individuals as AMC (Lifetime) – Rs.500
Charges for additional delivery instruction booklet containing 10 leaves – Rs.50
Open Achiievers Demat Account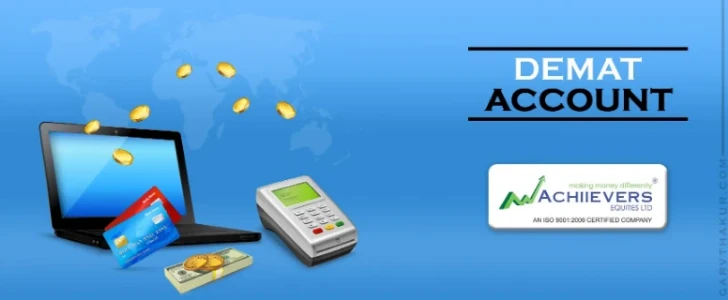 Comments for Achiievers Demat Account Opening 2023 | Charges, Plan, and Details
Frequently Asked Questions
---