Prostocks App Review 2023 | Demo, Guide, Charges, and Download
ProStocks Mobile App Review | Features, Demo, Download
ProStocks is a discounted stock broker of India and it is registered by SEBI (Stock exchange board of India). It has no. of services and products to choose.
ProStocks facilitates its customers by providing various advanced trading software. One of the unique selling features of ProStocks is that it sells its
trading software
for free. The stock broker offers trading terminals, mobile apps and various trading websites for free to all of its customers. This software are easy to use and are filled with the more advanced features that includes real time live streaming quotes, charts, multiple market watches and much more.
ProStocks Mobile Trading App
ProStocks Mobile App one of the most advanced, affordable and easy-to-use software is ProStocks Mobile Trading application. It is very easy and convenient for the users to handle. It helps the customers to trade on the go i.e., they can trade any time and from anywhere. The customers do not require a system or laptop to trade. They can trade easily from their smartphones as well.
ProStocks provides its trading platform i.e., ProStocks Mobile Application for free to all of its customers.
Benefits of ProStocks Mobile Trading Application
1. It has well organised brokerage structures for the beginners and the heavy traders. It provides various plans to suit the needs of the customers.
2. It facilitates its customers with the call and trade facility at a very low cost.
3. The account opening procedure is completely online and hassle-free.
4. There are a variety of free and paid platforms that are available for the customers.
5. It provides the highly developed in-house platforms that provide excellent trading experience and prompt error resolution.
Services offered by ProStocks Mobile App
ProStocks App focuses on fulfilling the needs of the customer. Thus, it has everything that a user needs to trade in the equity market on the mobile phones with just a few taps. It allows the customers to monitor the market positions in real time. Some of the major services that this application provides are listed below:
1. It allows the customers to trade online in Equity and Equity F&O at BSE, NSE.
2. It allows you to view the demat holdings.
3. It provides reports that include orders, trades, net position, margin, equity holdings and derivatives holdings.
4. It allows online fund transfer.
5. It provides the real time streaming stock quotes.
6. It avails you with multiple live market watch lists.
7. It shows the Intraday charts to track the market movements minute to minute.
ProStocks Supported Platforms
The mobile application provided by ProStocks can be accessed on Android and iPhone. The users can download the ProStocks Mobile Application from Android Play store for Android and apple store for iPhone users.
ProStocks Mobile Trading Application Demo
ProStocks Mobile Apps Pros and Cons
PROS
1.Advance Trading Platform
2. Multiple Brokerage Plan
3. Least Transaction Charges
4. Refer and Earn Facility
CONS
1. MCX Trading Not Available
3. Trading Facility with Limited Stocks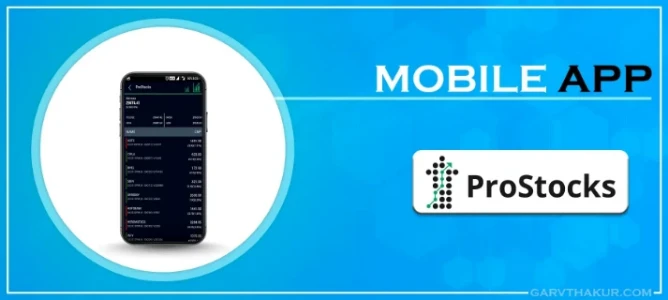 Comments for Prostocks App Review 2023 | Demo, Guide, Charges, and Download
Frequently Asked Questions
---