Prostocks Account Open Online - Process, Forms and Fees
ProStocks Account Opening, Charges and Procedure
ProStocks is the fastest growing discount stock broking firm that offers its trading services at BSE and NSE. The firm is known to be a brokerage account providers, registered by SEBI (Stock Exchange Board of India).
ProStocks account offers its trading services in Equity Delivery, Equity Intraday, Equity Derivatives (F&O) and Currency Derivatives (F&O) segments at BSE and NSE. The customisable trading platform offers convenient trading through the installable trading terminal, website and mobile application and all of it at free of cost to all the customers. ProStocks nri account provide trading services in Indian Stock market.
The Stockbroker provides a unique feature i.e. 2-in-1 account and ProStocks minor trading account facility to its customers that include trading and demat account also prostocks nri account opening and Prostocks minor account. ProStocks is a member of CSDL. It is one of the two public sector depositories in India that offers demat services for holding securities. ProStocks reviews provides its unique service of Zero AMC Demat and Trading Account Opening. There is no minimum balance to open an account or minimum balance account opening online requirement available.
ProStocks account opening charges:
| | |
| --- | --- |
| Trading account opening charge | Nil |
| Trading account AMC | Nil |
| ProStocks demat account charges | Nil |
| Demat account AMC | Nil |
Note - A refundable amount of Rs.1000 is applicable only on demat account opening. This amount will be refunded to you at the time of closing of your account.


Documents required to open ProStocks trading account
To open an ProStocks 3 in 1 account with ProStocks, a certain set of documents is required. The list of documents is listed below:
3. Passport size photograph.
4. Cancelled cheque with name printed on it.
If the user wants to open ProStocks demat account in the Equity derivatives or Currency derivatives, then the document list must include:
1. Copy of ITR acknowledgement.
2. Copy of annual accounts.
5. Net worth certificate if net worth is more than 2 lakhs.
6. Copy of demat account holding statement having holding value of more than Rs.2 lakh.
7. Bank account statement of last 6 months.
8. Self-declaration with applicable supporting documents.
9. Any other documents applicable for ownership of assets.
ProStocks offer ProStocks nri account review under ProStocks nri account review along with brokerage account pros and cons. So, for more information about ProStocks nri demat account you can visit to the ProStocks account review website. You can also open a 2-in-1 account i.e. Trading + Demat account free of cost.
ProStocks online account opening
Here we have mentioned some steps for account review process.
At ProStocks, there are two ways by which you can open your account at zero cost.
1. Online Account Opening
Follow the below steps to open an account online:
a) Visit official website of "ProStocks".
b) Click on "Open account".
c) Register yourself by entering required details.
d) Click on "Generate an OTP".
e) Enter the OTP that you will receive on your Aadhar registered mobile number.
f) Upload the scanned copies of all the required documents and submit it.
Your account will get activated in some time.
2. Offline Account Opening
Follow the below steps to open an account offline:
a) Visit the official website of "ProStocks".
b) Click on "Open account".
c) Download account opening form of your requirement and take its printout.
d) Fill the form properly.
e) Attach the hard copies of all the required documents.
f) Send a completely filled application form and documents to the ProStocks address.
You can also open ProStocks minor account and ProStocks huf account with the broker. By opening ProStocks non pis nro account NRI's can start trading with India's lowest cost online stock broker.


Benefits of opening an account with ProStocks:
1. ProStocks trading account charges zero brokerage on the equity delivery trades.
2. ProStocks account online charges just ₹15 per trade as the brokerage charge.
3. With ProStocks web login customers can do free trading software.
4. ProStocks back office login provides the most advanced mobile trading application.
5. It provides the advanced charts to its customers free of cost.
6. There are no hidden charges for ProStocks demat account review account opening.
7. ProStocks back-office login provides excellent customer support to all its needs.
8. Through ProStocks trading login you can avail lowest exchange transaction charge.
9. Minor demat account ProStocks opening available.
To download ProStocks account opening form and to know about ProStocks account closure procedure or ProStocks account closure form visit the ProStocks official website.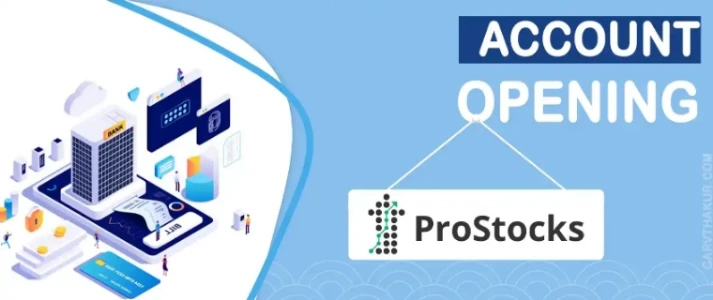 Comments for Prostocks Account Open Online - Process, Forms and Fees
Frequently Asked Questions
---