Just Trade NRI Account Opening 2023 | Charges, Services, Review
Just Trade NRI Account Opening, Charges, Services Review
Just Trade is the prominent brand in the field of stock market, started its operation in 2008 as a full-service broker of India. Just Trade is a brand or part of Bajaj Capital Limited and offers online services to every trader and investor. Bajaj Capital is the market leader well-known for its attractive investment plans and financial services. Just Trade is the one stop solution of all your investment and trading needs. As a SEBI registered broker, Just Trade provide the facility to trade/invest in BSE, NSE, MCX and NCDEX through this platform. Just Trade is the depositary participant of NSDL and does not take any charges to open a demat account on this platform.
Bajaj Capital is advancing their services day by day, now it has their presence in 100+ cities, 250+ franchisees with active client base of 25000+ clients. Bajaj Capital is well-known for its world-class services and it offers financial services to NRIs through its subsidiary Just Trade Securities Limited.
Just Trade NRI Account:
Bajaj Capital Limited offers trading and investment services to NRIs through its stockbroking brand Just Trade (Justtrade.in). It provides a wide range of services to NRIs including Real Estate, Equity, Mutual Fund, Portfolio Investment Scheme (PIS), NRI Taxation, Insurance, NRI Banking Services and NRI Remittance Repatriation Services. Bajaj Capital also provide advisory services, call n trade services to NRIs. Just Trade does not offer mobile application to resident Indians and NRIs to invest in share market.
To open an NRI demat and trading account on Just Trade, you should have following certificate and accounts:
1. PAN Card
As per the government policies, PAN Card is the mandatory document required to open an NRI demat and trading account. As PAN number is same for resident Indians and NRIs, so if you have PAN Card then there is no need to apply for a new PAN card and If you don't have PAN card by filling up 49AA Form online through the website of UTIITSL and NSDL, you can get it.
2. NRI Bank Account
Bajaj Capital (Just Trade) only offer 2-in-1 account services i.e. Demat and Trading account but it does not offer banking services to the clients. You need to open a NRI Savings Bank Account with any designated Indian Bank such as Axis, ICICI, HDFC, HSBC etc. It is necessary to have NRE and NRO account to link with Just Trade NRI Demat and Trading Account.
3. Custodial Account
All the trades made under the equity derivative segment from Just Trade platform is cleared and monitored by Bajaj Financial Sec Ltd. NRIs needs to open a custodial demat and trading account to obtain a CP code provided by clearing member which is required to open demat and trading account on Just Trade.
4. PIS Permission Certificate
An NRI should have PIS permission certificate to start trading in Indian share market. Your NRI Savings Bank will assist you in obtaining PIS permission from SEBI.
Just Trade NRI Account Charges:
| | |
| --- | --- |
| Transaction | Charges |
| NRI Account Opening | |
| NRI Account AMC | |
| Equity Delivery Brokerage | 0.75% |
| Equity Future Brokerage | ₹100 per lot |
| Equity Option Brokerage | ₹100 per lot |
Documents required to open an NRI account on Just Trade:
Following documents an NRI should have to attach with the application form. Application form will be send by company's representative in your registered email id.
1. Copy of Passport / PIO card / OCI card.
2. Copy of address proof (Indian or Origin) (Electricity bill / Telephone bill / Utility bills).
3. Copy of Visa or work permit.
4. PIS Permission letter of SEBI.
5. Bank Account proof (NRE/NRO savings bank account).
6. IPV by Indian embassy or any authorised company's officials.
Just Trade NRI Account Opening Process:
If you NRI Savings Bank Account, Custodial Account and PIS permission letter then you can open NRI Account on Bajaj Capital (Just Trade) by following given below steps:
• Visit official website of Just Trade (Justtrade.in).
• Enter your name, phone number, email id details in contact form.
• After receiving details, company's representative will call you and send you PDF form.
• Completely fill all the details and attach all the self-attested copies of the required documents.
• Send documents along with application form to the local office or the broker.
• After getting your documents and application form, Just Trade will arrange In-Person verification (IPV) with a representative of the company.
• If IPV is not possible because of any reason, then verification will be done with Indian Embassy/Consulate General/Judge/Notary Public/Magistrate of the residing country/Local Banker/Any Court of Law.
Just Trade NRI Mutual Fund:
Bajaj Capital provide the facility for NRI investors to invest in Mutual Fund through website onlinemf.bajajcapital.com, an NRI can choose any scheme from the given plan. Mutual funds are not offered through Justtrade.in. Some key points are as follows.
• By using SB/NRE/NRO accounts, an NRI can invest in mutual fund.
• PAN card is mandatory document required to invest in mutual fund.
• Bajaj Capital does not charge any brokerage while you invest in mutual fund.
• PIS permission does not required.
• NRIs are permitted to invest in mutual fund through a joint account.
• NRIs can monitor the mutual funds online.
• Invest through website

onlinemf.bajajcapital.com

.
Just Trade NRI Customer Care:
You can contact customer care via mobile number and email id.
Phone no.- 1800-3000-9000, 1800-110-900
Email id-

nri@bajajcapital.com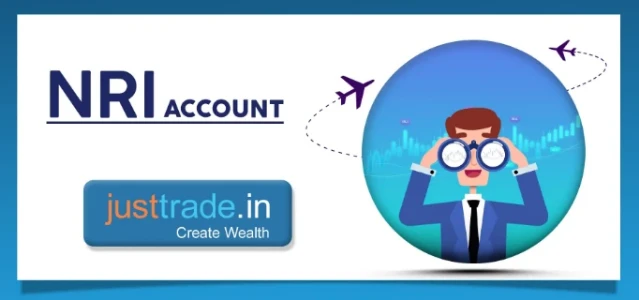 Comments for Just Trade NRI Account Opening 2023 | Charges, Services, Review
Frequently Asked Questions
---