Just Trade IPO Review 2023 | Charges, Easy Steps to Apply Online
Just Trade IPO Review - Charges, Easy Steps to Apply Online
For a better future, we must choose right platform for financial planning and investment services. Bajaj Capital Limited is one of the popular and market leaders who provides a wide range of plans and schemes as well as it facilitates you to invest in share market in almost every segment. Just Trade is the stockbroking brand or arm of Bajaj Capital Limited. It was founded by Mr. K K Bajaj in 1964 with a vision to enhance your income and now it has 200+ offices in 100+ cities. It believes that an expert advice can transform your life and Bajaj Capital is transforming lives for more than 50+ years by offering attractive investment plans and schemes. In 2008, Bajaj Capital Limited started a stockbroking brand named as 'Just Trade' which is now a leading broker in the Indian stock market industry. As a full-service broker, it provides the facility to invest in equities, currency, commodity, mutual funds and IPOs with a single login id and password. Just Trade provides the facility to invest in national exchanges BSE, NSE, MCX and NCDEX. As a SEBI registered broker and a member of depositary organisation NSDL, it offers 2-in-1 account i.e. demat and trading account to resident and non-resident Indian (NRI).
Just Trade provides free advisory services to their clients which proved as a game changer for the company and now Bajaj Capital has 13000+ NRI clients in their client base. Just Trade is dedicated to educate and aware beginners and experienced investors so that they can enhance their trading experience and income too.
Initial Public Offering (IPO) & its Types:
Initial Public Offering (IPO) is the efficient method by which any company or organisation can raise funds from the public to fulfil corporate purposes by selling securities or stocks in the primary market. It is the process through which a private limited company get converted into a public limited company and an unlisted company get listed in the market. When shares are traded freely in the share market known as Free Float, then we cannot predict the exact price of the share. It is also an opportunity for the common people to own a part or unit of their favourite companies in the form of shares.
Two types of IPO which are as follows-
1. Fixed Price Offering: Under fixed price offering, price of the per equity share is already known to investors.
2. Book Building Offering: Under book building offering, company offers 20% price band on the stocks to the investors.
Categories of Investors participate in the IPO bidding:
Any company can issue an IPO after SEBI clearance to fulfil the corporate objective. There are three major types of investors:
1. Retail Individual Investors (RII) – 35%reservation
2. Non-Institutional Investors (NII) – 15% reservation
3. Qualified Institutional Buyers (QIB) – 50% reservation
How to invest in IPO through Just Trade:
Every information related to IPO such as Forthcoming Issues, Open Issues, Closed Issues, New Listings, Basis of Allotment, Draft Prospectus, New Issue Monitor, IPO Analysis, IPO News, Best Performers etc. is available on the website justtrade.in. You should have demat and trading account before investing in any IPO. Just Trade offers 2-in-1 account i.e. demat and trading account to every customer but it does not offer banking services so you should have a bank account.
You can apply for an IPO by filling an application form with your bank account number mention on it, your investment amount gets blocked in your account and after allotment of shares that amount will get debited from your account. Alloted shares are then credited to your demat account. If you want to sell IPO shares for the listing gain, then by using your trading account, you can place sell request.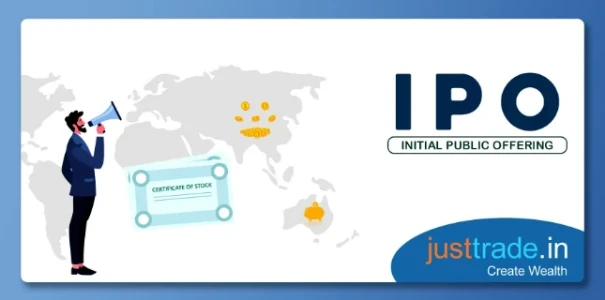 Comments for Just Trade IPO Review 2023 | Charges, Easy Steps to Apply Online
Frequently Asked Questions
---