Just Trade Review 2023 | Brokerage Charges, Account Opening, Details
Just Trade Review | Brokerage Charges, Account Opening
Just Trade is the brand of the most trusted and one of the largest financial service provider of India 'Bajaj Capital Limited'. Bajaj Capital Limited started its operation in 1965 and it was the first company who innovated the financial instrument 'Fixed Deposit' and later on included all UTI schemes and government saving schemes in addition to company fixed deposit. In 2008, Bajaj Capital Limited launched an online platform for investing in stock market named as 'Just Trade' which is now a popular stockbroking platform of India. Just Trade offers to invest in equities, mutual funds and IPOs and you can invest or trade in all the segment with single login id which is a very modern and unique service offered by Just Trade. It provides the facility to invest in BSE, NSE, MCX and NCDEX.
Just Trade is a SEBI registered broker and as a depositary participant of NSDL, Just Trade offers depositary services to all resident and non-resident Indians. It offers financial planning and advisory services to all its clients. Just Trade has an aim to engage and educate the investors so that they can increase their income drastically.
Just Trade Account Types:
Just Trade.in offers 4 types of online equity trading plans to their investors which are equipped with many modern features.
1. Just Activ Basic Plus
Just Activ Basic Plus Plan enables active investors to online trade or invest in equities, future, options, mutual funds and IPOs with little paper work. This plan offers two options for share trading; First one is pull technology in which one can select a stock while checking the quotes and second one is browser based streaming quotes engine which acts like a dealer terminal.
2. Just Activ Gold
Under Just Activ Gold Plan, you will get investment advice with zero transaction charges except the statuary fees and taxes which are payable to SEBI and government authorities.
3. Just Activ Premier
Just Activ Premier Plan provides the facility to execute trades with zero brokerage charges for a nominal fee except statuary and government charges.
4. Just Lite
Just Lite is a very easy and simple user interface plan provides the facility to online trade or invest in equity intraday, derivative, futures, options, mutual funds and IPOs with only little paperwork. This plan follows the push pull technology in which while checking the quotes, you can place order and you will get fresh quotes after clicking refresh button.
Just Trade Account Opening Charges:
| | |
| --- | --- |
| Account | Charges |
| Trading Account Opening Charges | ₹ 599 |
| Trading Account AMC | ₹ 599 |
| Demat Account Opening Charges | ₹ 0 |
| Demat AMC | ₹ 250 |
Just Trade Trade Charges:
Just Trade offers free account opening as well as various different plans which are equipped with modern services.
• Account Opening Fee – Nil
• Subscription Fee – ₹ 699 per month or ₹ 6999 annually
• First Year AMC – Free
• Brokerage on cash market (NSE) – Nil (unlimited free)
• Brokerage on F&O segment – 0.01%
Just Trade Advantages and Disadvantages:
• Free advisory services.
• Lowest brokerage as compared to other full-service broker.
• Free call & trade facility
• Multiple order entry facility
• Online and digital platform with very less paperwork.
• Arm of Bajaj Capital Limited which is a giant of financial service provider.
• Just Plan – Online financial tool integrated with online mutual funds.
• NRI can invest in share market though Just Trade.in
• Zero charges on demat account opening.
• Mobile-based trading software is not available.
• Does not offer 3-in-1 account facility.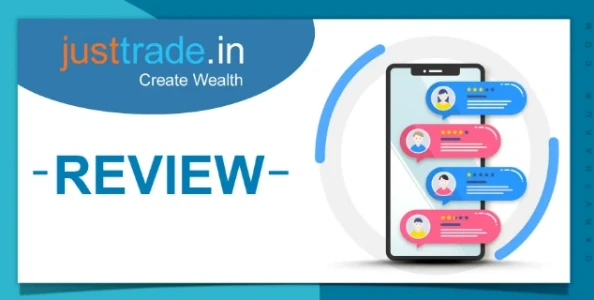 Comments for Just Trade Review 2023 | Brokerage Charges, Account Opening, Details
Frequently Asked Questions
---