Just Trade Demat Account 2023 | Opening, Charges, Features and Details
Just Trade Demat Account Opening Charges and Details
When we think about financial planning and investment platform, one famous name comes in our mind i.e. 'Bajaj Capital Limited'. It is a leading financial service provider of India. Bajaj Capital Limited was founded by Mr. K K Bajaj in 1964 with a motive to increase your income with right investment decisions and now it has 230 offices in 100 cities. It believes that an expert advice from Bajaj Capital can transform your life. After innovating several unique plans and schemes, in 2008, Bajaj Capital Limited inaugurated a stockbroking brand named as 'Just Trade' which is now a prominent name in the stock market industry. Just Trade is a full-service broker and it provides the facility to invest in equities, currency, commodity, mutual funds and IPOs with a single login id. Just Trade facilitate you to invest in national exchanges BSE, NSE, MCX and NCDEX. It is a SEBI registered broker and a member of depositary organisation NSDL. Any resident and non-resident Indian (NRI) can open 2-in-1 account i.e. demat and t
rading account on Just Trade.
Just Trade provides free advisory services which proved as a game changer for the company. Just Trade aims to educate and aware investors so that they can increase their trading experience and income too.
Demat Account and its Types:
Dematerialised Account in short Demat Account is an account similar to bank account i.e. bank account is used to hold your money and demat account is used to hold shares and securities in electronic form. The purpose of opening a demat account is hold shares which are converted from physical to electronic. Demat account is necessary if you want to invest in share market in various different segments such as in equities, derivative, futures, options, currency and commodity. In India, CDSL and NSDL acts as a depositary organisation.
Generally, there are 3 types of demat account offered by depositary participant:
1. Regular Demat Account: For the investors residing in India.
2. Repatriable Demat Account: For NRIs through which funds can transfer abroad.
3. Non-Repatriable Demat Account: Also, for NRIs through which you can't transfer funds abroad.
Just Trade Demat Account Charges:
Just Trade does not levy any charges to open a demat account.
| | |
| --- | --- |
| Account | Charges |
| Demat Account Opening Charges | ₹ 0 |
| Demat AMC | ₹ 250 |
Just Trade DP Debit Transaction Charges:
• In case of delivery, Justtrade.in charges Rs 20 per scrip from demat account.
• In other cases, Justtrade.in charges Rs 25 or 0.02% per instruction, whichever is higher.
Just Trade Depositary Charges:
Except brokerage, there are various demat account transaction charges which are as follows.
| | |
| --- | --- |
| Transaction | Charges |
| Account Opening Charges (Demat) | Nil |
| Account Maintenance Charges | ₹ 250 per annum |
| Demat Charges | ₹ 2 per certificate |
| Remat Charges | ₹ 20 per certificate or ₹ 20 for every hundred securities whichever is higher |
| Transaction Charges (Debit) | Flat ₹ 20 in case delivery given to BCISL. In other cases, ₹ 25 or 0.02% of the value of securities whichever is higher |
| Transaction Charges (Credit) | Nil |
| Pledge Creation | ₹ 50 per request or 0.02% of the value of securities whichever is higher |
| Pledge Creation Confirmation | ₹ 50 per request or 0.02% of the value of securities whichever is higher |
| Pledge Closure | ₹ 50 per request or 0.02% of the value of securities whichever is higher |
| Pledge Closure Confirmation | ₹ 50 per request or 0.02% of the value of securities whichever is higher |
| Pledge Invocation | ₹ 50 per request or 0.02% of the value of securities whichever is higher |
| Failed Instruction Charges | ₹ 10 |
| Demat Rejection Charges | ₹ 30 per request |
| DIS Booklet | ₹ 20 per booklet |
Open Just Trade Demat Account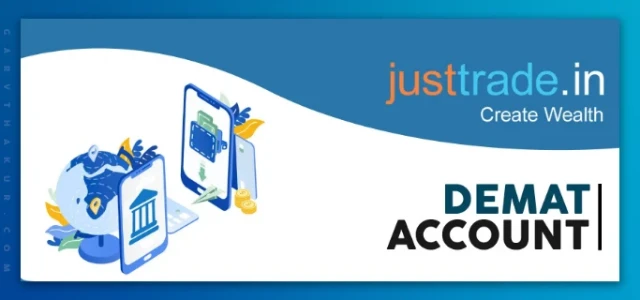 Comments for Just Trade Demat Account 2023 | Opening, Charges, Features and Details
Frequently Asked Questions
---