Just Trade Online Account Open 2023 | Process, Forms, Details and Fees
Just Trade Online Account Open Process, Forms and Fees
In 1964, Mr. K K Bajaj transformed his vision into reality and founded a Financial Service Provider company known as 'Bajaj Capital Limited'. This company is well-known as India's largest financial service provider and adviser. Bajaj Capital is a leading investment planner and financial service provider of India. Mr. K K Bajaj started this company with a vision to increase the level of education and awareness about the different investment schemes and innovated the 'Fixed Deposit' for the first time across India. It has now 230 offices in 100 cities and continuously enhancing their products and services. In 2008, Bajaj Capital Limited founded a stockbroking arm named as 'Just Trade' which is now a big and popular name in the stock market industry. It is a full-service broker and with a single login id, you can invest in equities, currency, commodity, mutual funds and IPOs with a single login id. On Just Trade platform, you can invest in national exchanges BSE, NSE, MCX and NCDEX. Just Trade is a proud member of depositary organisation NSDL, any resident and non-resident Indian (NRI) can open 2-in-1 account i.e. demat and trading account on Just Trade.
Just Trade offers free advisory services because it believes that with an expert advice, any investor can multiply their money which proved as a game changer for the company.
Just Trade Account Opening Charges:
Just Trade does not charge any fees to open a demat account.
| | |
| --- | --- |
| Account | Charges |
| Trading Account Opening Charges | ₹ 599 |
| Trading Account AMC | ₹ 599 |
| Demat Account Opening Charges | Free |
| Demat AMC | ₹ 250 |
Just Trade Account Opening:
Just Trade offers 2-in-1 account to Resident Indians and NRIs. It provides online and offline account opening facility. You can open an account by visiting nearby branch or you can call customer care executive or you can email to the Just Trade. Kindly follow the below methods to open an account:
1. Visit Nearby Branch
Bajaj Capital has 200+ branches across India. You can visit any nearby branch to open demat and trading account on Just Trade.
2. Call Just Trade
To open an account, you can call on below given toll free number, Just Trade's representative will assist you in the account opening process.
• 1800-110-900 (For MTNL & BSNL operators)
• 1800-3000-9000 (For all other operators)
3. Contact Just Trade via Email
Open Just Trade official website justtrade.in, submit all the details or you can send an email to the broker at

info@justtrade.in

, the company will assign a representative to assist you to open an account.
Documents required to Open Just Trade Account:
• Completely fill the account opening application form available on the website.
• Copy of address proof – Passport / Ration Card / Driving License / Voter ID / Bank Statement / Passbook / Utility Bills ( Electricity bill / Mobile bill ) / Notarized Copy of Rent agreement.
• Passport size photograph
• Bank Proof – Copy of bank passbook / statement (not older than 3 months) / cancelled cheque.
• If you have depositary account with brokers then submit the details of demat account.
• Income proof to trade in derivative segment.
All the documents should be self-attested by the applicant with clear passport size photograph.
Just Trade Account Closure Form:
Visit Justtrade.in and download the PDF copy of account closure form available in the 'Download' section of the website. Before this, you need to transfer your holdings or you need to sell the holdings.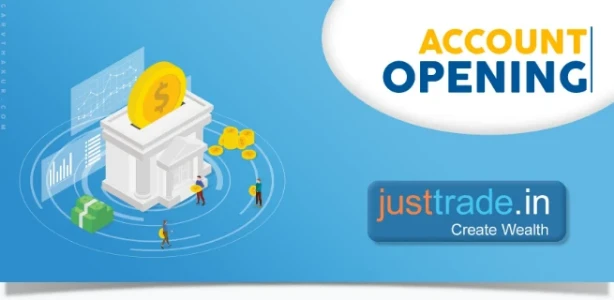 Comments for Just Trade Online Account Open 2023 | Process, Forms, Details and Fees
Frequently Asked Questions
---