Arihant Capital Consumer Complaints| Details, complaints monitor
Arihant Capital Consumer Complaints
Arihant Capital is a well-known discount broker of India, Arihant capital owner started its operation in 1992 and facilitate you to invest in BSE, NSE, MCX and NCDEX. Arihant Capital is a SEBI registered broker and a depositary participant of CDSL and NSDL. Arihant capital markets ltd company profile offers to invest/trade in equity, derivative, futures, options, Arihant capital IPO, currency, commodity and mutual funds. This is a very transparent platform without any hidden charges. Arihant capital review offers 2-in-1 account opening facility on its platform i.e. demat and trading account. Arihant capital LinkedIn is a very popular broker because of its low brokerage rates and high leverage to trade in various different segments. Arihant Capital has a motive to provide you world-class facilities so that you can increase your assets.
As such Arihant capital customer complaints review are serious grievances against Arihant Capital which the broker has failed to resolve. This Arihant capital complaints registered data is provided by BSE and NSE and it shows overall health of Arihant Capital.
Arihant capital complaints review
Arihant limited is a very modern and technology-driven platform which is equipped with new features and a wide range of attractive facilities. There are many trading software and tools available on this platform such as ODIN Diet, Aero and Arihant. In a very short span of time, Arihant Capital becomes a market leader of a capital brokerage industry.
Investment is very necessary to increase your assets. Trading is one of the best ways through which any trader or investor can invest in public listed companies of the share market. Different types of traders or investors have their own strategy and follows various types of technical indicators to understand the market trend. While trading through any broker, various kind of problems can come from the broker's side related to fund transfer, trading software, order execution, demat & trading account, leverage, account opening, NRI account, brokerage etc. Customers/clients used to register those Arihant capital broker complaints at national exchanges BSE and NSE.
These complaint report also provides the total no of active customers of Arihant Capital as well as it shows the growth of the broker year on year.
Arihant capital customer complaints
| | | | |
| --- | --- | --- | --- |
| Exchange | Financial Year | Total Complaints | Active Clients |
| BSE | 2023-23 | 1 | 8,974 |
| NSE | 2023-23 | 5 | 42,410 |
| BSE | 2023-22 | 1 | 15,393 |
| NSE | 2023-22 | 3 | 42,305 |
| NSE | 2023-21 | 8 | 36,489 |
| BSE | 2019-20 | 2 | 15,667 |
| NSE | 2019-20 | 5 | 31,799 |
| NSE | 2018-19 | 10 | 31,658 |
| NSE | 2017-18 | 6 | 32,370 |
| NSE | 2016-17 | 1 | 22,777 |
| BSE | 2015-16 | 1 | 14,944 |
| NSE | 2015-16 | 4 | 18,015 |
| BSE | 2014-15 | 1 | 99,226 |
| NSE | 2014-15 | 9 | 17,235 |
| BSE | 2013-14 | 4 | 96,003 |
| NSE | 2013-14 | 7 | 14,684 |
| BSE | 2012-13 | 2 | 93,057 |
| NSE | 2012-13 | 7 | 89,392 |
| BSE | 2011-12 | 10 | 87,990 |
| NSE | 2011-12 | 15 | 85,598 |
ARIHANT CAPITAL MARKETS LTD complaint at NSE
| | | | |
| --- | --- | --- | --- |
| | 2023-23 | 2023-22 | 2023-21 |
| Active Clients | 42410 | 42305 | 36489 |
| Complaints | 5 | 3 | 8 |
| Resolved through the exchange | 5 | 2 | 8 |
| Non actionable | 0 | 1 | 0 |
| Advised / Opted for arbitration | 0 | 0 | 0 |
| Pending for redressal with exchange | 0 | 0 | 0 |
| No. of arbitration filed by clients | | | |
| Decided by arbitrators in favour of the clients | | | |
| Decided by the arbitrators | | | |
| Pending for redressal with arbitrators | | | |
ARIHANT CAPITAL MARKETS LTD complaint at BSE
| | | | |
| --- | --- | --- | --- |
| | 2023-23 | 2023-22 | 2019-20 |
| Active Clients | 8974 | 15393 | 15667 |
| Complaints | 1 | 1 | 2 |
| Resolved through the exchange | 1 | 1 | 2 |
| Non actionable | 0 | 0 | 1 |
| Advised / Opted for arbitration | 0 | 0 | 0 |
| Pending for redressal with exchange | 0 | 0 | 0 |
| No. of arbitration filed by clients | 0 | 0 | 0 |
| Decided by arbitrators in favour of the clients | 0 | 0 | 0 |
| Decided by the arbitrators | 0 | 0 | 0 |
| Pending for redressal with arbitrators | 0 | 0 | 0 |
Arihant capital customer care number
For any issue related to broker contact to Arihant customer care at below mention details:
1. Arihant capital contact number: 0731-4217079
2. Arihant capital address: Arihant Capital Markets Ltd
1011, Solitaire Corporate Park,
Andheri Ghatkopar Link Road,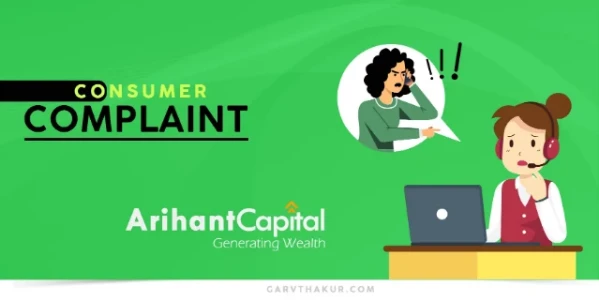 Comments for Arihant Capital Consumer Complaints| Details, complaints monitor
Frequently Asked Questions
---