Tradejini Mobile App | Review, Demo, Features, and Platform
Tradejini Mobile App Review - Features, Demo, Download
Tradejini is the Bengaluru-based online discount broker founded Mr. Kishore Kumar J and Mr. Dinesh Kumar who are the legends of stockbroking industry having combined experience of 60 years. Tradejini mobile app trading is dedicated to provide you world-class services in a very affordable brokerage charges of @flat Rs.20 per executed order. It is a SEBI registered broker and provides the facility to invest in BSE, NSE, MCX and MCX-SX. You can invest/trade in equity, derivative, currency, commodity and mutual fund on this platform. It does not allow online tradejini mobile app IPO application on its platform but you can invest in IPO through your bank account and shares allotted to you will get credited to your Tradejini demat account.
Tradejini Mobile App
For intraday trades, Tradejini charges brokerage of Rs.20 per executed order or 0.05% of turnover whichever is lower. Tradejini is a digital platform offers demat and trading account on its platform. It is the depositary participant of CDSL. Tradejini mobile app for trading aims to provide you every technically advanced service in low charges so that you can increase your financial earning. Tradejini offers many free trading software and tools on its platform such as Omnesys Nest, NSE Now, Now Mobile App, Flash, brokerage calculator, margin calculator, options calculator and referral calculator.
Tradejini Mobile Trading App Reviews
Tradejini offers desktop-based, mobile-based and browser-based trading software to their clients. There are two types of trading software available who are easily accessible in your smartphone.
1. Tradejini- Now Mobile (Mobile-based Trading App).
2. Now Trading (Browser-based Trading Website).
1. Tradejini Now Mobile (Mobile-based Trading App)
Tradejini offers NSE Now software to all their clients. This is a smartphone-based tradingview mobile app trading through which you can trade from any place and access the charts, technical analysis tools, you can create your own watchlist and much more. Tradejini mobile app download for android and IOS users respectively on Google play store and App store.
Key Features of mobile trading platform are as follows:
• Trading mobile apps provide real-time market data
• A trading app Enables you to place After Market Order (AMO).
• Trade across multiple segments; equity, derivative, currency, commodity, mutual fund and F&O.
• A trading app enables you to access the charts and quotes even at slow internet speed.
• Ultra-fast mobile app trading.
• Hassle-free and user-friendly mobile application.
• Phone trading apps allow to trade from any place.
• Tradingview mobile app trading allows you to track the portfolio and holdings with ease.
• You can easily download Tradejini Now app from Google play store and App store available respectively for Android and iPhone users.
• Works as best mobile trading app for beginners
• Tradejini mobile app demo available.
2. Tradejini Now Web (Browser-based Trading App)
Now Web is a browser-based trading platform offered by Tradejini to all their clients via NSE Now Express site. You can access this website by using any browser such as Google Chrome, Mozilla Firefox etc. To enhance the trading experience it has inbuilt customizable market watchlist, real-time charts, technical analysis tools and much more.
Some of the important Tradejini Now Web Trading platform is as follows:
• Real-time charts and quotes.
• Options trading mobile app provide alerts and notification via SMS and email.
• Customizable multiple watchlist.
• Order placement, full streaming even at slow internet speed.
• Enables you to trade in all segments except IPO and across almost all national exchanges such as NSE, BSE and MCX.
• User-friendly and clean user interface.
• No need to download and install.
• Best mobile stock trading app for beginners tradejini mobile app
• Trading on mobile phone is comfortable and easily accessible.
Steps to access Tradejini Now Web Terminal
It is a very simple process, you can access Tradejini Now Web Terminal in your desktop/laptop/mobile by following below steps:
• Open official website of Tradejini.
• Under technology tab given in the main menu bar, scroll down and click on 'Read More' under 'web based' heading.
• Use mobile trading setup which includes your login credential such as member id, user id and click on validate to access this platform.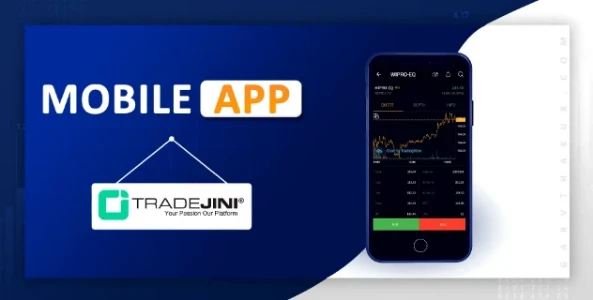 Comments for Tradejini Mobile App | Review, Demo, Features, and Platform
Frequently Asked Questions
---