SAMCO Review 2022 | Brokerage Charges, Margin, Demat and Details
Samco Review | Brokerage Charges, Account Opening
Incorporated in 2015, Samco is a Mumbai based stockbroker of India that took over Samruddhi Stock Brokers Limited and renamed it to Samco Securities Limited. Founded by Mr. Jimeet Modi, Samco is one of the fastest growing stock brokers of India. samco securities is a SEBI registered company and a proud member of BSE, NSE, NCDEX and MCX. Stock basket Samco review offers a wide range of flexible products and services that's why Samco has been rewarded by CNBC-Awaaz in 2019 as 'India's Best Equity Broking House'.
Samco Securities Brokerage Charges
Samco Securities charges brokerage @flat Rs.20 per executed order on buying and selling of shares. Brokerage charges are very flexible without any hidden charges. For brokerage calculator Samco or intraday margin calculator Samco visit the Samco website.
| | |
| --- | --- |
| Segment | Brokerage |
| Equity Delivery | Rs.20 or 0.20% per trade whichever is lower |
| Equity Intraday | Rs.20 or 0.20% per trade whichever is lower |
| Equity Futures | Rs.20 or 0.20% per trade whichever is lower |
| Equity Options | Rs.20 or 0.20% per trade whichever is lower |
| Currency Futures | Rs.20 or 0.20% per trade whichever is lower |
| Currency Options | Rs.20 or 0.20% per trade whichever is lower |
| Commodity | Rs.20 or 0.20% per trade whichever is lower |
What is samco securities?
Samco trading review discount brokers is one of the biggest of India and depositary participant of CDSL. In review of Samco securities provides the facility to invest in equity, currency, debentures, bonds, ETFs, commodity and F&O on its platform. Below we mention Samco broker review on different topics.
Brokerage in Samco is very minimum brokerage of flat Rs. 20 per executed order without any hidden charges and conditions. Samco is an online digital platform known for its lowest brokerage, demat account, flexible products, margin funding, higher exposure and free trading software. Samco charges Rs.0 on demat/trading account opening with free annual maintenance on demat account. In Samco 5 Star rating stocks with highest leverage up to 15x on more than 500 stocks available on its platform.
What is Samco mutual fund?
Samco offers Mutual Fund investment services to customers through a software or platform known as 'Rank MF'. If we talk about Samco mutual fund with the help of Samco's 'Rank MF', you can invest in more than 2900 mutual funds which are rated and ranked on different parameters. SAMCO Mutual Fund Review is the only mutual fund research engine to provide mutual fund rankings which are ranked on basis of more than 20 million poin ts.
SAMCO NFO Review – Samco launched first NFO fund offer with Flexi Cap Fund on Janurary 2023.
SAMCO Demat Account Review
Samco India is well-known for its ultra-low brokerage charges which is flat Rs.20 per executed order for all segments. Samco login offers many free trading software and tools so that you can trade at any place across India. It provides leverage facility and gtt order in Samco with many marginal products available on SAMCO.
SAMCO IPO Reviews
IPO Samco is the first stockbroker who had launched the country's first capital market league known as Indian Trading League (ITL), inaugurated by legend Mr. Kapil Dev (Former captain of Indian Cricket Team. SAMCO offers online IPO services so that you can invest in upcoming ipo Samco companies. You need a trading or demat account on SAMCO to avail this beneficial service and to know about amc charges of Samco or dp charges in Samco you can visit the Samco website.
Samco Securities Account Opening Charges
Samco is fully dedicated to provide you extraordinary services in affordable price. You can open demat and trading account or Samco 3 in 1 account on Samco Securities without paying any charges.
| | |
| --- | --- |
| Type of Account | Charges |
| Demat Account | Rs.0 (Free) |
| Trading Account | Rs.0 (Free) |
| Demat Account AMC | Rs.400/year |
| Trading Account AMC | Rs.0 (Free) |
Samco Securities Ltd Margin Products
SAMCO Securities Review provides every best service in affordable price. There are 3 types of margin/exposure products offered by Samco Securities Ltd which are as follows:
1. Cashplus- This unique facility allows its investors up to 4x equity delivery leverage on more than 300 stocks at an interest rate of 0.05% per day. For example, if you have Rs.50,000 in your account then with the help of Cashplus facility, you can buy shares of worth Rs. 200,000.
2. Stockplus- This facility provides margin against shares for intraday or delivery trades. Investors can use holdings of their demat account to get the margin. Stockplus facility allows you to trade with Rs.0 balance in your trading account.
3. Instaplus- This facility is available for the equity derivative segment and currency derivative segment. Investors get the margin against the shares which they trade during a day.
Samco user id Platform Review
Samco Securities offers free online trading software to their clients. One can trade from any place across India. Here I am sharing Samco trading app review in some points.
1. Samco Trader (Omnesys Nest Trader)- Samco trader is a desktop-based trading terminal. Omnesys Nest Trader is a NSE software which is revamped and upgraded for Samco. You can easily download and install it in your computer. There are many unique features available at Samco Nest Trader software such as watchlist, snap quote facility, cover & bracket order facility etc.
2. Samco Stocknote (Mobile Trading App)- Samco stocknote is a mobile application for trading at BSE, NSE and MCX. It is available in Google play store and App store for android and IOS users respectively. Samco stocknote contains a wide range of features such as market news, alerts, streaming quotes, charts etc.
3. Samco Web Xpress (website)- Samco Web Xpress is a browser-based trading website which is accessible from any operating system. Samco Web Xpress has every feature by which any trader can easily understand and invest in the market such as market watch, charting, bracket order, cover order and much more.
4. Samco Star- Samco star is a back-office website by which you can check account statements, market analysis, fund management, demat account holding and much more.
Samco Reviews, Advantages and Disadvantages
Samco API Review – Samco offers Free StockNote API to collect historical data, market updates and live order position for coding with multiple platforms.
Samco Securities is full of advanced features and has many advantages. Some of the advantages are as follows:
• Variety of Margin products available for traders.
• Instant and 100% paperless account opening.
• User-friendly Samco application.
• Zero charges on demat account opening.
• Free trading platforms.
• Brokerage charges @flat Rs. 20 per executed order.
• 15x leverage in over 500+ stocks for Equity Intraday trading.
• Availability of bracket order and cover order to manage risk.
• Trade from any place all over the India.
• Branches are not available for local support.
• High pledge demat charges.
If you want to unblock Samco account or want to delete Samco account you can watch youtube Samco or Samco youtube videos you can visit to the Samco website and do Samco back office login or back office Samco login and contact to Samco helpline numbers.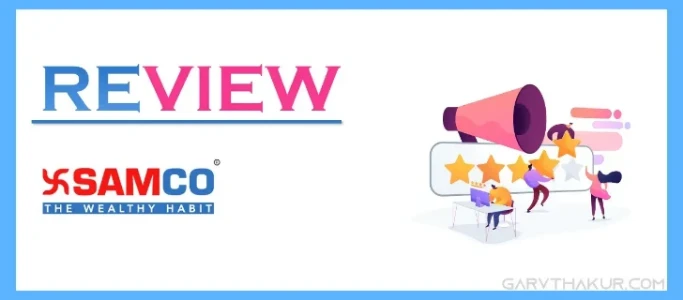 Comments for SAMCO Review 2022 | Brokerage Charges, Margin, Demat and Details
Frequently Asked Questions
---