SAMCO Demat Account | Review, Features, and Documents
Samco Demat Account Opening Charges and Details
SAMCO is a leading online discount broker which has proved that a newcomer can mark its presence by providing extraordinary services to the customers. Founded by Mr. Jimeet Modi in 2015, it acquired Samruddhi Stock Brokers Limited and re-branded as SAMCO Securities. This stockbroker is registered with SEBI as SAMCO Ventures Private Limited and its's demat 3 in 1 account provides trading facilities at demat account bse, NSE and MCX. SAMCO is a Depository Participant of CDSL through which they also provide Demat account services. Now, through Samco demat login you can invest in equity, commodity, derivative, mutual funds, IPO and demat account us with the help of SAMCO.
SAMCO Demat Account Charges:
| | |
| --- | --- |
| Demat Account Opening Charges (One Time) | Nil |
| Demat Account AMC (Yearly) – For Individuals | Rs.400 + GST |
| Demat Account AMC – For Corporates | Rs.800 + GST |
| Demat Account Delivery Charges – Within SAMCO | Rs.10 + GST |
| Demat Account Delivery Charges – Outside SAMCO | Rs.25 or 0.02% of transaction value (Whichever is higher) + GST |
| Pledged and Unpledged Charges | Rs.60 per transaction + GST |
| Dematerialisation Request Charges | Rs.10 per certificate |
| Re - Materialisation Charges | CDSL charges |
| Courier Charges | Rs.50 |
Samco Demat Account Review
Samco broker review, Samco securities demat account is well-known for its ultra-low brokerage charges which is flat Rs.20 per executed order for all segments. Samco demat account AMC charges will be charges from second year onwards. SAMCO demat account offers many free trading software and tools so that you can trade at any place across India. Samco management provides leverage facility with many marginal products available on SAMCO like in Samco cash and carry.
Samco investments's motive is to bring unmatched trading services for you. SAMCO's team is continuously researching on to make trading and investment simple and hassle-free.
• SAMCO Depository Participant (DP) CDSL registration number: IN-DP-CDSL-443-2008
• SAMCO Depository Participant (DP) ID: 12054200
What is Demat Account?
Demat account holds your shares and securities in an electronic form. Dematerialised account is commonly known as demat account. It is like a bank account, only difference is that it holds your shares and securities and bank hold your cash. To do any transaction in stock exchange, investor should have a demat account. Investor can open a demat account with any broker or sub-broker. As per government guidelines, it is mandatory to have a Demat account along with a trading account. Samco demat charges is free of cost to all.
National Securities Depositary Limited (NSDL) and Central Depositary Services Limited (CDSL) are the depositary participant who maintains demat accounts in India. Different brokers are depositary participant of either NSDL or CDSL. Depositary participant acts as an intermediary between the investor and the depositary.
Previously, there was a physical certificate for shareholdings and now those physical certificates have been transformed into dematerialised (Demat) electronic form. Demat account needs no physical certifications. This is a new digital era in which everything is going to be digital and it is very beneficial for the human being.
Features of SAMCO Demat Account
• SAMCO offers free account opening service.
• SAMCO offers instant and online account opening service.
• SAMCO is a Depository Participant (DP) of CDSL.
• Customers can manage their demat account online.
• One can apply for an IPO via SAMCO demat account.
• 24/7 Samco customer service via phone and email.
• Customers can trade in BSE, NSE and MCX.
• Allows you to trade in different segments such as equity, derivative, currency, commodity, mutual funds and IPO.
• Fully transparent without any hidden charges.
• Samco demat account refer and earn benefits.
Documents required to Open a Demat Account at SAMCO
2. Address Proof (Aadhar card/ Voter ID/ Driving License/ Passport/ Ration Card/ Utility Bills (Not older than 3 months))
3. Bank account Proof (Cancelled cheque with name printed on it/ Latest Bank statement/ Passport front page)
4. Income Proof (Latest Salary slip/ Copy of Form 16/ Last 6 Months bank statement)
5. Passport Size Photograph
How to Open Samco Demat Account?
Follow the below steps to open a demat account at SAMCO:
1. Visit official website of 'SAMCO'.
2. Click on 'Open an Account'.
3. Enter your Name, Email ID and Mobile number and then click on 'Sign up'.
4. Set your registration password and 'Submit'.
5. Enter your PAN number and DOB as per your PAN.
5. Fill required personal details.
6. Enter your address as per your address proof.
7. Verify your registered email ID via OTP.
8. Fill in your bank details.
9. Choose the segments you which to trade in.
6. Upload scanned copies of required documents.
Samco demat account status
After completing Samco demat account opening online steps, you will be redirected to Aadhar Portal (UIDAI) and you will receive an OTP on your Aadhar linked mobile number. Enter this OTP and your Samco demat account opening process is complete. After that you get login credentials on your registered email id for Samco demat account login.
How to close demat account in Samco?
SAMCO Account Closure form available on official website for offline process. Where details need to be fill Samco demat account closing form and send it via courier. Samco customer service 24/7 with Samco online account opening via email and phone but if you are not satisfied and you want to close your demat/trading account on SAMCO, then you can close by following these simple steps:
• First, clear all the pending dues with your registered broker.
• If you have any holding in your demat account then you need to transfer it to your any other demat account or you can sell it.
• Call at registered phone no at SAMCO head office to get the account closure form in your email id.
• Take print of that form, enter required details with your signature and physically send that form to the SAMCO's Mumbai Office.
• Once your form is received by SAMCO, it will take 7 working days to close Samco demat account and you will get the notification regarding this.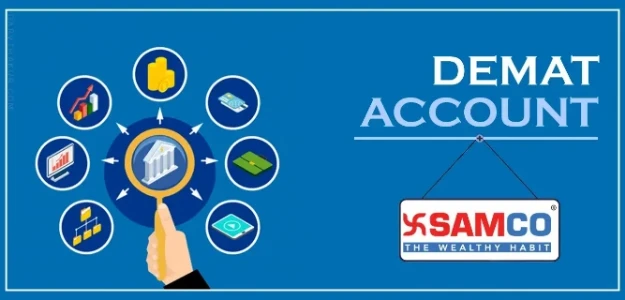 Comments for SAMCO Demat Account | Review, Features, and Documents
Frequently Asked Questions
---