SAMCO App Review | Demo, Guide, Charges, Features and Download
SAMCO Mobile App Review - Features, Demo, Download
SAMCO is an online discount broker of India and was incorporated in March 2015 in Mumbai. It is registered with SEBI as SAMCO Ventures Private Limited. Initially it was incorporated as Samruddhi Stock Brokers Limited and later changed to SAMCO. Samco financial provides trading facilities at BSE, NSE and MCX. SAMCO is a Depository Participant of CDSL.
Samco financial services offers best customer services at affordable cost. It has low brokerage charge. SAMCO provides many advanced trading software or platform to their customers including an advanced mobile app.
How to use Samco Mobile App?
StockNote is a kind of SAMCO Mobile Trading App. StockNote is powered by Giga Trading. StockNote lets you trade from anywhere and everywhere. Samco securities mobile app has many advanced features which can enhance your trading experience. All SAMCO account holders can access StockNote mobile app for free.
Features of StockNote Mobile App
• StockNote provides advanced market charts for better analysis.
• Samco securities app is simple and fast to use.
• Customers can trade in equity, currency and commodity with StockNote.
• It lets you trade with single touch.
• One can customize their watchlist and trading preferences as per choice.
• Get customized notification alerts through options trading mobile app.
• Samco securities mobile app trading has guest user log in facility.
• Customers can check their demat holdings.
• Stock mobile app has Instant fund transfer facility.
• Customers can place all type of orders including after-market orders.
• Customers can easily check fund and margin availability.
• StockNote app can be synced with other SAMCO trading app.
• These mobile stock trading apps are easy to use for beginners.
How to Download StockNote Mobile app?
StockNote mobile app is easily available for both android and iOS users. One can easily download Stocknote Mobile App. Samco mobile or mobile trading apps download from Google play store or Apple store. For more details about Samco securities you can contact to the Samco customer service.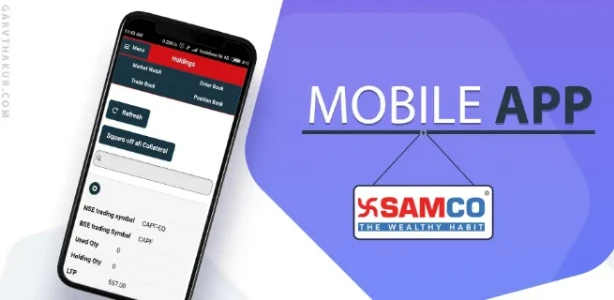 Comments for SAMCO App Review | Demo, Guide, Charges, Features and Download
Frequently Asked Questions
---