Paytm Money IPO | Steps to Apply Online, Charges and allotment
Paytm Money IPO Review - Charges, Easy Steps to Apply Online
Paytm money was established in 2017 and is an online discount brokerage house of India. Paytm money is a subsidiary of One97 Communications Limited and is full owned by it. Paytm which is an e-commerce payment platform is also owned by one97 communications limited.
Paytm Money also provides investment advisory services and is a reputed broker registeredby SEBI (Stock Exchange Board of India). Paytm money is a Depository participant of CDSL and is a member of BSE and NSE. Earlier, Paytm Money only used to offer Direct mutual fund investment platforms but later in 2023's (Now) it also offers services in Equity trading, IPO, ETF's, Pension scheme, F&O trading etc.
In this article we will read about the how to check IPO allotment status in Paytm money? And Paytm money IPO sell procedure and Paytm money IPO grey market and provide you Paytm money IPO guide.
What is a Paytm money IPO?
IPO stands for Initial Public Offering. It is a process by which any private limited company becomes a public limited company. Through IPO a company gets listed in stock market for the first time. Company offers IPO to trade their shares directly to the investors.
For upcoming IPO list Paytm money and Paytm money IPO review and update you can visit the official website of Paytm Money. Paytm money IPO charges is zero to is users.
You can also invest in Paytm money upcoming IPO or you can visit the Paytm official websit to invest in upcoming IPO Paytm money. And Paytm money IPO review charges is zero to its users. You can go to your Paytm money mobile app for all Paytm money IPO view.
Paytm money IPO buy (Paytm money IPO subscription)
• Paytm money provides easy and online IPO application facility to their customers.
• Customers can apply for an IPO via UPI through Paytm Money Website of Paytm Money App.
• Customers can place up to 3 bids maximum.
• Paytm money charges for IPO is zero via Paytm Money website or Paytm Money app.
How to apply for IPO in Paytm money?
Follow the below steps to apply for an IPO through Paytm Money website or Paytm Money App:
2. Complete the stock market KYC.
3. Click on 'Invest in IPO' and a list of IPOs or Paytm money IPO review board will appear there.
4. Select Paytm stock IPO price wish to apply.
5. Enter Paytm money IPO bid details.
6. Enter you UPI ID and click on 'Apply now'.
Go to IPO mandate pending in Paytm money and approve the Paytm money IPO mandate pending request which you will receive shortly on you UPI app.
Procedure to apply for an IPO using net banking ASBA
Follow the below steps to how to apply sme IPO in Paytm money for an IPO through ABSA:
1. Visit the official website of your bank.
2. Login to your net banking account.
3. Visit the 'IPO' Section.
4. Select an IPO you wish to apply from Paytm money IPO watch list.
5. Select your account and fill Paytm money demat details.
6. Enter the Bid details.
In an ASBA process, bank freezes the application amount.
• If you get shares on IPO allotment status in Paytm money, freeze amount will be deducted from your bank account and shares will be transferred to your demat account.
• If you don't get shares on IPO allotment, freeze amount will get release to your bank account.
How to check IPO allotment in Paytm money?
• Customers can check the Paytm Money IPO Allotment Status by visiting the Registrar's website of IPO.
• After the allotment of an IPO, applicant's allotment status will be sent to them on their registered Paytm money IPO email and mobile number.
How to sell IPO in Paytm money?
You can call Paytm money IPO review customer care number or go online and place the sell order with the Paytm money IPO value price at which you would like to sell. If listing price is equal or higher than the price you order to sell in pre-open; your shares are sold at the listing price. You can also watch Paytm money IPO video on Paytm money IPO youtube for better understanding.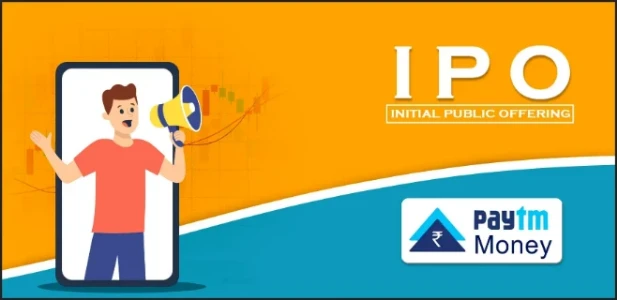 Comments for Paytm Money IPO | Steps to Apply Online, Charges and allotment
Frequently Asked Questions
---