Paytm Money Review 2022 | Brokerage Charges and Reviews
Paytm Money Review | Brokerage Charges, Account Opening
Paytm announced its entry into stockbroking through the launch of Paytm Money. The discount broker Paytm Money is an online investment and advisory platform targeted at first-time users. It's a subsidiary of Noida-based One97 Communications, the company that owns Paytm, and is India's largest digital payment platform. Paytm Money is established in 2017. Paytm money headquarters are situated in Bengaluru. Paytm money customers reviews and Paytm money stock reviews indicates good performance of this stock broker.
Paytm Money is a SEBI registered stockbroker and an Investment Advisor. Paytm Money offers competitive charges for trading with free Equity Delivery trading. Its other products also include Mutual fund, national pension scheme (NPS), stocks and IPO. Paytm money review mutual fund charges are zero which means there is no charges to invest or redeem the mutual funds. Users can also check Paytm Money Review IPO.
Key Strengths of Paytm Money
1. Paytm Money offers up to 1% higher returns with direct Plan.
2. There is no hidden Paytm money hidden charges or Investment Fee in Paytm Money Mutual Fund.
3. Paytm money trading offers the lowest Trading fee and free delivery.
4. It provides fast account opening and you can start trading in next 5 minutes completing process.
5. Users can easily invest in Direct mutual funds, stocks, NPS, IPOs etc.
Paytm Money Account Opening Review
Review of Paytm money account opening is also good. It offers instant and free Paytm money account opening facility to the customer. Paytm money review online account opening is easy and hassle free. Paytm money AMC charges are zero.
| | |
| --- | --- |
| Service | Charges |
| Paytm Money Trading Account Opening Charges | ₹200 |
| Paytm Money Trading Account AMC | ₹0 |
| Paytm Money Demat Account Opening Charges | ₹0 |
| Paytm Money Demat Account AMC | ₹0 |
Paytm Money Brokerage Review
Paytm money brokerage charges are flat @₹15 per executed order for the Paytm money demat account opened after 05th August 2023.
| | |
| --- | --- |
| Segment | Brokerage Charges |
| F&O | ₹15 per executed order |
| Intraday trades | ₹15 per executed order |
| Delivery trades | ₹15 per executed order |
Brokerage charges for Paytm money demat account opened before 05th August 2023.
| | |
| --- | --- |
| Segment | Brokerage Charges |
| F&O | ₹10 per executed order |
| Intraday trades | ₹10 per executed order |
| Delivery trades | Free |
Paytm Money Mutual Fund Review
Paytm Money investment review is also good as it offers low-cost direct mutual fund investment plans trying to help users save money by eliminating traditional broker commissions that users would otherwise have to pay to invest through these plans. Paytm money direct mutual funds provides 1% higher returns as compare to regular mutual fund investment. It has no hidden charges &commission and Zero Paytm money fees on buying and selling of mutual funds.
Paytm Money NPS Review
NPS stands for National Pension System and is introduced by the Government of India. In NPS, customers can make systematic contributions in a profitable avenue that would provide them market-linked returns and a regular income in their post-retirement life.
Paytm Money NPS Benefits
Benefits of Paytm money NPS is given below:
• Tax saving of up to ₹15600.
• It offers additional deduction of ₹50,000 from your taxable income over and above ₹1.5 Lakhs under Section 80(C).
• Users can accumulate a large corpus for their retirement.
• It charges very low management fees @0.01%.
• Users can start with as low investment as ₹1000.
• Paytm money customers can also invest in combination of equity, corporate bonds and government debts.
• Choose the fund managers of your choice form any of the 7 pension fund managers.
Paytm Money App Review
Paytm money mobile trading app
is a well-known and fastest growing trading platform where an investor can buy or sell stocks using their smartphone. The user interface is so smooth and easy to understand. This app provides you the best-in-class trading experience with live BSE and NSE trackers. Analysis, investment, tracking and withdrawal processes are very easy and user friendly.
Paytm Money Advantages
Advantages of Paytm Money are given below:
1. Simple and user-friendly trading Platform.
2. Lowest trading charges.
3. No Annual maintenance charges.
4. Instant Paytm money account opening.
5. You can invest in digital gold, Mutual Fund and NPS
Paytm Money Disadvantages
There are following Disadvantage of Paytm Money that you should know before opening account in Paytm Money.
2. Paytm Money do not offer NRI Trading
3. Commodity and Currency trading are not Available in Paytm Money
4. There is no Branch Support.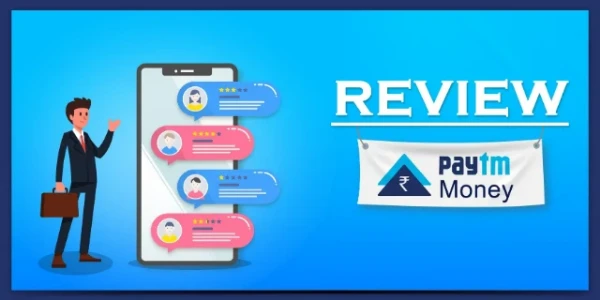 Comments for Paytm Money Review 2022 | Brokerage Charges and Reviews
Frequently Asked Questions
---