FundsIndia MSCI 2023 Guide, and Details
FundsIndia Stable Growth 25 Review
FundsIndia is a Chennai-based online discount broker that was incorporated in the year 2009 by founder C.R. Chandrasekar and Srikanth Meenakshi, completed their education from University of Hyderabad. FundsIndia is India's friendliest online-only investment platform with 13+ years of excellence in enhancing the investment experience for its users. FundsIndia gives users access to mutual funds from leading fund houses in India, stocks from the BSE & NSE, corporate fixed deposits, and various other investment products with some FundsIndia brokerage rates charges.
FundsIndia India is a SEBI registered stock broker with the Bombay Stock Exchange (BSE). FundsIndia SEBI registration number is INB011468932. Brokerage in FundsIndia aims to offer trading and investment services in Equity, Derivatives, IPOs and mutual funds. FundsIndia product also have focus on providing education to the customers on various trading and investment related topics through an online learning center. FundsIndia provide every Indian a world-class investment platform and sophisticated investment guidance. FundsIndia is spread all over 2,000 cities across India and 66+ countries have invested over ₹9,700+ crores on its platform in Mutual Funds, Stocks and other investment products.
What is FI Stable Growth 25?
FundsIndia, is one of the largest online retail investment platforms has launched its new product- FI Stable Growth 25, a global algorithm adapted for the Indian traders and investors. FI Stable Growth 25 is based on Morgan Stanley Capital International's (MSCI) risk-weighted methodology, a breakthrough algorithm, which has been a huge success globally, skillfully crafted by FundsIndia to adapt to unique Indian investors.
FI Stable Growth 25 works on a rule-based portfolio construction methodology that aims to have focused exposure to 25 low volatile stocks. FI Stable Growth 25 is a defensive rule-based model with a large-cap bias with a preference of low volatile stocks. It requires a minimum of ₹5 lakhs for participation with an investment time frame of approximately 5 years. The most exciting part of this model is that it has historically relatively lower declines compared to the major indices."
Benefits of the MSCI Risk Weighted Indices
The main benefits of the MSCI Risk Weighted Indices include:
• Includes simple and transparent methodology to achieve lower risk.
• Provide exposure to the entire investable market index universe, no stock selection bias.
• Have defensive characteristics, outperformance during recent crises.
• It has low concentration risk.
• Provide moderate index turnover.
FI Stable Growth 25 Model Highlights
Here we have listed some of the model highlight that makes it fit for the Indian Trader as per their trading requirements are mentioned below:
1. Maximum Returns
a) FI Stable Growth 25 has delivered more than 12% return on 99% of occasions on past 5-year basis.
b) Excellent Performance with consistency.
2. Minimize Risk
a) It has a focused exposure to 25 low volatile stocks.
b) Attractive absolute and risk adjusted historical performance
3. Global Expertise
MSCI platform is a leading worldwide provider of investment decision support tools, with over USD 11 trillion tracking its 200,000 equity Indexes under guidelines of the expert traders.
What does the FI Stable Growth 25?
• FI Stable Growth 25 has provided maximum stock weightage is capped at 10%.
• This model has a focused exposure to 25 low volatile stocks.
• It is well-known for its automated design and rule-based working method.
• This model is Bias-Free and automated portfolio rebalancing based on smart and time-tested algorithms.


Requirements to use FI Stable Growth 25
There are few conditions that are required to use FI Stable Growth 25:
• Minimum fund of 5 lakhs is required for optimal participation through this model.
• Investors will have the option to liquidate their investments at any point of instant.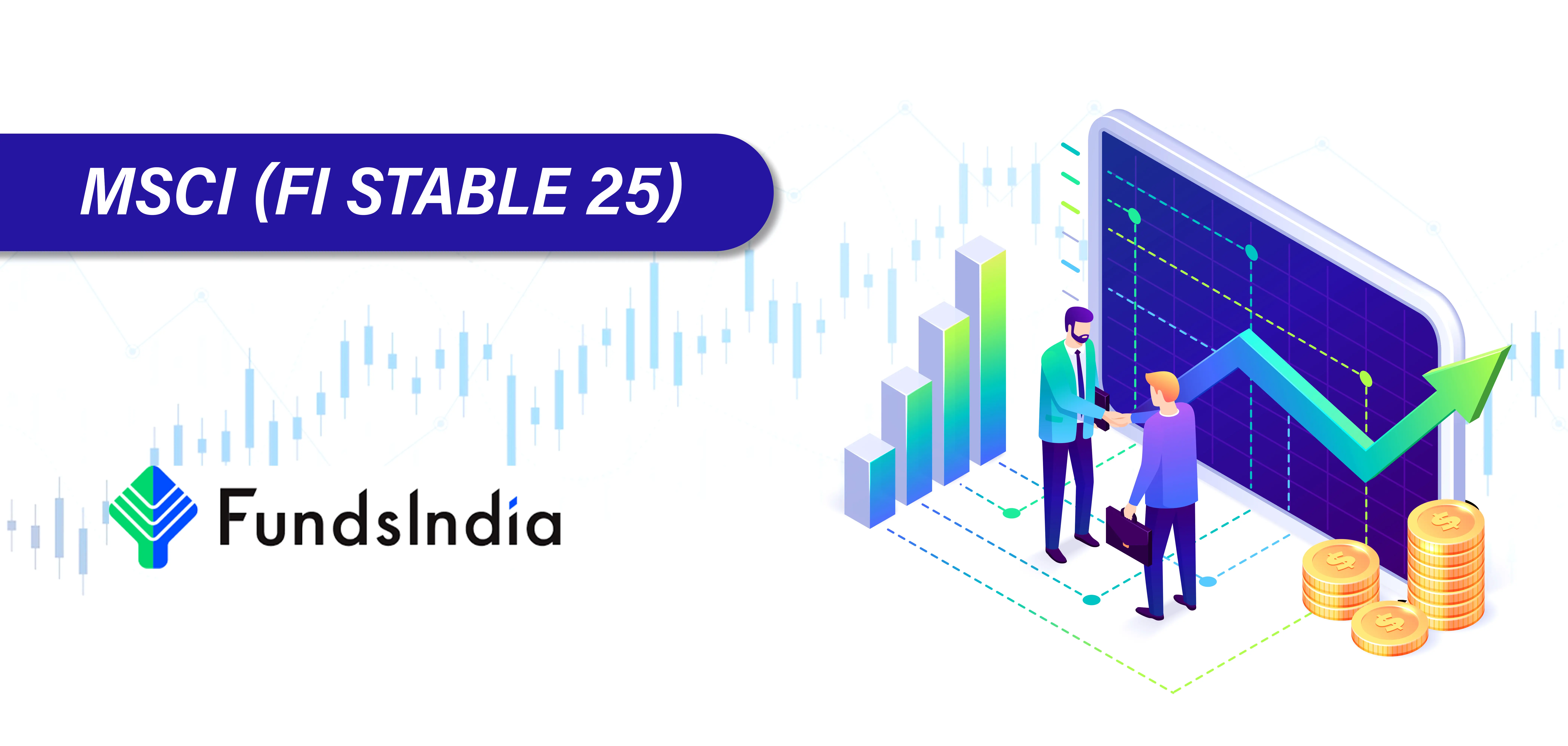 Comments for FundsIndia MSCI 2023 Guide, and Details
Frequently Asked Questions
---