Choice Broking Consumer Complaints | Enquiry, NSE & BSE and Details
Choice Broking Consumer Complaints
Choice Equity Broking Private Limited is a Mumbai-based full-service stock broking firm and was incorporated in 2010 by choice broking owner. Choice financial ratings is a subsidiary of a publicly listed financial service provider organization named as Choice International Limited. It was formerly providing its financial services since 1993. Choice broking rating makes it to stand out from the crowd.
Choice broker services offers its online trading and the premium financial service for the complete range of financial products such as Equity, Derivatives, Currency, Commodities, Mutual Funds, wealth management, Insurance and the Loan against share. It is a depository membership with the CDSL and NSDL. Choice Broking is a member of NSE, BSE, MCX, NCDEX, and ICEX. The Choice Broking avails their customers with several margin trading and top choice brokerage services to its customers. It allows the customers to allow the clients to purchase the shares by funding the smaller portion with its funds and use the broker funds for the remaining amount.
How do I file a complaint against a broker?
The Choice complaints research provides the complete detailed report about the number of complaints that are received by the stock exchanges. Choice broking complaints register research report examines the data received digitally by BSE and NSE. complaint against a brokers data provides the data of the total number of the customers of the broker.
Choice broking customer complaints are the serious grievances that are recorded against the Choice Broking share broker by their customer that are unsolved. These complaints are then filed by the various customers at the National Stock Exchanges. These complaints determine the number of active clients. In other words, stock broker complaints determines the health of the broker.
Choice Broking Complaints
| | | | |
| --- | --- | --- | --- |
| Exchange | Financial Year | Total Complaints | Active Clients |
| BSE | 2022-23 | 2 | 23,480 |
| NSE | 2022-23 | 71 | 270,121 |
| BSE | 2021-22 | 9 | 20,738 |
| NSE | 2021-22 | 57 | 253,785 |
| NSE | 2020-21 | 36 | 67,804 |
| BSE | 2019-20 | 2 | 13,492 |
| NSE | 2019-20 | 29 | 32,854 |
| BSE | 2018-19 | 1 | 5,157 |
| NSE | 2018-19 | 19 | 22,350 |
| BSE | 2017-18 | 2 | 7,594 |
| NSE | 2017-18 | 15 | 14,882 |
| BSE | 2016-17 | 2 | 3,105 |
| NSE | 2016-17 | 15 | 6,520 |
| BSE | 2015-16 | 2 | 1,540 |
| NSE | 2015-16 | 4 | 3,360 |
| BSE | 2013-14 | 1 | 1,265 |
| NSE | 2013-14 | 1 | 633 |
Brokerage complaints at NSE
| | | | |
| --- | --- | --- | --- |
| | 2022-23 | 2021-22 | 2020-21 |
| Active Clients | 270121 | 253785 | 67804 |
| Complaints | 71 | 57 | 36 |
| Resolved through the exchange | 60 | 52 | 30 |
| Non actionable | 6 | 4 | 2 |
| Advised / Opted for arbitration | 0 | 0 | 0 |
| Pending for redressal with exchange | 5 | 1 | 4 |
| No. of arbitration filed by clients | 1 | | |
| Decided by arbitrators in favour of the clients | 1 | | |
| Decided by the arbitrators | 1 | | |
| Pending for redressal with arbitrators | 0 | | |
Choice Broking complaint at BSE
| | | | |
| --- | --- | --- | --- |
| | 2022-23 | 2021-22 | 2019-20 |
| Active Clients | 23480 | 20738 | 13492 |
| Complaints | 2 | 9 | 2 |
| Resolved through the exchange | 2 | 9 | 2 |
| Non actionable | 0 | 0 | 0 |
| Advised / Opted for arbitration | 0 | 0 | 0 |
| Pending for redressal with exchange | 0 | 0 | 0 |
| No. of arbitration filed by clients | 0 | 1 | 0 |
| Decided by arbitrators in favour of the clients | 0 | 1 | 0 |
| Decided by the arbitrators | 0 | 0 | 0 |
| Pending for redressal with arbitrators | 0 | 0 | 0 |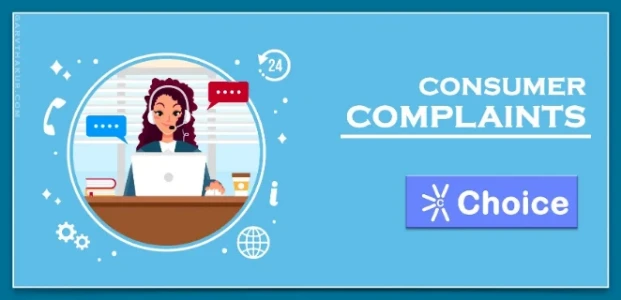 Comments for Choice Broking Consumer Complaints | Enquiry, NSE & BSE and Details
Frequently Asked Questions
---