Wisdom Capital NRI Account | Opening, Charges, Services Review
Wisdom Capital NRI Account Opening, Charges, Services Review
Wisdom Capital is the prominent brand in the field of stock market, started its operation in 2013 as a discount broker of India. Wisdom capital India is an arm of Ashlar Securities and offers online services to every trader and investor. Wisdom capital group is the one stop solution of all your investment and trading needs. This Noida-based broker offers 3 types of Wisdom capital brokerage reviews plans; Rs.0 brokerage (Freedom plan), Brokerage of Rs.9 per trade (Pro Plan) and ultimate plan, you can select any plan as per your requirement. Leverage and margin exposure facility is available in every plan. Wisdom capital asset management allow to trade/invest in BSE, NSE, MCX and NCDEX through this platform like Wisdom capital nest trader. It is a depositary member of NSDL and offers free demat and trading account on its platform. To know about Wisdom capital NRI account opening charges visit
Wisdom capital NRI trading is advancing their services day by day, now it has their presence in 500+ cities, 1000+ franchisees with active client base of 25000+ clients. Wisdom Capital is well-known for its world-class services. Wisdom Capital offers investment services to US-based NRIs and free trading software and tools to every type of client.
Wisdom Capital NRI Account
Wisdom Capital is registered under The Foreign Account Tax Compliance Act (FATCA) of the USA and offers trading & investment services to US-based NRIs. A Wisdom capital NRI should have following documents and savings account before opening an account on Wisdom Capital.
1. PAN Card
PAN Card is an important and mandatory document to trade and invest in India. PAN number is same for resident Indians and NRIs, so if you already have PAN Card then there is no need to apply for a new PAN number. If you don't have PAN card then you can get it by filling up 49AA Form online through the website of UTIITSL and NSDL.
2. NRI Bank Account
Wisdom Capital only offer 2-in-1 account services i.e. Demat and Trading account but it does not offer banking services to the clients. You need to open a NRI Savings Bank Account and PIS account with any designated Indian Bank such as ICICI, HDFC, HSBC etc. Any NRI investor should have NRE and NRO account to link with Wisdom Capital NRI Demat and Trading Account.
3. Custodial Account
All the trades Placed from Wisdom Capital platform is cleared and monitored by Globe Capital Markets Limited. NRIs needs to open a custodial demat and trading account (Obtain a CP code) before opening demat and trading account on Wisdom Capital.
4. PIS Permission Certificate
SEBI always keeps an eye on every investment and trading in Indian share market. An NRI should have PIS permission certificate to start trading in Indian share market. Your NRI Savings Bank usually help you to obtain PIS permission from SEBI.
Documents required to open an NRI account on Wisdom Capital
NRI should have following documents to attach with the application form. Application form is available in the official website of Wisdom Capital.
2. Personalized Cheque (Cheque leaf along with bank statement or bank passbook).
3. Copy of Visa (If passport is issued in India or work permit of UAE).
4. PIS Permission letter of SEBI.
As a proof of identity, address, sign and bank proof, you can also provide any following combination of the documents.
5. Electricity bill (Not more than 2 months old).
6. Bank passbook or bank statement.
7. Telephone bill (Not more than 2 months old).
8. Driving license (Name, address and photo page).
9. Banker's confirmation (From a schedule commercial bank only).
Wisdom Capital NRI Account Opening Process
After getting NRI Savings Bank Account, Custodial Account and PIS permission letter.
You can open NRI Account on Wisdom Capital by following given below steps:
• If you are in India then visit the branch to open Trading and demat account and if you are not in India then download the application form available under download section of the official website of Wisdom Capital.
• Completely fill the application form with personal and banking details.
• Attach all the self-attested above-mentioned document along with application form and send it to broker's registered office as address is already in the application form.
• After getting your form and documents, you have to go through In-Person verification (IPV) with a representative of Wisdom Capital as arranged by the company.
• If IPV is not possible, then verification will be completed with Indian Embassy/Consulate General/Judge/Notary Public/Magistrate of the residing country/Local Banker/Any Court of Law.
Wisdom Capital NRI Mutual Fund
Wisdom capital NRI review provide the facility for NRI investors to invest in Mutual Fund.
Some important points are as follows.
• Important and first step is KYC verification to start investing in mutual fund. It is a one-time process.
• Don't need PIS permission
• Automatic debit and credit money from NRI Savings Bank Account while buying and selling of mutual fund units.
• You can analyse and monitor the mutual funds online.
Wisdom Capital NRI Trading Software
Wisdom Capital offers free trading software to NRIs investor.
1. Trade Eye (Mobile-based App):
Trade Eye is a mobile-based application through which you can trade from any place. It has many in-built features such as technical indicators, multiple watchlist, funds view, order book, trade book and much more.
2. Nest Trader (By Omnesys)
Nest Trader is a trading terminal offered by Wisdom Capital for free to all the customers. You can trade in BSE, NSE and MCX by using this software.
Wisdom capital NRI Customer Care
You can contact customer care via mobile number and email id.
Email id-

accounts@wisdomcapital.in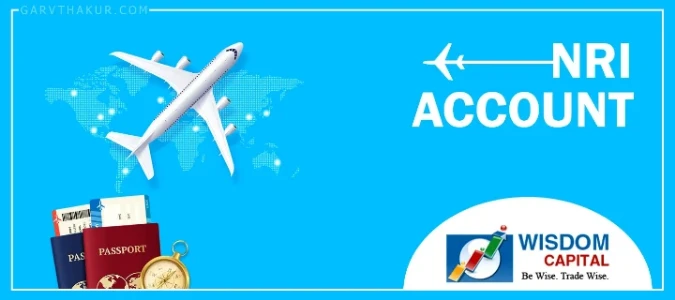 Comments for Wisdom Capital NRI Account | Opening, Charges, Services Review
Frequently Asked Questions
---