Wisdom Capital Margin/Exposure Limit for Intraday and Futures 2023
Wisdom Capital Margin/Exposure Limit for Intraday and Futures
Established as an online brand of Ashlar group of companies, Wisdom Capital is the famous name of stockbroking industry. 'Be wise, Trade wise' is the popular tagline of Wisdom Capital which is creating awareness among trading community to choose right broker. Started its operation in 2013 as a discount broker of India and provides the facility to invest in NSE, BSE, MCX and NCDEX. As a SEBI registered broker, Wisdom capital asset management offers you to invest in cash, derivative, currency, commodity and mutual fund. Wisdom Capital charges in brokerage offers 3 types of attractive brokerage plans; Freedom plan (Rs.0 brokerage in all segment), Pro plan (Rs.9/trade brokerage in all segment) and Ultimate plan for High Networth Individual. With global leveraged capital management, you can start trading in hedging and Wisdom capital delivery margin or Wisdom capital equity delivery margin allows you to place trade across equity segments.
It allows US-based NRIs to invest in Indian stock market. It is famous for global leveraged capital management and margin exposure facility in every plan for every segment which is quite beneficial for experienced and beginners. Wisdom capital partners as depositary member of NSDL, you can open free demat and trading account on this platform. Many free trading software are available in this platform such as Trade Eye, Nest Trader, Fox Trader, Wisdom Pro Trading App and Wisdom Trade.
What is margin in f&o?
Wisdom Capital Margin List for different segments are mention below:
Pricing Plan

NSE Equities

NSE Future & Options

MCX

Account Opening

Free

Free

Free

Validity

Lifetime

Lifetime

Lifetime

Brokerage

0.01%*

9/- Trade*

9/- Trade*

Intraday Margin (MIS/BO/CO)

Up to 5X

1X

1X

Offline Trading Charges

Rs. 20/- Order + GST

Rs. 20/- Order + GST

Rs. 20/- Order + GST

Free Demat Opening

Yes

Yes

Yes

Demat Maintenance Cost

Lifetime Free with one time charge of 999/-+ GST

Not Applicable

Trading Software

NEST & WISDOM PRO (Web and Mobile Trading)
Note– The Freedom Plan has been discontinued and upgraded to Pro Plan with effect from 10 July, 2023.
* Offer is applicable only for New Clients.
# Cover Order/Bracket Order/API/Algo Products are not included.
What is Margin?
Margin is the difference between the loan amount of the broker and the total value of securities held in an investor's account. Is the money borrowed from the broker to buy any unaffordable stock is called as Margin. Wisdom capital margin Sebi is a type of loan used to buy investment. Margin is the debt or borrowed money and leverage is the act of taking on debt. In the practice of buying on margin, broker acts as a lender and securities in the trader's account acts as collateral. Wisdom capital option selling margin provide trading facility in option segment.
Wisdom capital leverage facility allows you to trade more by using margin amount and you can calculate Wisdom capital option leverage by using Wisdom capital leverage calculator. Wisdom Capital margin facility allows you to trade many times over the fund available in your account. You can calculate Wisdom capital margin mcx by using Wisdom capital margin calculator or Wisdom capital commodity margin calculator and Wisdom capital span margin calculator.
Wisdom Capital Brokerage Reviews
Brokerage charges in Wisdom Capital is very less to another broker. it provides very attractive leverage and margin exposure in every segment on its platform through which you can trade more and it enables you to buy unaffordable shares. It offers 1.33 times leverage in all segments, as per the brokerage plan selected by the client.
Use Wisdom capital margin list calculator or Wisdom capital equity margin calculator to calculate required margin to trade.
Wisdom Capital Margin Calculator
As we all know, margin and leverage facility play a key role while investing in share market and we have less funds in our account. With the help of leverage, we can buy unaffordable shares. Wisdom Capital has margin calculator tool or Wisdom capital currency margin calculator in its platform. By using margin calculator, you can calculate Wisdom capital intraday margin or option selling margin in Wisdom capital or based on product type (MIS/BO/CO), segment (Intraday/F&O/derivative) and brokerage plans (Freedom/Pro/Ultimate). It is very simple and easy to use.
Wisdom Capital Margin for option selling is 1.33times provided which is high to another brokers. It is available in the home page under calculator section of the Wisdom Capital website and also it is available in the mobile application and trading software of the Wisdom Capital. To know about Wisdom capital margin case against Sebi or Wisdom capital intraday leverage and margin f&o list visit the Wisdom capital website.
Advantages & Disadvantages of Wisdom Capital Margin
Advantages
• Attractive Wisdom capital delivery leverage as compared to other brokers.
• Up to 10 times leverage on equity intraday MIS trades.
• Hassle-free and easy to use margin calculator.
• Advisory services for clients.
• Leverage facility for every segment.
• Fully Transparent policy without any hidden charges.
Disadvantages
• Not able to invest in IPO.
Note: Wisdom Capital Customer Care Number: 1800-123-9343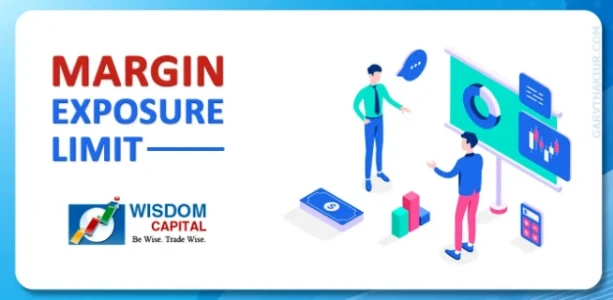 Comments for Wisdom Capital Margin/Exposure Limit for Intraday and Futures 2023
Frequently Asked Questions
---