Wisdom Capital Mobile App Review 2023 | Features, Demo, Download
Wisdom Capital Mobile App Review - Features, Demo, Download
'Be Wise, Trade Wise' is the tagline of Wisdom Capital which means you must choose wisely what is best for you. Wisdom Capital is capable of providing world-class services to their clients. It was incorporated in 2013 as an online brand of Ashlar Group of companies. Wisdom Capital is a Noida-based broker popular for its low brokerage and attractive plans for various different traders. Through Wisdom capital demat account review you can invest in BSE, NSE, MCX and NCDEX through this platform. As a SEBI registered broker, Wisdom capital brokerage reviews offers to invest/trade in equity, derivative, currency, commodity and mutual fund except IPOs, bonds and NCDs. Wisdom Capital offers very handsome leverage and margin exposure to trade in different segments.
Wisdom capital is a depositary participant of NSDL, you can open free demat and trading account opening on its platform. Wisdom Capital is now a big name in the stockbroking industry and it is now present in more than 500 cities with active client base of more than 25000 clients.
Wisdom App Reviews
It has many free trading software and tools on its platform. Given below is the list of trading software offered by Wisdom Capital.
1. Trade Eye (Mobile-based Trading App).
2. Wisdom capital nest trader (Desktop-based Trading Software).
3. Fox Trader (Trading Terminal).
4. Wisdom Pro Trading App (Mobile-based Trading App).
5. Wisdom Trade (Browser-based Trading Website).
Let's have a deep look into mobile based trading software.
Trade Eye (For iPhone users)
Trade Eye is an iPhone-based trading application available in App Store. Any IOS user can access this software from any place across India. Trade Eye is the product of Ashlar Securities and it provides the facility to trade in BSE, NSE, MCX, MCX-SX, NCDEX.
• Trade from any place by using IOS device.
• Enables you to create your own watchlist.
• Lightweight and ultra-fast speed.
• With the help of this app, you can place aftermarket order.
• Hassle-free and user-friendly application.
• Real-time market analysis.
• Access to technical indicators, order book, trade book, funds view and much more.
• Easily downloadable and installable for best capital to start trading.
• Wisdom app download through App store.
Wisdom Pro Trading App (For Android phone users)
Wisdom Capital Mobile App Wisdom Pro is a highly modern ultra-fast trading application. Wisdom app Android phone users can use this app. Wisdom App download from play store. Wisdom Pro is equipped with many features to manage portfolios, watchlists and research.
Wisdom capital mobile app review may have the following characteristics:
• For the first time in India, trading from charts on this platform.
• Wisdom capital mobile app occupies space of less than 3 megabytes on the mobile device.
• Hassle-free, user-friendly interface and intuitive desktop interactivity.
• Variable charting option.
• Enables you to create many watchlists.
• Instant order placement and order book update without any glitches.
• More than 9 types of charts including candles, bar, hollow candle, line, mountain, volume, Heikin-Ashi, Coloured bar and much more.
• You can easily download the Wisdom Pro Trading app or Wisdom app android as it is available in Google Play Store.
Wisdom Trade (Browser-based trading website)
Wisdom Trade is a browser-based trading website easily accessible from any browser such as Google Chrome, Mozilla Firebox etc. You only need your login credentials; login id and password to use this platform. For nest trader download Wisdom capital or Wisdom capital nest trader download visit Wisdom capital website.
• Multiple technical indicators and charting tools.
• Offers single point access to profile, back-office reports.
• Customisable trading screen.
• Shared watchlist between various trading platform.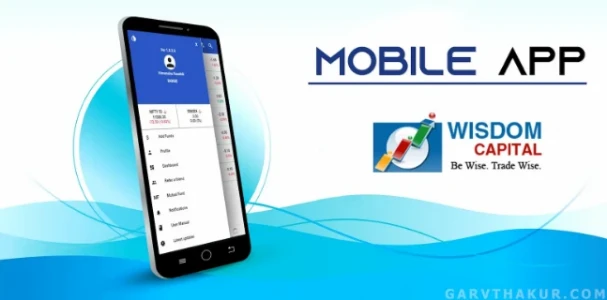 Comments for Wisdom Capital Mobile App Review 2023 | Features, Demo, Download
Frequently Asked Questions
---