Tradingo Margin 2023| Exposure and Limit for Intraday and Futures
Tradingo Margin / Exposure Review
Tradingo was founded in 2016 by one of the best techies of the financial industry and alumni of the IIT Delhi Mr. Parth Nyati having deep understanding of stock market. This discount broker is one of the top priorities of the beginners and experienced traders. Tradingo offers you to invest/trade in equity, derivative, futures, options, IPO, currency, commodity and mutual funds. Tradingo is a very transparent and diverse platform without any hidden charges. Tradingo offers 100% paperless 2-in-1 account opening facility on its platform i.e. free online demat and trading account. You can also visit the nearby branch or call on toll free number to open an offline account with the broker. Tradingo is a very popular broker because of its ultra-fast trading software and modern services. Tradingo has a motive to provide you world-class facilities in an affordable price so that you can increase your assets.
Tradingo charges variable brokerage in various different segments which is quite less as compared to many other brokers. Tradingo offers free trading software and a wide range of tools on its platform which are equipped with all the modern facilities such as customisable watchlist & charts, technical analysis tools, IPO alert option, real-time market data etc.
Tradingo Leverage and Margin:
As per the SEBI regulation, Tradingo offers leverage and margin facility in almost all the segments except equity delivery. Tradingo allows you to trade more over the funds available in your demat account. The company Customer's satisfaction is the top-most priority of the company makes it unique as compared to many other stockbrokers. With the help of Tradingo leverage facility, ant trader can buy unaffordable shares and, in this way, by trading more in the share market, one can enhance their assets in a very less time.
Margin and leverage are interconnected to each other but margin is a kind of debt or loan which is generally required to open a position where assets owned by an individual are considered as collateral for soliciting a loan from a broker whereas multiple of exposure to account equity is known as leverage.
Tradingo Margin:
Tradingo offers margin facility through which you can trade more in the share market and increase your assets drastically. Tradingo provides different margin for intraday trades and carry forward trades which are as follows:
Tradingo Margin for Intraday Trades:
| | | |
| --- | --- | --- |
| Segment | Discount Plan | Premium Plan |
| Equity | 5x | 6.66x |
| Futures | 1.25x | 1.33x |
| Options | 1.25x | 1.33x |
| Currency Futures | 1.25x | 1.33x |
| Currency Option | 1.5x | 1.33x |
| Commodity | 1.25x | 1.33x |
| Commodity Option | 1.25x | 1.33x |
Tradingo Margin for Carry Forward Trades:
| | | |
| --- | --- | --- |
| Segment | Discount Plan | Premium Plan |
| Equity | 1x | 2x |
| Futures | 1x | 1x |
| Options | 1x | 1x |
| Currency Futures | 1x | 1x |
| Currency Option | 1x | 1x |
| Commodity | 1x | 1x |
| Commodity Option | 1x | 1x |
Tradingo Margin Policy:
• Square off all MIS positions before 15 minutes to market closing time which is necessary to save the auto square off charges levied by the broker.
• Maintain sufficient funds in your demat account if you want to convert your margin positions into delivery.
Tradingo Margin Calculator:
Tradingo margin calculator is an online margin calculator through which you can calculate SPAN margin, exposure margin, comprehensive VAR margin and premium margin required for trading in equity cash, futures and options. Margin calculator is available in the official website of Tradingo as well as inbuilt in the mobile application. It is very easy to use.
• Login into your account via official website or mobile application of Tradingo by using your mobile / desktop / laptop / tablet.
• In the footer of the website, click on margin calculator.
• Select your plan and desired segment where you want to trade in.
• Select expiry and number of lots.
• You will get the final result after filling of all the entities.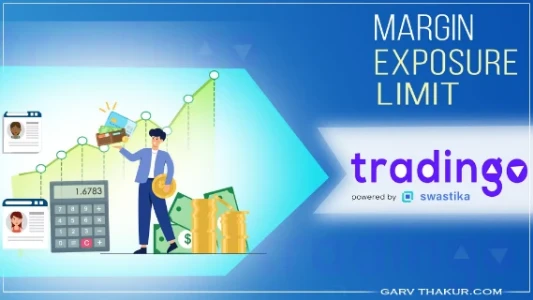 Comments for Tradingo Margin 2023| Exposure and Limit for Intraday and Futures
Frequently Asked Questions
---