Tradingo Consumer Complaints 2023 | Review, NSE/BSE and Details
Tradingo Complaints
Tradingo is a well-known discount broker of India, started its operation in 2016 and facilitate you to invest in BSE, NSE, MCX and NCDEX. Tradingo is a SEBI registered broker and a depositary participant of CDSL and NSDL. Tradingo offers to invest/trade in equity, derivative, futures, options, IPO, currency, commodity and mutual funds. This is a very transparent and diverse platform without any hidden charges. Tradingo offers instant online demat and trading account to resident Indians and NRIs living across any country. Tradingo is a very popular broker because of its ultra-fast and modern services. Tradingo has a motive to provide you world-class facilities so that you can increase your assets.
Tradingo is a very modern and technology-driven platform which is equipped with new features and a wide range of attractive facilities. Tradingo offers free trading software and tools on its platform which are equipped all the modern facilities to bring an unmatched trading experience for you. In a very short span of time, Tradingo becomes a market leader of brokerage industry.
Complaint against Tradingo:
Stock market is a very vast field of investment. Trading in stock market is totally a different experience but while trading in Indian brokerage industry through any broker, various types of different problem get generated from the broker's side which can be related to fund transfer, trading software, order execution, demat & trading account, leverage, account opening, NRI account, brokerage etc. Customers/clients used to register those complaints of Tradingo at national exchanges BSE and NSE. Those complaint reports are serious grievances against the full-service broker Tradingo which the broker has failed to resolve. This complaint data is provided by BSE and NSE and it shows overall health of Tradingo.
These complaint report also provides the details of the total no of active customers of Tradingo as well as it shows the growth of the broker year on year.
Tradingo Consumer Complaints:
Financial Year

Exchange

Number of Clients

Total Complaints

Percentage

2023-22

NSE

62,213

33

0.05%

BSE

11,690

5

0.04%

2023-21

NSE

54,093

40

0.07%

2019-20

BSE

8,952

5

0.05%

NSE

35,510

25

0.07%

2018-19

BSE

5,029

10

0.19%

NSE

26,940

29

0.10%

2017-18

BSE

9,405

4

0.04%

NSE

25,585

25

0.09%

2016-17

BSE

6,773

9

0.13%

NSE

17,486

35

0.20%

2015-16

BSE

5,654

5

0.09%

NSE

16,062

34

0.21%

2014-15

BSE

3,833

9

0.23%

NSE

12,148

15

0.12%

2013-14

BSE

37,655

16

0.04%

NSE

8,889

5

0.05%

2012-13

BSE

33,603

12

0.03%

NSE

31,515

5

0.01%

2011-12

BSE

31,498

4

0.01%

NSE

30,945

7

0.02%
Tradingo Complaint at NSE
| | | | |
| --- | --- | --- | --- |
| Entity | 2023-22 | 2023-21 | 2019-20 |
| Defaulter | No | No | No |
| Number of active clients | 62,213 | 54,093 | 35,510 |
| Number of complaints received | 33 | 40 | 25 |
| Resolved through the exchange | 30 | 36 | 21 |
| Non-actionable | 2 | 1 | 2 |
| Advised/Opted for arbitration | 0 | 0 | 0 |
| Pending for redressal with exchange | 1 | 3 | 2 |
| No. of arbitration filed by clients | | | 1 |
| Decided by arbitrators in favour of the clients | | | 1 |
| Decided by the arbitrators | | | 0 |
| Pending for redressal with arbitrators | | | 0 |


Tradingo Complaint at BSE
| | | | |
| --- | --- | --- | --- |
| Entity | 2023-21 | 2019-20 | 2018-19 |
| Defaulter | No | No | No |
| Number of active clients | 11,690 | 8,952 | 5,029 |
| Number of complaints received | 5 | 5 | 10 |
| Resolved through the exchange | 5 | 5 | 10 |
| Non-actionable | 1 | 0 | 0 |
| Advised/Opted for arbitration | 0 | 0 | 0 |
| Pending for redressal with exchange | 0 | 1 | 0 |
| No. of arbitration filed by clients | 0 | 0 | 0 |
| Decided by arbitrators in favour of the clients | 0 | 0 | 0 |
| Decided by the arbitrators | 0 | 0 | 0 |
| Pending for redressal with arbitrators | 0 | 0 | 0 |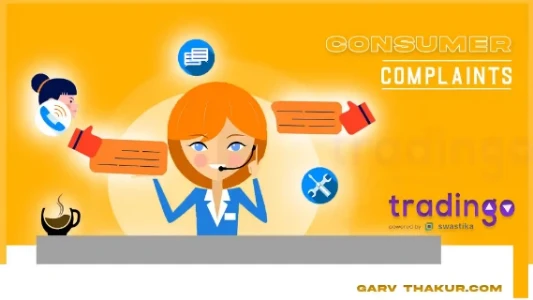 Comments for Tradingo Consumer Complaints 2023 | Review, NSE/BSE and Details
Frequently Asked Questions
---