Tradingo Demat Account Opening | Review, Charges, and Details
Tradingo Demat Account Review
A great investor once said that investing in stock market should be consist of 10% buying, 10% selling and 80% waiting. Patience and consistency are the two main ethics one should follow to increase the assets. Tradingo is a SEBI registered broker and offers to invest in equity, derivative, currency, commodity, mutual fund and IPO. Tradingo provide the facility to any Non-resident Indian (NRIs) to invest in Indian share market through its platform. Tradingo offers leverage and margin exposure in every plan for every segment which is quite beneficial for beginners and experienced traders. Tradingo is the depositary member of national organisation CDSL and NSDL, it provides depositary services and 2-in-1 account to its clients. Tradingo provide the facility to invest in US stock market and US companies such as Walmart, Tesla, Boeing, Amazon and many other companies. This discount broker offers two types of brokerage plan ; Discount Brokerage Plan & Premium Plan.
Tradingo offers many trading software and mobile application through which you can place your order from any place across India. One should choose Tradingo because of its transparent policy and ultra-modern features through which any trader can enhance their assets easily.
Tradingo Demat Account:
As a depositary participant of CDSL and NSDL, Tradingo offers depositary services on its platform. Tradingo offers 2-in-1 account to all traders/investors. With the help of Tradingo demat account, you can trade/invest in equity, derivative, currency, mutual funds and commodity. Demat account is an electronic account required if you want to trade in share market. Tradingo provide the facility to open demat account via both online and offline method.
Tradingo Demat Account Opening:
Tradingo offers 3 method by which you can open an account on Tradingo, you can choose any procedure, 3 types are as follows:
1. Online Account Opening (Instant Paperless Account):
Tradingo provides the facility to open eKYC and Aadhaar integrated instant online account in just few minutes. If you have already done your eKYC, then fill the online form and upload the scanned copies of original documents and start trading.
2. Get an Account Opening PDF Form:
You need to call in the given toll-free number available in the website and company's representative will assist and provide account opening form via courier or in your email id. You need to fill the form, attach the required documents and courier it to the company's office. You can also download the 'Account Opening Form' by visiting the 'Download' section of the official website of Tradingo.
3. Branch Visit:
Tradingo is registered with Swastika Investmart Limited. You can visit the branch office of Swastika which is available in 500 locations across India. Sales representative of the company will assist you on account opening process.
Tradingo Account Opening Charges
Tradingo does not charge any amount on opening of demat account on its platform.
| | |
| --- | --- |
| Account | Charges |
| Demat Account Opening Charges | Rs 0 (Free) |
| Demat AMC | Rs 250 annually |
Documents required to open an account on Tradingo:
Any individual should have following documents to open an account on Tradingo:
• Signature on a white paper
• Latest 6-month bank statement.
• Passport size photograph.
• Income proof (Required only if you want to trade in derivative segment).
Tradingo Demat Account Charges:
Various other demat transactions charges are as follows.
| | |
| --- | --- |
| Transaction | Charges |
| Demat Account Opening Charges | Nil |
| Account Maintenance Charges | Rs 250 (For individual); Rs 750 (For corporates) |
| Transaction Charges (Buy) | Nil |
| Demat / Conversion | Rs 2 per certificate or Rs 10 whichever is higher + Actual Postage Charges |
| Remat | Rs 2 per 100 shares or Rs 50 whichever is higher + Depositary Charges |
| Periodic Statement Request | Email: Free; Physical: Rs 20 per request/contract + courier charges |
| Non-periodic statement request | Email: Rs 10 per request; Physical: Rs 20 per request/contract + courier charges |
| DP charges for delivery sell orders | Rs 15 per scrip irrespective of quantity |
| Off-Market Transactions | 0.03 of Rs 25 whichever is higher |
| Delivery instruction booklet | First Booklet: Free; Every Additional Booklet: Rs 100 + Courier charges |
| Pledge creation / invocation / unpledge | Rs 25 per security |
| KRA Upload / Download | Rs 50 per request |
| Account Defreezing | Rs 100 |
| Client Details Modification | Rs 25 per request |
| Rejection of Demat request form | Rs 25 |
| Cheque Bounce charges | Rs 500 per bounced cheque |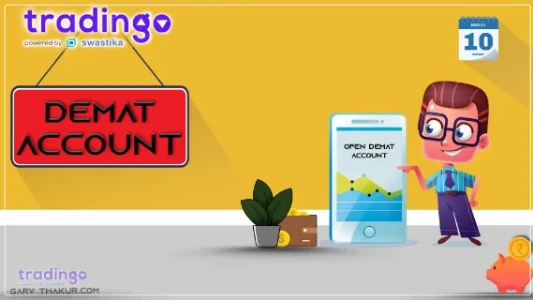 Comments for Tradingo Demat Account Opening | Review, Charges, and Details
Frequently Asked Questions
---