Stoxkart Auto Trender | Features, Charges, Platform and Details
STOXKART AutoTrender Review - Features and Details
STOXKART is a discount brokerage trading platform that empowers the traders and the investors by sharing its market expertise, latest advanced technology, and the opportunity to invest in mutual funds online. It offers various trading platforms on mobile, web browser and desktop to have an uninterrupted trading experience. Stoxkart AutoTrender New design provides a fantastic trading experience.
Stoxkart AutoTrender Charges
STOXART Auto Trender Price Details

Plans

Duration

Price

Savings

Discount

NAT350

4 months

₹6999

₹501

6.68%

NAT600

7 months

₹9999

₹5001

33.34%

NAT100

14 months

₹14999

₹15001

50%
After successfully purchasing any of the above Stoxkart AutoTrender subscription plan, Stoxkart AutoTrender login details will be sent to you via mobile no. or email.
Stoxkart AutoTrender Details
Stockart has introduced its best marketing tool named as Stoxkart AutoTrender by SMC. STOXKART Auto Trender best in decision making and it's designed by the professional traders in order to help the customers with fast and rich evaluation of market by Unique data analysis, automated tool, supporting charts and indicators. SMC STOXKART AutoTrender helps in-depth research tool offers several features and benefits that are useful for the Intraday or Positional trade analysis in order to increase your trading profitability and enjoy the positive results.
STOXKART Auto Trender login details will be sent to your after choosing any of the SMC AutoTrender subscription plan. There are nominal charges for Stoxkart AutoTrender and STOXKART Auto Trender reviews are good among users.
Features of Stoxkart AutoTrender
1. Automated Market Analysis: This tool provides its customers the direction of the market trends by the help of charts and indicators. It also helps in identifying the right sectors or stocks and provides information about entry and exit on the right price at the right time.
2. Frequent Data and Trend Update: This tool frequently updates data and market trends on your screen in order to make your trade more accurate.
3. Fast and Timely Machine: It predicts the market trends in live trading by providing a fast analysis in chart and table form and can be used for trading in Options and Derivatives.
4. Cover Multiple Segments: It covers the trends of multiple indexes like Nifty, Bank Nifty, Options and Segments like Equity, Future, Bullions, Metals and Agri Sector.
5. Trade accuracy: The tool provides better trade accuracy as it is based on widely used technical indicators or sector filtration on the financial market.
6. Easy Access: The customer can easily access this tool from any device like computer, tablet or mobile.
Stoxkart AutoTrender Benefits
1. The tool is useful for decision making of Intraday and Delivery trade.
2. It increases the customer's trade confidence.
3. It identifies all the profitable ideas for the customers.
4. It helps in minimizing the risk while trading.
5. It indicates the trends for future trading.
6. It checks the trend of stock performance from its live charts and indicators.
Conclusion
The Stoxkart AutoTrender is a unique trading tool that is based upon technical and quant research. It guides the customer with the fast and rich analysis of market in order to help the trader to make a smart trade. Its user-friendly feature proves to be a game changer for all the need of the customer. Overall, Stoxkart Auto Trender is helpful in fast, smart and rich evaluation of stock market. The tool mostly helps while trading in Intraday or positional trade. You can also watch Stoxkart Auto Trender videos on STOXKART Auto Trender YouTube by searching STOXKART Auto Trender video.
For any stoxkart Auto Trender query, you can contact on

1800-11-3331

. For Stoxkart Auto Trender download in any device such as stoxkart Autotrender for pc or stoxkart Auto Trender android or iOS, contact on

1800-11-3331

and then you can get Stoxkart Autotrender Installed.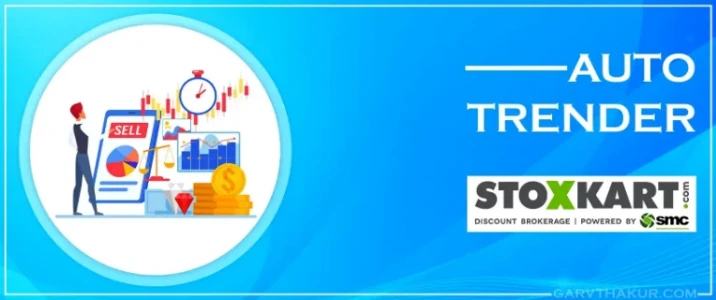 Comments for Stoxkart Auto Trender | Features, Charges, Platform and Details
Frequently Asked Questions
---