Sharekhan Demat Account, Find Opening Process, Charges and Details
Sharekhan Demat Account Opening Charges and Details
Sharekhan is one of the largest stock brokers in India and is ranked as 3rd among the most famous stock broker. It was incorporated in the year 2000 and provides its brokerage services by its website. Demat account in Sharekhan has grown immensely since last 10 years and now is considered as the leading stock broker of India. The stock broker provides its services to all kinds of customers that includes investors, traders, corporate, institutional and NRIs through sharekhan demat open online. Sharekhan account for NRI provides its trade execution facilities for the Equity Cash and derivatives segments on BSE and NSE, commodity facilities on MCX and NCDEX.
Opening demat account in India
Online demat account India is considered as the finest investment portal for the Indian Stock market. It is a well-designed website that provides a broad range of investment options, share market news, research reports, stock quotes, fundamental and statistical information across equity, mutual funds, IPOs and much more. Sharekhan demat account open online has redesigned its application by keeping the user requirements in mind. It provides the extensive feature for both the traders and investors alike. sharekhan demat account close online allows its users to start trading easily and keep track of the stocks and manage portfolios and all of it at one place.
This article will provide you details about how to open demat account in Sharekhan online? And Sharekhan demat account closure process and Sharekhan NRI demat account opening procedure.
Sharekhan demat account opening charges
The customer is required to pay Sharekhan account opening charges. The broker also charges an Annual Maintenance Charge (AMC), a yearly fee to maintain the demat account but Sharekhan is providing the demat account opening for free and the AMC charges fully adjustable against brokerage. Thereby allowing you to save up to 70% on brokerage. Charges for Sharekhan Demat Account.
| | |
| --- | --- |
| Service | Charges |
| Demat Account Opening Fee | ₹0 |
| Demat AMC | ₹400 (Free for 1st year) |
The AMC charges are zero for the basic demat account with a balance of up to ₹50,000. Those who have holdings of Rs. 50,001 to 2 lakhs have to pay anything from ₹100 to ₹750, depending on the transaction customer makes.
Sharekhan demat account review
Sharekhan India is a very successful stock broker in India which has shown an incredible growth over the last 10 years. Sharekhan demat account online open has an excellent trading platform with the chain of franchises located in almost every part of India. It also has an international presence in UAE and Oman. It offers to open demat account online India for NRI. Sharekhan NRI account opening
How to use Sharekhan demat account?
Sharekhan demat account online Sharekhan provides a 2-in-1 account facility to its customers. This means trading and demat accounts can be opened and handled altogether at once. Review of Sharekhan demat account also provides prepaid and post-paid trading brokerage plans for a broad range of investors and traders. Sharekhan 3 in 1 account and demat account opening in Sharekhan has a simple process. Sharekhan demat account open offers you trading facility across different segments.
Sharekhan demat account benefits
1. NRI demat account Sharekhan manages your account online.
2. Open free demat account sharekhan transfers the securities online.
3. It provides the ability to manage the account simply by visiting the local branches.
4. Demat account Sharekhan provides seamless transactions between the trading and demat account.
5. Sharekhan demat account open provides the auto deposit of the dividends in the linked bank account.
6. It can link up to 5 demat accounts to a single trading account.
Sharekhan demat account opening documents
A certain list of documents required to open demat account in Sharekhan.
The document list is shown below:
2. Residence Proof- Aadhar card, Ration card, Passport, Driving License, Bank statement (Minimum 2 months old)
3. A cheque lead with name printed on it or 2 copies of the first page of passbook and the latest transaction entry with the latest bank statement.
4. Passport Size photographs.
6. Bank statement of last 6 months.
8. A form 16 copy in case of salaried individuals.
9. A net worth certificates duly certified by a Chartered Accountant.
How to open Sharekhan demat account online?
The account can be opened with Sharekhan by two methods i.e. Offline and Sharekhan trading account opening online. Both the methods are described below:
Sharekhan demat account opening process
The method for opening Sharekhan online demat account can also be called the "Request a call back" process. Sharekhan does not provide the submission of application forms and documents online.
Steps to open online demat account in Sharekhan are:
1. Visit the official website of Sharekhan.
2. Click on "Open an account".
3. Fill in your contact details to request a call back.
4. Sharekhan advisor will call you and guide you for further process.
After successfully demat account opened you can do Sharekhan demat account login.
Offline Method
How to open demat account in Sharekhan?
This is the traditional method to open Sharekhan demat account where you need to visit the Sharekhan's franchise or office.
1. Find a branch near your office and visit it.
2. The sales representative will guide you in opening the Sharekhan Demat account.
3. Ask the representative for a detailed demo of the services offered by Sharekhan before beginning the account opening process.
4. You can also call the nearest branch to fix the meeting with them.
Participate in Sharekhan demat account refer and earn programme to earn benefits by open Sharekhan demat account online for your friends and family.
How to add nominee in Sharekhan demat account online?
In order to add or change the Nominee in your Demat account, you will have to fill a Nomination form and submit along with a photograph of the nominee which has to be signed across. Signatures of the Account holders, nominee and two witnesses are also required in the form.
To know more about sharekhan demat account details and Sharekhan demat account no or Sharekhan demat account number and to download Sharekhan demat account opening form pdf visit the sharekhan website and sharekhan demat account yearly charges you can contact to 022-25753200 / 022-25753500.
How to close Sharekhan demat account online?
Sharekhan account cannot be closed online, over the phone, by online chat or by sending an email. For sharekhan demat account close online you need to fill the closure request form (paper-based) and submitting it to Sharekhan. Visit the local Sharekhan branch office.


Conclusion
Sharekhan is one of the most reliable stock brokers in the trading/investing industry. The customers can keep their fixed deposits as collateral for trading in the futures and options with the broker. The Sharekhan demat account provides seamless trading experience to its customers. Sharekhan open demat account online is beneficial for the budding investors as they can trade and learn the basics for the same by open demat account with sharekhan. Online demat account sharekhan offers a variety of stock market options along with the reasonable annual maintenance charges. It is built to suit the requirements and goals of the different clients to open a demat account in India.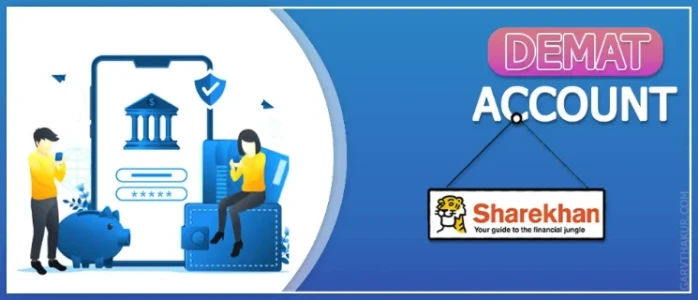 Comments for Sharekhan Demat Account, Find Opening Process, Charges and Details
Frequently Asked Questions
---