Sharekhan Account Opening | Process, Documents and Charges
Sharekhan Account Opening Process and Charges
Sharekhan is one of the largest stock brokers in India and has grown immensely since last 10 years and now is considered as the leading stock broker of India. It provides services to all kinds of customers that includes investors, traders, corporate, institutional and NRIs. It provides its execution facilities for the Equity Cash and derivatives segments on BSE and NSE, commodity facilities on MCX and NCDEX.
It is considered as the finest investment portal for the Indian Stock market. It is a well-designed website that provides a broad range of investment options, share market news, research reports, stock quotes, fundamental and statistical information across equity, mutual funds, IPOs and much more. It has redesigned its application by keeping the user requirements in mind. It provides the extensive feature for both the traders and investors alike. It allows its users to start trading easily and keep track of the stocks and manage portfolios and all of it at one place.
Account Opening Charges in Sharekhan
Sharekhan account opening charges and Sharekhan account Annual Maintenance Charge (AMC) is given below:
| | |
| --- | --- |
| Service | Charges |
| Sharekhan trading account opening charges (One time) | ₹0 |
| Sharekhan demat account opening charges (One time) | ₹0 |
| Sharekhan Trading Account AMC (Yearly) | ₹0 |
| Sharekhan Demat Account AMC (Yearly) | ₹400 (Free for 1st year) |
Sharekhan India Account Opening
Sharekhan provides a 2-in-1 account facility to its customers that includes Trading + Demat account opening in Sharekhan. It also provides prepaid and post-paid trading brokerage plans for a broad range of investors and traders.
The customer needs to hold a trading account with Sharekhan to trade in equity, Commodity or currency. To trade in equity, customers also require to hold demat account in order to start trading.
Sharekhan Account Opening Documents
List of documents required for Sharekhan account opening is given below:
2. Residence Proof- Aadhar card, Ration card, Passport, Driving License, Bank statement (Minimum 2 months old)
3. A cheque lead with name printed on it or 2 copies of the first page of passbook and the latest transaction entry with the latest bank statement.
4. Passport Size photographs.
6. Bank statement of last 6 months.
8. A form 16 copy in case of salaried individuals.
9. A net worth certificate duly certified by a Chartered Accountant.
Sharekhan Opening Account Procedure
The account can be opened with Sharekhan by two methods i.e., Offline and Online. Both the methods are described below:
Sharekhan Account Opening Online
The Sharekhan new account opening online method with the broker can also be called the "Request a call back" process. Sharekhan does not provide the submission of application forms and documents online for online Sharekhan account opening.
Steps to open account in Sharekhan online are:
1. Visit the official website of Sharekhan.
2. Click on "Open an account".
3. Fill in your contact details to request a call back.
4. Sharekhan advisor will call you and guide you for further process.
Sharekhan Offline Account Opening
This process is considered as the traditional account opening method where you need to visit the Sharekhan's franchise or office.
1. Find a branch near your office and visit it.
2. The sales representative will guide you in opening the Sharekhan Demat account.
3. Ask the representative for a detailed demo of the services offered by Sharekhan before beginning the account opening process.
4. You can also call the nearest branch to fix the meeting with them.
Conclusion
Sharekhan is one of the most reliable stock brokers in the trading/investing industry. The customers can keep their fixed deposits as collateral for trading in the futures and options with the broker. The Sharekhan account provides seamless trading experience to its customers. This is beneficial for the budding investors as they can trade and learn the basics for the same. It offers a variety of stock market options along with the reasonable annual maintenance charges. It is built to suit the requirements and goals of the different clients.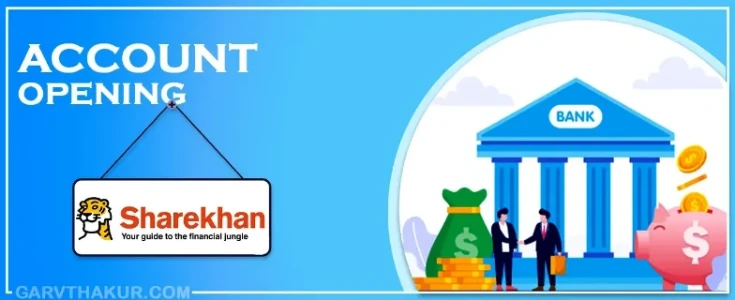 Comments for Sharekhan Account Opening | Process, Documents and Charges
Frequently Asked Questions
---