Religare Online Account Open 2023 | Process, Forms, Fees and Details
Religare Online Account Open Process, Forms and Fees
As an old broker of Indian brokerage industry, Religare always uses the formula of customer-centric approach which paved a successful route of company's progress in a very short span of time. Religare is the full-service broker of India, founded by Mr. Malvinder Mohan Singh and Mr. Shivinder Mohan Singh who was the former promoters of Ranbaxy and Fortis in 1982 as a financial service provider but very soon converted as a full-service broker of India. Since, the day Religare was established, it's regularly been into the market trend because of its excellent services. It is a SEBI registered broker and depositary participant of NSDL & CDSL. Religare demat account opening online allows their clients to invest or trade in NSE, BSE, MCX & NCDEX through Religare online app and provide the facility of PAN, TAN, TDS/TCS from the branch. On this platform, you can invest/trade in equity, derivative, mutual fund, IPO, currency, commodity, insurance and bond. Religare has a client base of 1.5 lakh+ clients around the globe. Religare securities ltd account details offer free demat account as well as any NRI across the world can open an account with Religare and trade in Indian share market through this platform by religare online trading login.
Religare has many advanced trading software to provide best trading and investing experience to their customers. One can easily open religare online demat account at Religare by following some simple steps. Religare is a very safe, secure, user-friendly and transparent platform. You can also invest through religare online ipo apply by using trading platforms to earn extra benefits and profits.
Religare Account Opening
Religare offers 4 methods by which you can open an account on Religare, you can choose any procedure as per your comfort, 4 types are as follows:
1. Religare Insta Account (Religare online account opening):
You can open Online Insta Account on Religare through eKYC process. Follow the below mentioned steps to open an account:
• EKYC Process – To pull the information from central KYC database, enter you PAN number and date of birth.
• Trading & product plan.
• Upload the required document.
2. Branch Visit (Offline Account Opening)
You can open Religare online trading account by visiting nearby branch of Religare and company's representative will assist you to open an account.
3. Customer Support Section
You may call on 18602588888 or write at wecare@religare.com and Religare online customer care will assist you on account opening process.
4. Company's representative visit at your home
You can also ask for company's representative visit at your home to open an account. You need to provide all the self-attested document to the representative. Religare online trading account login is safe and secure by which you can start trading easily.
| | |
| --- | --- |
| Account | Charges |
| Trading Account Opening Charges | Rs 0 |
| Trading Account AMC | Rs 0 |
| Demat Account Opening Charges | Rs 0 |
| Demat AMC | Rs.400 from second year onward |
Documents required to open an account on Religare
Any investor/trader need to attach following documents with the Religare account opening form:
• Address proof (Aadhar card / Passport / Driving License / Utility bills / Sale agreement)
• Bank account statement / passbook (Not more than 3 months old).
• Income proof (If want to trade in derivative segment) – ITR / Net worth certificate / Salary Slip or copy of Religare online kyc form16 / copy pf demat account holding statement (Not more than 3 months old).
• For equity accounts – Account opening cheque in favour of " RELIGARE BROKING LIMITED".
• For commodity accounts – Account opening cheque in favour of "Religare Commodities Limited".
Account Opening Status
If you have opted for online procedure, then you can track your account opening status by clicking the link 'Track your application' provided under support section. You may also take help from Religare online helpline through call on toll free number or visit at Religare near me office to know the account opening status.
How to close Religare trading account online?
Religare Account Closure form
To avoid AMC, you can close your Religare demat and trading account if you are not using it and still paying AMC but before account closure request, kindly make sure that:
• Transfer your holdings to another demat account.
• Close all your F&O positions.
• Clear all your dues with the broker.
Steps to Religare demat account close online
• Visit the nearby Religare branch.
• Fill, sign and submit Religare securities demat account closure form.
• Submit all the unutilized instruction slips and keep it safe.
• Take the follow up after 15 days to make sure the account is closed.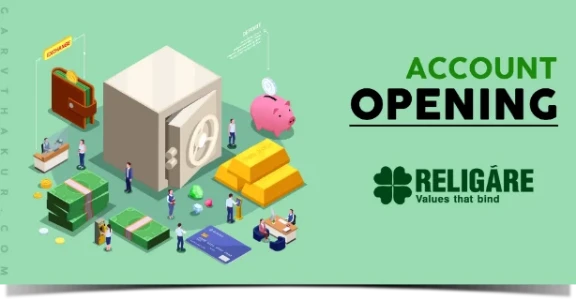 Comments for Religare Online Account Open 2023 | Process, Forms, Fees and Details
Frequently Asked Questions
---