Nirmal Bang IPO Review 2023 | Charges, Easy Steps to Apply Online
Nirmal Bang IPO Review - Charges, Easy Steps to Apply Online
One of the nicest things used to happen if you invest in share market is that it opens up all different aspects of the economy which is quite a large world. On Nirmal Bang platform, you can invest in NSE, BSE, MCX and NCDEX. Nirmal Bang facilitate you to invest in equity, derivative, mutual funds, currency, commodity, fixed deposits, NPS and IPO. This broker is the depositary participant of NSDL and CDSL and does not levy any charges on opening of demat and trading account. You can open an account by online method or you can call the company's representative to take the help on opening an account on Nirmal Bang. Any NRI around the world can open an NRI demat account with Nirmal Bang and trade in Indian share market. Nirmal Bang is one of the oldest platforms whose motive is to bring an unmatched trading experience for you so that you can generate wealth from the share market. You can also check Nirmal bang IPO research or reports on its website to select best IPO. Apart from it, you can view on Nirmal bang IPO online or open at present time.


Nirmal Bang group has its presence in 16+ Indian states with over 100000+ clients spread across the country. Nirmal Bang is a wide platform and always dedicated to provide you world-class services in a very affordable price.
What is an IPO?
IPO (Initial Public Offering) is the process in which shares of the company are sold to institutional and retail investors to list the national exchanges (BSE, NSE, NCDEX, MCX, MCX-SX etc.) for the first time and in this way, any company generates capital from the market to use to fulfil the corporate purposes or the repayment of company's outstanding or to enhance the company's process or to open a new branch etc. As per the expert's advice, investing in IPO is quite profitable. Any investor or trader can easily apply for an IPO and becomes a part of their favourite company.
Benefits of Nirmal Bang IPO
• Nirmal Bang provides online and offline method for IPO application.
• Nirmal Bang does not charge any additional amount for IPO application.
• 100% paperless IPO application facility.
• One can check the tentative IPO details on Nirmal Bang website easily.
• One can check the company's assets on Nirmal Bang platform before investing.
• Alert facility is available so that you can get intimation of any upcoming IPO.
• IPO Nirmal Bang no hidden charges.
"How to buy IPO in Nirmal Bang?" or "How to apply for IPO in Nirmal Bang?"
Nirmal Bang is a technology-driven platform but currently, does not provide facility to nirmal bang online IPO application. Application Supported by Blocked Amount (ASBA) is the facility through which any investor can apply for an IPO and it is available in the net banking of your respective bank account. Follow the below steps to Nirmal bang IPO apply using Net Banking and Nirmal Bang demat account:
1. Visit the official website of your bank and open net banking by using id or password or simply open bank' mobile application.
2. Under online investments sections, click 'Invest in IPO'.
3. Select your bank account.
5. Select the IPO from the list in which you want to apply.
6. Enter your Nirmal Bang demat account details and submit.
Note: During Nirmal Bang IPO application process, normal ipo price or bidding amount will get freeze at the moment in your bank account:
• If you will get the shares during allotment, then freeze amount will get deducted from your bank account and the allotted shares will be transferred to your demat account on the preferred date.
• Freeze amount will get unblocked, if you will not get shares while allotment process.
You will receive a confirmation message and email after completing your IPO application process in your mail id and mobile number.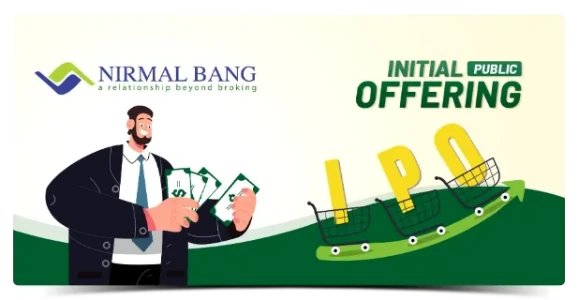 Comments for Nirmal Bang IPO Review 2023 | Charges, Easy Steps to Apply Online
Frequently Asked Questions
---