IIFL Securities Mobile App Review | Demo, Guide, Charges and Details
IIFL Securities Mobile App Review - Features, Demo, Download
IIFL Securities is a part of IIFL Group and was incorporated in 1996. It is among the largest independent full-service stock broker house that serves various retail and institutional clients. The IIFL group is the leading financial service provider in that provides a broad range of services such as an online trading and research-based advisory services for the complete range of financial products that includes Stocks, Derivatives, Commodities, Insurance, Mutual Funds, FDs, Loans, IPO and Bonds etc. The full-service broker has a broad network across India.
IIFL Securities Mobile App India is very famous among the retail investors and the traders for their personalized services by taking the help of Relationship Manager and the IIFL securities mobile app branches near you.
IIFL Mobile Apps
IIFL provides two mobile applications to its customers. Both of these IIFL securities mobile app free download is available.
1. IIFL Markets mobile app – It is a complete solution for all the trading needs of customers.
2. IIFL MF Mobile App- IIFL Securities App MF allows the customers to make investment and track their mutual fund investments at the finger tips. IIFL MF app provides easy and smooth mutual fund investing experience.
IIFL Markets Mobile App Review
This IIFL Securities mobile app trading is one of the best products of IIFL and serves excellent services to its customers. The IIFL has been awarded with five different awards for the services they offer in a user-friendly manner. IIFL Securities mobile app for android and IIFL Securities mobile app for iOS are available that allows the faster trading and provides an online access to its customers to the Equity, Derivatives, Currency and Commodity markets at NSE, BSE and NCDEX Exchanges. IIFL securities mobile app account has the same login credentials as of IIFL demat and trading account.
Features of the IIFL Market Mobile Application
1. IIFL market allows trading in Equities, Commodity, Currency and Derivatives.
2. It is a single platform that provides access to NSE, BSE, MCX and NCDEX.
3. Customers can apply for IPOs through this application.
4. It allows the creation of customized market watchlist.
5. It provides the detail dashboard for the indices, commodities and currencies.
6. It provides secure trading with MPIN based login.
7. IIFL Securities mobile app Web Login for free guest users is also available.
8. It has various advanced charts with the facility to draw, study and analyse.
9. There are price alerts and notifications on the latest news and IIFL ideas.
10. It provides free access to the research reports and trading tips.
11. It has a one tap customer support.
IIFL Securities Mobile App User Guide
IIFL Securities Mobile App Website and trading application supports and works seamlessly with both the IIFL Securities mobile App Android and iOS- based smartphones. IIFL Securities mobile app account login can be done using your IIFL securities account login credentials. If you do not have IIFL Securities account, you can easily open you account as IIFL Securities Price of Account opening is Zero. The majority of IIFL Securities trading volumes comes from this application. IIFL Securities mobile app download can be done Google play store and Apple app store. Same backend works in all the trading platforms so that the customers can switch in-between at any time
Also, IIFL Securities mobile app web version is available for the customers. IIFL securities mobile app charges are nil as it is available for free to all the IIFL Securities customers along with the other popular IIFL trading platforms. IIFL Securities mobile app algo services is also provided by them via IIFL securities algo mobile app BLAZE.
IIFL Markets Mobile App Demo
Users can check the IIFL securities mobile app working as it provides guest user login facility as well. Check IIFL securities mobile app view or IIFL securities mobile app demo below.
You can also find IIFL Securities mobile app tutorial on YouTube as well. For any complaints, users can contact on IIFL Securities Mobile App Email Address i.e.,

cs@indiainfoline.com

and IIFL Securities Contact Number is

1860-267-3000

.
Benefits of IIFL Markets Mobile App
IIFL Securities mobile app platform is very user-friendly application that offers broad range of benefits to its users. IIFL securities mobile trading app benefits are given below:
1. It is all-in-one solution to fulfil all the trading needs.
2. It provides the free access to research reports and helps them to make the right call on their investments.
3. It provides instant access to various Intraday charts and live indices.
4. It provides the faster and convenient trading at finger tips.
5. It can track order history with ease.
6. It provides the facility to cancel and modify the order.
7. It has a paperless IPO/OFS application.
What is missed in IIFL Markets Application?
It has multiple features that allows the users to trade and track their investments hassle-free. Some of the features that are missing are: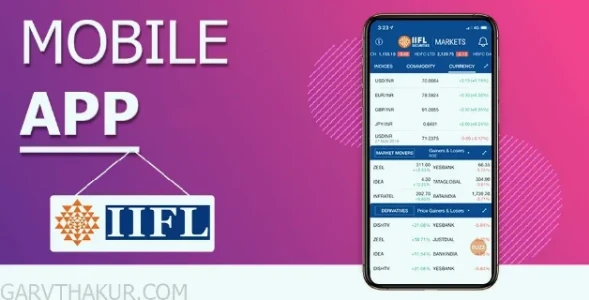 Comments for IIFL Securities Mobile App Review | Demo, Guide, Charges and Details
Frequently Asked Questions
---