IIFL Securities Margin 2023 | Exposure Limit for Intraday and Futures
IIFL Securities Exposure Review | Exposure and Margin Limit for Intraday and Futures
IIFL Securities is a part of IIFL Group and was incorporated in 1996. It's among the largest independent full-service stock broker house that serves various retail and institutional clients. The IIFL group is the leading financial service provider in that provides a broad range of services. It is the highly recognized brand for the quality of advice, personalized service and the usage of cutting-edge technology.
IIFL Securities Exposure List
IIFL Securities Exposure Update and Margin Limit as per IIFL securities exposure 2023 is given below:
| | |
| --- | --- |
| Segment | Trading Margin |
| Equity Delivery | 1x (100% of trade value) |
| Equity Intraday | 5x (Up to 20% of trade value) |
| Equity Future | 1x (100% of NRML margin (Span + Exposure)) |
| Currency Future | 1x (100% of NRML margin (Span + Exposure)) |
| Commodity Future | 1x (100% of NRML margin (Span + Exposure)) |
| Equity Options | 1x (100% of NRML margin (Span + Exposure |
| Currency Options | 1x (100% of NRML margin (Span + Exposure) |
| Commodity Options | 1x (100% of NRML margin (Span + Exposure) |
The full-service stock
broker has a broad network across India which also includes IIFL Securities exposure group. Its branches are spread across all the major cities and states. IIFL securities exposure rate is maintained by as per SEBI guidelines. IIFL Securities exposure effect on customers indicates that it is very famous among the retail investors and the traders for their personalized services by taking the help of Relationship Manager and the branches. IIFL Securities exposure Zero brokerage in Delivery trades. The Profit earned helps in maximizing the profit and minimizing the losses simply by putting a limit order and also stop-loss order at the same time.
IIFL Securities demat account provides additional margin facility to its customer that allows them to trade multiple times over the funds that are available in their account through an add-on product i.e., IIFL Trader Multiple. IIFL Securities exposure demat account charges for account opening is zero and IIFL Securities Exposure AMC charges is 250/- from the second year of account opening. IIFL demat account and IIFL exposure demat account is same.
IIFL Trader Multiple
This is a margin exposure product from the IIFL Securities exposure value provides the exposure to certain approved IIFL Securities exposure NSE Currency Futures, NSE/BSE Cash and NSE futures segment. Each trade needs to be placed with a Stop Loss order. IIFL Securities Exposure price to use IIFL trader multiple is zero.
The IIFL securities exposure online trading for trader provides multiple flexibility to its customers by taking positions in certain stocks and put stop-loss order at the same time to minimize the losses. IIFL Securities exposure scheme of IIFL trader multiple is explained below.
Features of IIFL Trader Multiple
1. This platform allows to take 15 times exposure on the available margin on the certain approved stocks (NIFTY 50) for intra-day with maximum range of 3%.
2. The customers can take an Intra-day position on various stock trader in Futures at just 50% of the required margin, with a maximum SL range of 2.5%.
3. The customers can take 25 times exposure on the Index Future. It means that the customer needs to pay 4% only.
4. For USDINR Contracts, in the currency segment it allows to take a position at only 50% margin (1.19%) whereas the exchange requirement is 2.38% with the maximum SL range of 0.85%.
5. It allows NSE Stock futures of Sensex 30 Scrips with 50% of exchange margin with a maximum SL range of 3%.
Steps to Place an Order using Trader Multiple
2. Select Trader Multiple Order present on the market menu.
3. Accept the terms and conditions to activate the "Trader Multiple" product.
4. Choose the Exchange, scrip and Buy/Sell option.
5. Now, put in the desired quantity i.e., based on the margin available and place the order.
IIFL Securities About Us: The full-service stock broker provides an online trading and research-based advisory services for the complete range of financial products that includes IIFL Securities exposure Stocks, Derivatives, Commodities, Insurance, Mutual funds, FDs, Loans, IPO and Bonds etc. IIFL Securities exposure to India and in India is quite known. Users can also visit the official website to calculate the accurate value of your trades using IIFL Securities Exposure Value calculator and IIFL securities exposure charges calculator.
IIFL Securities Exposure website updates about its Unique Offering of IIFL is the Equity or Commodity Broker and Research. Keep visiting us for any latest IIFL securities exposure offer. You can also visit IIFL Securities exposure YouTube.
IIFL Securities Exposure Customer Care number - +91-22-42499000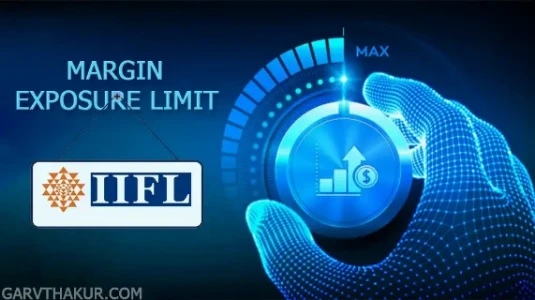 Comments for IIFL Securities Margin 2023 | Exposure Limit for Intraday and Futures
Frequently Asked Questions
---