Geojit Mobile App Review 2023 | Features, Demo, Details, Download
Geojit Financial Services Limited Mobile App Review - Features, Demo, Download
When it comes to transparency and robust platform for the investment, Geojit is one of the priorities of the traders as this broker is equipped with global features and provides world-class opportunity with a wide range of financial products on its platform. Geojit Financial Services Limited is a world-wide famous platform established in 1987 as a full-service broker of Indian brokerage industry. Geojit charges brokerage of 0.03% of total turnover which is quite low as compared to other full-service broker to trade in various segments such as equity, derivative, currency, commodity, mutual funds and IPO. Geojit Financial Services Limited Securities facilitate you to invest in NSE, BSE, MCX and NCDEX. As a SEBI registered and depositary member of CDSL & NSDL, Geojit financial services review offers free trading and demat account opening and lifetime zero AMC for all the resident Indians and NRIs.
This full-service broker is the one-stop solution for all types of your investment needs. Geojit Financial Services Limited Securities offers margin/exposure up to 6x leverage for equity intraday trading in more than 200 stocks. Geojit Financial Services Limited Securities offers many software and technical tools to resident Indians and Non-resident Indians (NRIs) so that you can invest and analyse easily. Geojit Financial Services Limited Securities has its branches in almost every district of India and most of the countries of middle east region of the world such as Bahrain, Kuwait, Dubai, Sharjah, Abu Dhabi, Al Ain and Muscat through franchisees, branches and sub-brokers.
Geojit Financial Services Limited Mobile Application
Geojit Financial Services Ltd reviews offers mobile application to resident Indians and NRIs living across the world so that you can place an order or analyse the market from any corner by using internet.
2. FundsGenie (Mobile-based mutual fund software)
SELFIE Mobile is a smartphone-based application equipped with modern technology and facilities to bring an unmatched trading experience for the traders. Any customer of the Geojit can place an order and analyse the market easily by using this application. One can trade and invest in equities, derivatives, currencies and mutual fund via this Geojit mobile trading app. You can log in to 'SELFIE Mobile' using your Geojit account's login credentials.
Geojit Financial Services Limited mobile app features of "SELFIE Mobile":
• User-friendly and clean user interface.
• Get real time market update.
• Trade across Equities, F&O, Derivatives, Currency and Mutual fund.
• Charts and tools for better technical analysis.
• Instant pay-in and pay-out facility.
• Get recommendations for Mutual fund investments.
• Create multiple market watchlist.
• Watch all your holdings.
• 24/7/365 customer care support in a single click.
How to Download SELFIE Mobile?
Geojit SELFIE Mobile app download is available for both Android and Apple mobile users. One can easily Geojit Financial Services Limited mobile app download 'SELFIE Mobile' from Google play store or App store for free.
FundsGenie is an Android Mobile Application especially designed for mutual fund investments from any place across the world. Any resident Indian or NRI client can use this software to invest in share market. It is a very user-friendly mobile app to make your mutual fund investing easier and better. This mobile app is only available for Android mobile users in Google Play Store. One can easily download "FundsGenie" Geojit Mobile app for free and invest in wide range of mutual fund schemes available on this platform.
Geojit Financial Services Limited mobile app features of FundsGenie:
• Paper less mutual fund investing.
• Select from 10,000+ mutual funds.
• Complete your KYC using PAN and Aadhaar.
• Get recommendation to make your investing decision better.
• Track your portfolio with real time update.
• Get Geojit investment ROBO.
• Instant fund transfer and withdrawal.
How to Download FundsGenie?
FundsGenie Mobile app is available only for Android users. One can easily download FundGenie mobile app from Google play store for free.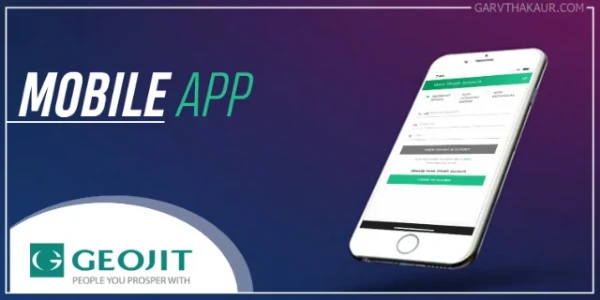 Comments for Geojit Mobile App Review 2023 | Features, Demo, Details, Download
Frequently Asked Questions
---