Edelweiss Demat Account Opening 2023 | Charges, Features and Details
Edelweiss Demat Account Opening Charges and Details
Edelweiss is a full-service stock broker that was incorporated in the year 2008. It is Mumbai-based full-service stock-broking firm. This company is the part of renowned Edelweiss Group which was incorporated in 1995 and is a leading diversified financial service company.
Edelweiss broking offers and facilitates its customers to invest and trade in almost all the major asset classes such as Equity Debt, Mutual Funds, IPOs, Currency Derivative, Commodities and Futures and Options.
The stock broking firm offers several investment advices that is backed by the research and analysis to the Edelweiss customers across the asset classes, trading styles and the time horizons. Edelweiss has the best array of the trading platforms that are available for all the mediums such as Mobile App, website and desktop trading software.
This stock broker has developed its strong presence across the India with more than 475 offices in almost 200 locations. It has developed 11,398 employees catering more than 12 lakh clients across various businesses.
Edelweiss Demat Account Opening
Edelweiss Broking is the depository participant of CDSL. The customers can open their demat account with CDSL through Edelweiss. The account is opened with CDSL and then it further holds the securities in the demat account. The broker acts as an Intermediary between the customers and the CDSL. An amount is charged by the broker to service the account. CDSL also charges a particular amount of fees with each transaction on the demat account.
The Edelweiss Broking DP Membership Info:
1. SEBI Registration number is: INZ000005231
2. Edelweiss DP ID: IN-CP-CDSL-314-2009
Documents Necessary for Open a demat Account with Edelweiss
A certain set of documents is required to open a demat account with Edelweiss. The documents required are listed below:
3. Cancelled Cheque or Bank statement (for latest 3 months) that must carry the IFSC code, MICR code and the account number.
4. Image of your signature.
5. Scanned copy of Passport size photographs.
Remember:

Additional documents are required in case you wish to trade in the derivative segments.
Demat Account Opening Procedure with Edelweiss
1. Click on the open a demat account option present in the top menu of the website.
2. Enter the personal details such as E-mail, PAN number, DOB for KRA verification procedure.
3. Next, enter your name, address and mobile number. In case, the customer is KRA verified then the information will be prefilled.
4. Move on by entering the details of the bank you are looking forward to link your trading account with.
5. Confirm further the brokerage plan.
6. Upload the documents and in case you face any issue in uploading document then you can send the documents via WhatsApp or E-mail.
Once after receiving the documents, a company representative will contact you to complete the IPV as per the KYC regulation.
Edelweiss Demat Account Opening Charges
In order to open a demat account with Edelweiss the customer is required to open the demat account opening charges. The broker may charge AMC, a yearly fee to maintain the demat account.
| | |
| --- | --- |
| Service | Charges |
| Demat Account Opening Fees | ₹0 |
| Demat AMC | ₹500 (1st Year fee) |
Edelweiss Other Demat Charges
Type Of Charge

NSDL & CDSL Charges

Edelweiss AMC charges

1st yr- Nil for all clients. (AMC)

2nd yr- Corporate ₹800/-p.a.

Other than corporate: ₹500/- p.a.

Demat Charges

₹50/- service charges(Per instruction)+ Courier/postage charges at actual

Remat Charges

₹50/- per certificate or ₹10 fee for every hundred securities or part there of whichever is higher + courier/postage charges at actual.

On Market/Intermediary/Off Market

Transaction Charges:

Each Credit Transaction- Nil

Each Debit Transaction- ₹25/- per ISIN

Pledge Creation

₹5 per ISIN + CDSL charges at actuals

Unpledge Creation

₹5 per ISIN + CDSL charges at actuals

Pledge Invocation

₹5 per ISIN + CDSL charges at actuals
Benefits of Opening an account with Edelweiss
It charges ₹0 to open an account online.
It provides free AMC for one year.
It offers the direct deposit of dividends, Interest, etc. in their demat account.
It provides the facility to manage the account online.
It provides a single account to make investments in Equity, MFs, Bonds and Insurance, etc.
It allows trading in multiple exchanges that includes BSE, NSE and MSE.
It provides the free investment advisory from the research team.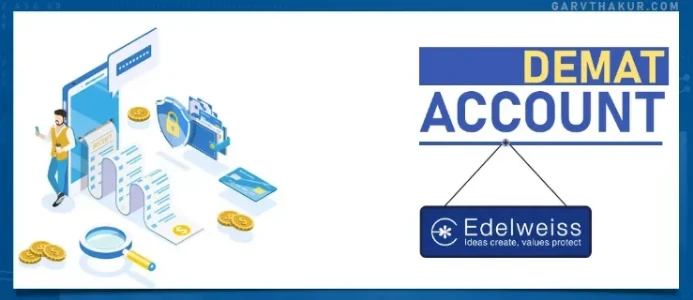 Comments for Edelweiss Demat Account Opening 2023 | Charges, Features and Details
Frequently Asked Questions
---