RMoney Margin Exposure | Review, Limit for Intraday and Futures
Raghunandan Money (RMoney) Margin / Exposure Review
Raghunandan Money (RMoney) is one of the top priorities of the beginners and experienced traders. RMoney margin offers you to invest/trade in equity, derivative, futures, options, IPO, currency, commodity and mutual funds across margin money NSE and Raghunandan Money is a very transparent and diverse platform without any hidden charges. margin money in exchange offers 3-in-1 account opening facility on its platform i.e. NSDL Payments Bank Account, Demat and margin money trading account. RMoney is a very popular broker because of its ultra-fast trading software and modern services. RMoney has a motive to provide you world-class facilities in an affordable price so that you can increase your assets.
Raghunandan money (RMoney) exposure review offers two types of RMoney brokerage charges plans i.e., Discount Brokerage Plan and Happy Service Plan. Under Discount Brokerage Plan, you need to pay fixed brokerage of Rs 18 per executed order in all the segments whereas in Happy Service Plan, you will pay variable brokerage in various different segments. with margin meaning it offers free trading software and a wide range of tools on its platform which are equipped with all the modern facilities such as customizable watchlist & charts, technical analysis tools, IPO alert option, real-time market data etc. margin money in derivatives is also available in now a days for its users.
| | | |
| --- | --- | --- |
| Segment | Margin | Leverage |
| Equity Delivery | 100% of trade value | 1x |
| Equity Intraday | Up to 20% of trade value | 5x |
| Equity Future | 100% of NRML margin (Span + Exposure) | 1x |
| Equity Option | 100% of NRML margin (Span + Exposure) | 1x |
| Currency Futures | 100% of NRML margin (Span + Exposure) | 1x |
| Currency Option | 100% of NRML margin (Span + Exposure) | 1x |
| Commodity Futures | 100% of NRML margin (Span + Exposure) | 1x |
Raghunandan money margin review
As per the SEBI guidelines, Raghunandan money (RMoney) margin review offers leverage and margin facility in almost all the segments except in equity delivery. Raghunandan money review allows you to trade more over the funds available in your demat account as it aims to increase your financial earning through margin money intraday trading. With the help of margin money stock market, any trader can buy unaffordable shares and, in this way, by trading more in the share market, one can enhance their assets in a very less time through margin money demat account.
Raghunandan money limit and leverage are interconnected to each other but margin is a kind of debt or loan which is generally required to open a position whe
re assets owned by an individual are considered as collateral for soliciting a loan from a broker whereas multiple of exposure to account equity is known as money margin amount required to do margin money trading in margin money stocks.
What is margin money in trading?
Exposure money meaning: In finance, cash exposure refers to the amount of money invested in a particular asset. margin money in stock market represents the amount that an investor could lose on an investment. Broker does not provide margin money for commodity trading and margin money for futures trading.
Net margin money definition: The net profit margin, or simply net margin, measures how much net income or profit is generated as a percentage of revenue. The net profit margin, or simply net margin, measures how much net income or profit is generated as a percentage of revenue. It is the ratio of net profits to revenues for a company or business segment. Net profit margin is typically expressed as a percentage but can also be represented in decimal form.
Raghunandan Money (RMoney) Margin Policy
• It is advisable for traders to square off all MIS positions before 15 minutes to market closing time otherwise you need to pay auto square off charges to the broker.
• It is allowed to convert your margin positions into delivery then you should have sufficient funds in your demat account.
How to calculator margin?
Raghunandan Money (RMoney) offers Raghunandan Money (RMoney) Margin Calculator or online margin calculator through which you can calculate span exposure, NRML margin, MIS margin, BO/CO etc. to trade in equity, equity future, commodity and currency. Margin calculator is available in the official website of Raghunandan Money (RMoney) as well as inbuilt in the mobile application.
RMoney margin calculator helps you to calculate a money market fund to calculate bank nifty margin money and also withdraw margin and withdrawal margin cash amount.
You can pledge the securities in your Demat account to trade futures and options. When you do so, the fund that you can withdraw from your account will be calculated after making the adjustments across the cash in your account and the collateral margin that is blocked for your overnight derivative positions held.
• Login into a margin account via official website or mobile application of Raghunandan Money (RMoney) by using your mobile / desktop / laptop / tablet.
• Open margin money calculator available at the home page of the website.
• Select your desired segment.
• Select the type of order, expiry date & quantity.
• In the last, click on calculate to get the result.
What is margin cash available?
Available Margin is the total amount of funds that you can use to trade in your account. When it comes to funds in your trading platform, the Available cash is defined as the closing balance of the previous day's ledger, brought forward.
If you are facing the issues liken my margin is negative or less margin funds margin for currency futures then you can read the upcoming margin money news on the trading app or contact to the customer care executive of RMoney.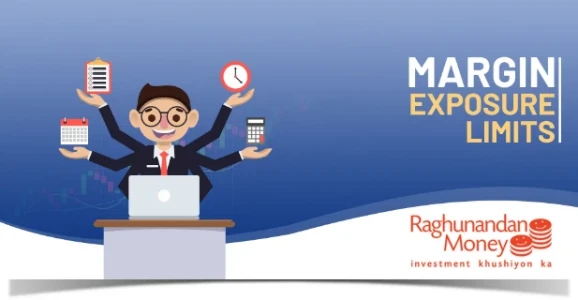 Comments for RMoney Margin Exposure | Review, Limit for Intraday and Futures
Frequently Asked Questions
---