Profitmart Brokerage | Charges, Demat Account, STT
Profitmart Brokerage Charges Review | STT and Transaction Charges
Profitmart Securities Private Limited is a broking house established in 2010. It focuses on improving the customer's profit with its best products, services and technology. It was formerly known as M3Multiple Securities Brokers Private Limited. With Profitmart, the customer can trade in Equity, F&O, Currency and Commodities. The organisation works as a franchise broking business with the sub brokers. It has local camps and bases in the form of franchise to increase its local visibility and add on to its client's base. The firm focuses on providing active support to the sub-brokers in client acquisition, product training, and business development.
It provides both the offline and online reach and delivery model for equity trading. It provides the user-friendly online trading platforms for the commodity sectors like bullion, base metals, energy and agriculture. Profitmart brokerage charges guide and Profitmart brokerage charges details is explained below.
Profitmart Brokerage Charges
Profitmart brokerage charges meaning - A customer has to pay commission i.e., brokerage at the time of buying or selling stock through Profitmart. This fees charged by brokerage firms is known as Profitmart Brokerage Charges. Thus, Profitmart brokerage charges per transaction is applicable. Profitmart brokerage charges and transactions and other charges are included in Profitmart trading charges. The Profitmart brokerage charges and fees for various segments are shown in the table of Plan wise Profitmart brokerage charges below.
| | | |
| --- | --- | --- |
| Segment | Traditional Plan | Discount Plan |
| Equity Delivery Trading | 0.30% | ₹20 per order |
| Equity Intraday Trading | 0.03% | ₹20 per order |
| Commodity Trading | 0.03% | ₹20 per order |
| Equity Futures Trading | 0.03% | ₹20 per order |
| Equity Options Trading | ₹50 per lot | ₹20 per order |
| Currency Futures Trading | 0.03% | ₹20 per order |
| Currency Options Trading | ₹50 per lot | ₹20 per order |
| Minimum Brokerage | 0.01% for Transaction | 0.01% for Transaction |
Profitmart Brokerage Charges Explained
This Profitmart brokerage charges basis depends upon the trading segment and Profitmart brokerage plan chosen by you. Profitmart brokerage reviews are good among users. Profitmart brokerage charges India is simple and charges normal brokerage fees with 2 Profitmart brokerage charges plans available for the customers as given in the above Profitmart brokerage charges list or table i.e.,
• Profitmart Traditional Brokerage Plan
• Profitmart Discount Brokerage Plan
While the charges in every segment such as Profitmart brokerage charges intraday charges etc. are different in Profitmart Traditional Brokerage Plan but brokerage charges of Profitmart in each segment in Profitmart Discount Brokerage Plan is same. Profitmart brokerage charges account opening of trading account in both the plans is zero. Profitmart brokerage charges login/ Profitmart broker charges login is same as Profitmart account login and after login, users can also check Profitmart brokerage charges working and Profitmart brokerage charges report. Profitmart brokerage charges calculator is available on its official website.
Profitmart Transaction and STT Charges
There are few other Profitmart brokerage charges with fees that are charged for stock market investment but these are very minimal charges. These other and Profitmart brokerage charges are small amounts and they do not affect the Return on Investment (ROI).
| | |
| --- | --- |
| Description | Charges |
| Transaction Charges | ₹20 per scrip |
| STT | 0.0126% of Total Turnover |
| SEBI Turnover Charges | 0.0002% of Total Turnover |
| Stamp Duty | Depends on State (Very minimal) |
| GST | 18% of Brokerage + Transaction charges) |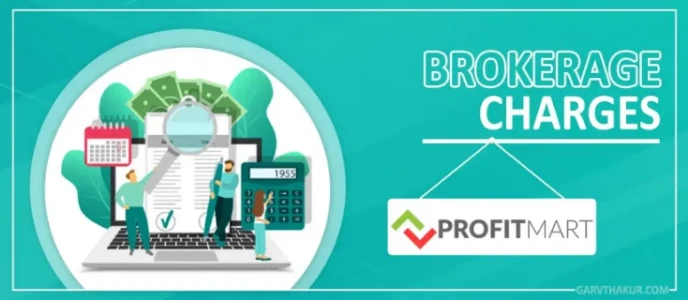 Comments for Profitmart Brokerage | Charges, Demat Account, STT
Frequently Asked Questions
---