Marwadi Shares IPO Review 2023 | Charges, Easy Steps to Apply Online
Marwadi Shares IPO Review - Charges, Easy Steps to Apply Online
Marwadi Shares is a full-service broker which was incorporated in the year 1992 by Marwadi shares and finance owner. It is a financial service firm that avails its broking services in various segments such as stock, commodity and derivatives through NSE, BSE, NCDEX and MCX. This broker has earned the experience of more than 20 years of experience in the capital market in different fields such as Equity Trading, Commodity, Currency Trading, and zero Marwadi shares demat account charges and no hidden Marwadi shares trading charges.
This broker also allows quick fund transfer through multiple mediums such as NEFT, RTGS and various other payment gateways.
Marwadi shares and stock brokers avails various investment opportunities in the Currency Futures and Options,
demat
services,
IPOs
, Research services, PMS, online trading, new pension scheme distribution, and various financial products such as Mutual Funds and insurance among others. The company focuses on meeting the needs of its retail and institutional clients. The company is in Rajkot, Gujrat and Marwadi shares Ahmedabad and Marwadi shares & finance private limited Indore Madhya Pradesh and has more than 90
branches
and 1450 channel partners.
Marwadi Shares IPO
IPO stands for Initial Public Offering. It's a process through which any private limited company becomes a public limited company. Through IPO a company gets listed in stock market for the first time. The stock broker offers IPO facility to trade their shares directly to the investors via Marwadi IPO application with zero Marwadi shares IPO charges.
The investors are generally categorized into three categories i.e. RIIs (Retail Individual Investors), NIIs (Non-Institutional Investors) and QIBs (Qualified Institutional Buyers). Each category of the investor id provided with fixed allotment quota of the shares.
Why an individual should start investing with Marwadi Shares?
The Marwadi Shares stock broker allows an individual and gives them a 360-degree idea, information of upcoming IPOs later on, you choose best time to sell IPO shares. It also provides details about their prospects, their valuation etc. For Marwadi IPO form download and to know Marwadi shares and finance dp id visit the official website.
Reasons for Marwadi IPO apply investment
1. Marwadi shares & finance limited provides the research advice on IPO.
2. IPO margin provides the easy and fast IPO application procedure.
3. Marwadi shares price timely updated on the IPO application status.
4. Marwadi IPO apply online has a user-friendly interface.
5. It avails its customers with the rational and timely advice from the research experts.
6. It has a very dedicated customer support services.
Unique Services offered by Marwadi Shares IPO
1. It provides the expert advice on IPOs by the experienced professionals.
2. It has a distribution and the collection of forms up to 7 PM.
3. It allows Marwadi shares IPO account for the IPO investors within a day.
4. It provides notification stating the allotment status of an IPO.
5. It also allows the customers to have telephonic enquiry of their demat balance.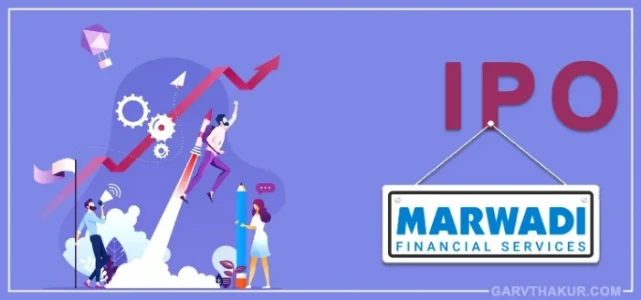 Comments for Marwadi Shares IPO Review 2023 | Charges, Easy Steps to Apply Online
Frequently Asked Questions
---