Marwadi Shares Consumer Complaints | Review, Enquiry, and Details
Marwadi Shares Consumer Complaints
Marwadi Shares is a full-service broker which was incorporated in the year 1992. It is a financial service firm that avails its broking services in various segments such as stock, commodity and derivatives through NSE, BSE, NCDEX and MCX. This broker has earned the experience of more than 20 years of experience in the capital market in different fields such as Equity Trading, Commodity, Currency Trading, etc.
This broker also allows quick fund transfer through multiple mediums such as NEFT, RTGS and various other payment gateways.
The company also avails various investment opportunities in the Currency Futures and Options, demat services, IPOs, Research services, PMS, online trading, new pension scheme distribution, and various financial products such as Mutual Funds and insurance among others. The company focuses on meeting the needs of its retail and institutional clients. The company is in Marwadi shares Rajkot contact number, Gujrat and Marwadi shares Mumbai and Marwadi shares Jamnagar has more than 90 branches and 1450 channel partners.
Marwadi shares complaints review
The Marwadi customer care complaint research provides the complete detailed report about the number of complaints that are received by the stock exchanges. The consumer complaint research report examines the data received digitally by BSE and NSE.
Marwadi shares complaints are the serious grievances that are recorded against the Marwadi Share broker by their customer that are unsolved. These complaints are then Marwadi shares complaints register by the various customers at the National Stock Exchanges. These complaints determine the number of active clients. In other words, it determines the health of the broker.
Marwadi shares customer complaints
| | | | |
| --- | --- | --- | --- |
| Exchange | Financial Year | Total Complaints | Active Clients |
| NSE | 2022-23 | 13 | 122,009 |
| NSE | 2021-22 | 8 | 125,410 |
| NSE | 2020-21 | 7 | 107,493 |
| NSE | 2019-20 | 6 | 86,709 |
| BSE | 2018-19 | 1 | 35,463 |
| NSE | 2018-19 | 8 | 89,537 |
| BSE | 2017-18 | 3 | 63,723 |
| NSE | 2016-17 | 7 | 53,712 |
| BSE | 2015-16 | 2 | 31,632 |
| NSE | 2015-16 | 4 | 33,442 |
| BSE | 2014-15 | 2 | 26,787 |
| NSE | 2014-15 | 4 | 26,598 |
| BSE | 2013-14 | 1 | 159,895 |
| NSE | 2013-14 | 2 | 22,385 |
| BSE | 2012-13 | 6 | 156,149 |
| NSE | 2012-13 | 8 | 130,338 |
| BSE | 2011-12 | 6 | 149,324 |
| NSE | 2011-12 | 7 | 127,959 |
MARWADI SHARES complaint at NSE
| | | | |
| --- | --- | --- | --- |
| | 2022-23 | 2021-22 | 2020-21 |
| Active Clients | 122009 | 125410 | 107493 |
| Complaints | 13 | 8 | 7 |
| Resolved through the exchange | 13 | 6 | 6 |
| Non actionable | 0 | 1 | 1 |
| Advised / Opted for arbitration | 0 | 0 | 0 |
| Pending for redressal with exchange | 0 | 1 | 0 |
| No. of arbitration filed by clients | | | |
| Decided by arbitrators in favour of the clients | | | |
| Decided by the arbitrators | | | |
| Pending for redressal with arbitrators | | | |
MARWADI SHARES complaint at BSE

| | | | |
| --- | --- | --- | --- |
| | 2018-19 | 2017-18 | 2015-16 |
| Active Clients | 35463 | 63723 | 31632 |
| Complaints | 1 | 3 | 2 |
| Resolved through the exchange | 1 | 3 | 2 |
| Non actionable | 0 | 0 | 0 |
| Advised / Opted for arbitration | 0 | 0 | 0 |
| Pending for redressal with exchange | 0 | 0 | 0 |
| No. of arbitration filed by clients | 0 | 2 | 0 |
| Decided by arbitrators in favour of the clients | 0 | 0 | 0 |
| Decided by the arbitrators | 0 | 0 | 0 |
| Pending for redressal with arbitrators | 0 | 2 | 0 |
Marwadi shares customer care support
If you have any issue or any query then contact at the below mention Marwadi shares customer care numbers:
• Marwadi shares contact number: 0281-6192000 /
• Marwadi customer care number: 0281-7174000
• Marwadi shares and finance customer care number: +91-281-7174000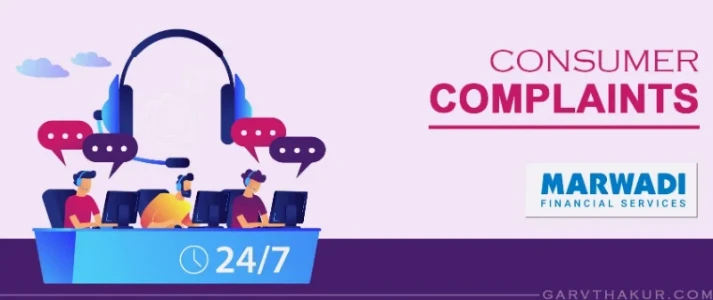 Comments for Marwadi Shares Consumer Complaints | Review, Enquiry, and Details
Frequently Asked Questions
---