Indira Securities NRI Account Opening, Charges, Services Review
Indira Securities NRI Account Review
Share market is the hub of money, only you need to understand the situation of the stocks and stock market. One should choose a technology-driven platform to invest in share market. Indira Securities is a famous and trusted brand of the Indian brokerage industry. Established in 1987 as a full-service broker of India, Indira Securities facilitate you to invest in NSE, BSE and MCX. Indira Securities Private Limited is the depositary member of both the exchanges CDSL and offers free demat account opening services in its platform. Indira Securities Private Limited has a very wide network as it is present in 350+ locations across India. It has 2 brokerage plans associated with this platform; Traditional plan and discount brokerage plan.
Indira Securities pvt. ltd is known for its attractive leverage facility through which you can buy unaffordable shares and trade more in the share market. Indira Securities pvt. Ltd facilitate you to invest in equity, commodity, mutual fund, insurance, structured products etc. The company offers many free trading software and tools which are equipped with many modern facilities.
Indira Securities NRI Account
To invest in Indian share market through Indira Securities, an NRI must have following accounts and certificate.
You should have a PAN Card as it is an important document required while opening a demat and trading account in India. If you already hold one then you don't need to apply for new PAN card. By using UTIITSL and NSDL website, you can apply for new PAN card by filling up 49AA Form and government will post the PAN card at the given address.
2. NRI Savings Bank Account
NRI needs to open NRE / NRO accounts with any designated Indian bank because Indira Securities IPO only offer 2-in-1 account services i.e. Demat and Trading account.
3. Indira Securities NRI Demat Account
NRI demat account holds your securities, stocks, bonds, mutual fund units etc while NRI savings bank account holds your money:
• Demat account with CDSL & broker acts as a mediator.
• Indira securities is same for both resident Indians and NRIs.
• Very secure to hold your securities.
• Direct credit of dividend & bonus to linked bank account.
• Link Indira Securities NRI demat account with your NRI savings bank account.
4. Indira Securities NRI Trading Account
Indira Securities offers NRI trading account through its membership with NSE and BSE. Key features of Indira Securities NRI Trading account are as follows:
• Call and trade facility.
• Real-time market analysis and charting tools.
• Access to research reports.
5. PIS Permission Certificate
To start trading in Indian stock market, an NRI should have PIS letter issued by SEBI and your bank will assist you on getting PIS letter.
Indira Securities NRI Account Charges
| | |
| --- | --- |
| Transaction | Charges |
| NRI Account Opening Charges | NA |
| NRI Account AMC | NA |
| Equity Delivery Brokerage | NA |
| Equity Future Brokerage | NA |
| Equity Option Brokerage | NA |
| Other Charges | NA |
Documents required to open an NRI account on Indira Securities
An NRI should have following documents to attach with the application form to open Indira Securities Indian NRI demat account. Application form is available in the official website of Indira Securities.
• 2 latest passport size photographs.
• Indian address proof – Bank passbook / passport (with VISA page) / driving license / electricity / telephone bill.
• Proof of depositary accounts.
• Overseas address proof: Driving licence / utility bills / rent agreement / bank statement (not more than 2 months old) or bank passbook / foreign passport.
Indira Securities NRI Account Opening Process
After getting NRI Savings Bank Account and PIS permission letter from SEBI, you can open NRI Account on Indira Web Securities by following given below steps:
• Open official website of Indira Securities
• Under download section, download 'Account opening form'.
• You can also contact the customer care representative to get the account opening form.
• Fill the form and take the print out.
• Attach all the required details with the form and send to the registered Indira Securities back office.
Indira Securities NRI Mutual Fund
Indira Securities provide the facility for NRI investors to invest in various Mutual Fund schemes. Some important features are as follows.
• 5000+ MFs offered by 30+ AMCs.
• Online performance tracker.
• Allow you to invest through lumpsum or SIP.
Indira Securities NRI Trading Software
Indira Securities offers free trading software which is same for resident Indians and NRIs and allows you to trade and analyse by using software.
1. IndiraTrade.in - Browser-based Trading Website
2. TradeInsta - Mobile-based Trading App
3. ODIN Diet - Installable Terminal
4. MF Planet - Mutual Fund Investment Software
Indira Securities NRI Customer Care
You can contact Indira Securities customer care executive via mobile number and email id.
Phone no.- +91 7970007870 / 07314797170
Email id- nridesk@indiratrade.com
Open Indira Securities Demat Account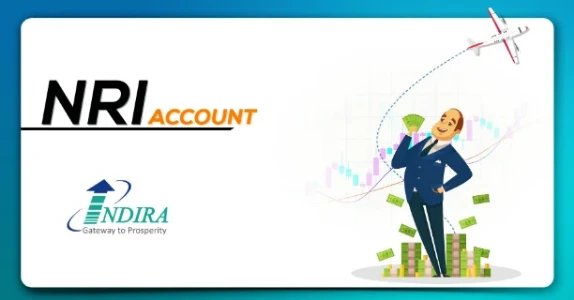 Comments for Indira Securities NRI Account Opening, Charges, Services Review
Frequently Asked Questions
---
Indira Securities Reviews