Flattrade Demat Account | Opening, Documents and procedure
Flattrade Demat Account Review | Charges and Procedure
Flattrade Trading Corporation is a Chennai-based discount stock broking company. It was incorporated in 2004. It offers zero brokerage fees to its customers once you open a demat account in India with Flattrade. It also provides the online Investment platform for Wealth Management through Mutual Funds.
Flattrade offers Demat + Trading account to the customers. Demat 3 in 1 account service is not offered by the Flattrade. It is holding a membership of popular exchanges like NSE, BSE and MCX. The firm is growing steadily for the past few years.
Flattrade Demat Account Opening Charges
| | |
| --- | --- |
| Service | Charges |
| Flattrade Demat Account Opening Fees (One time) | ₹0 |
| DDPI for Demat Account (One time) | ₹175 + GST |
| Flattrade Demat Account AMC (Yearly) | ₹0 |
Flattrade Demat Account Details
Flattrade Trading is a depository participant of CDSL. It allows the company to provide online demat account India to the customers. The stock broker facilitates its customers to open a trading and demat account at once with a company. Demat account holds the shares in an electronic form in Flattrade. Dematerialised account is commonly known as Demat account. To do any transaction in stock exchange, investor must have a demat account or demat stock account. Investor can open a demat account with the help of broker. Demat account makes your trading, investing etc. smoother and faster as well.
As per government guidelines, it is mandatory to have an India Demat account for trading along with a trading account. Flattrade offers NRI demat account in India services to the Indian Residents only which means it does not provide Flattrade NRI account opening facility to the NRIs. If NRIs wish to open demat account for NRI in India then they must have Indian residence proofs and Indian bank account.
Documents Required to open a Demat Account in Flattrade
A certain set of documents is required to open a demat account with Flattrade Trading. The documents require are listed below:
2. Address proof (Driving license, Ration card/ Aadhar card/ Latest telephone bill/ Latest electricity bill).
3. Passport size photograph.
4. Bank account statement of last 6 months.
5. Cancelled cheque with name printed on it.
Procedure to open a Demat account in Flattrade Trading
1. Visit the official website of Flattrade Trading and click over the "Open Demat Account". Fill the account opening form.
2. The Flattrade trading team will give a call back to the customer and then will further help you to complete the KYC forms from the official website of Flattrade trading website.
3. The investors need to carry their Aadhar Card, PAN Card and Bank details of themselves in order to open the contracts and account under Flattrade Trading.
4. Upload the scanned copies of all the documents.
5. Once the verification process gets over, then the login credentials are shared to the customer that can deal in stocks and other funds.
Conclusion
The Flattrade Trading grows at a very fast rate as compared to other discount broking houses. It is very good for the experienced traders as it provides various excellent advisory services. It provides account opening facility to its customer for free of cost but may cut a fixed amount once you add funds in it.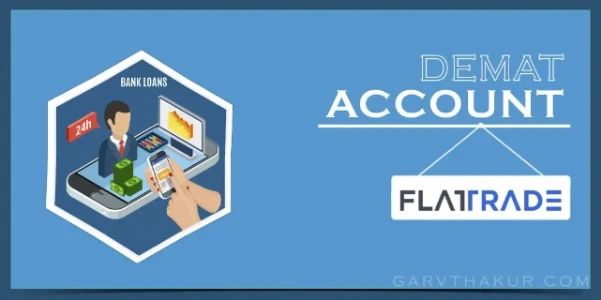 Comments for Flattrade Demat Account | Opening, Documents and procedure
Frequently Asked Questions
---