Enrich Mutual Funds Review 2023 | Features, Details
Enrich Financial Mutual Funds Review - Features, Details
Enrich Money is a company that helps people with their money and investments. It was started in 2013 by Mr. Ponmudi Radhakrishnan and offers different services for investing and trading. Enrich Financial Solutions Pvt. Ltd used to provide services under the name "Enrich Financial Services". Enrich Money is now a registered company with the National Stock Exchange (NSE), Bombay Stock Exchange (BSE), and Multi Commodity Exchange (MCX). enrich financial solutions pvt ltd also acts as a depository participant for Central Depository Services Limited (CDSL).
Investments are the crucial factor in achieving your financial goals with ease, comfort, and peace of mind. With numerous choices available in the crowded mutual fund market, it can be confusing to distinguish the best options. Mutual funds are a type of investment that includes different types of assets like stocks, bonds, government-backed schemes, gold, and fixed deposits.
Features of Mutual Fund Services by Enrich Financial Solutions Pvt. Ltd
The mutual fund services offered by Enrich Financial Solutions Pvt. Ltd includes the following features:
1.
Diversified Portfolio: Enrich Financial Solutions Pvt. Ltd helps investors build a diversified portfolio by offering a wide range of mutual fund options across various asset classes such as stocks, bonds, and commodities.
2.

Professional Fund Management:

The company provides access to professional fund managers who are responsible for making investment decisions on behalf of the investors. These experts aim to maximize returns and manage risks effectively.
3.

Investment Research and Analysis:

Enrich Financial Solutions Pvt. Ltd conducts thorough research and analysis on different

mutual funds

to provide investors with insights and recommendations. This helps investors make informed decisions based on market trends and performance indicators.
4.

Customized Investment Solutions:

The company offers personalized investment solutions based on investors' risk appetite, financial goals, and investment preferences. This allows investors to choose mutual funds that align with their specific needs and objectives.
5.

Convenience and Accessibility:

Enrich Financial Solutions Pvt. Ltd provides a user-friendly platform that allows investors to easily invest, monitor their portfolios, and track the performance of their mutual fund investments. This ensures convenience and accessibility for investors.
6.

Regular Updates and Reporting:

Investors receive regular updates and reports on the performance of their mutual fund investments. These updates include details on portfolio composition, returns, and any changes made by the fund managers.
7.

Investor Education and Support:

Enrich Financial Solutions Pvt. Ltd offers educational resources and support to investors, helping them understand the fundamentals of mutual funds, investment strategies, and market dynamics. This empowers investors to make better investment decisions.


How To Open a Demat Account Enrich Financial Solutions Pvt. Ltd To Invest in Mutual Funds?
To open a Demat account with Enrich Financial Solutions Pvt. Ltd and start investing in mutual funds, you can follow a simple process. First, visit the official website of Enrich Financial Solutions Pvt. Ltd or contact their customer service to inquire about the account opening procedure. They will provide you with the necessary forms and documents required for
account opening.
Next, you need to fill out the account opening form accurately, providing your personal details such as name, address, contact information, and PAN (Permanent Account Number) card details. You may also need to submit supporting documents such as proof of identity, proof of address, and passport-sized photographs as per the requirements.
Once the form is filled and the documents are submitted, Enrich Financial Solutions Pvt. Ltd will verify the provided information. This verification process may involve in-person verification or video-based KYC (Know Your Customer) verification.
After successful verification, you will receive your Demat account details, including the Demat account number. This account number is essential for holding and transacting in mutual funds electronically.
Once your Demat account is active, you can proceed to invest in mutual funds through Enrich Financial Solutions. They will provide you with access to their platform, where you can browse and select from a range of mutual fund options. You can review the fund details, historical performance, and investment objectives to make an informed investment decision.
To invest in mutual funds, you will need to provide the necessary details such as the fund name, investment amount, and investment duration. The funds will be debited from your bank account linked to the
Demat account.
Enrich Financial Solutions Pvt. Ltd will facilitate the purchase and sale of mutual fund units on your behalf, and the units will be credited to your Demat account. You can monitor the performance of your investments, receive periodic statements, and make additional investments or redeem your holdings as per your investment goals and preferences.


Conclusion
Mutual funds offer a convenient and diversified investment option for individuals looking to grow their wealth and achieve their financial goals. By pooling funds from multiple investors, professional fund managers can make strategic investment decisions to potentially generate returns over the long term.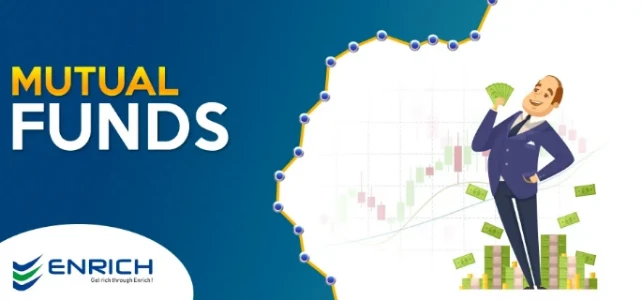 Comments for Enrich Mutual Funds Review 2023 | Features, Details
Frequently Asked Questions
---