Uma Converter Limited IPO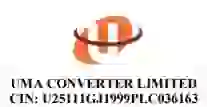 Uma Converter Limited IPO
Uma converter Limited was incorporated in 2000. UMA Converter has the leading manufacturer and exporter of quality Flexible Packaging Material offering the wide range of customized packaging solutions for various industries such as food, beverages, pharmaceuticals, personal care, and many more. They have state of the art manufacturing facility with highly sophisticated machinery. Their products are crafted of an extensive range of industry-approved materials such as polyethylene terephthalate, biaxially-oriented polypropylene, polythene, cast polypropylene, foil, paper, bio-degradable films, etc. Their Visions are to become an innovative, efficient packaging company to serve the Global.
• Mr. Abhishek Sumerraj Lodha
• Funding the Working Capital Requirements of the Company.
• General Corporate Purposes.
Financial Information of the Company:
Particulars

Amount in Lakhs (Rs.)

As on 31 Mar 2022

As on 31 Mar 2021

As on 31 Mar 2020

Total Assets

15,140.92

13,936.02

11,296.41

Total Liabilities

10,328.34

9,621.77

7,431.94

Net Profit

494.96

445.09

385.23
The offer:
Particulars

Shares Available for allotment

Issue Reserved for the Market maker

[.] Equity Shares

Net Issue to the Public

Allocation to Retail Investors

[.] Equity Shares

Allocation to other Investors

[.] Equity Shares

Net offer size

Up to [.] Equity Shares
Uma Converter Limited IPO Details
| | |
| --- | --- |
| Issue Open | 15 Dec 2022 |
| Issue Close | 21 Dec 2022 |
| IPO Price | ₹33 per equity share |
| Face Value | ₹10 per equity share |
| IPO Size | ₹18.41 Cr. |
| Listing At | NSE SME |
| IPO Lot Size | 4000 Shares |
Uma Converter Limited IPO Promoter Holdings:
| | |
| --- | --- |
| Pre-Issue Share Holding | 95.00% |
| Post-Issue Share Holding | 68.86% |
Uma Converter Limited IPO Schedule
1. Bid or Offer Opens on: 15 Dec 2022
2. Bid or Offer Closes on: 21 Dec 2022
3. Finalization of BoA: 26 Dec 2022
4. Initiation of Refunds: 27 Dec 2022
5. Credit of shares to Demat account: 28 Dec 2022
6. Listing Date: 29 Dec 2022
Uma Converter Limited IPO Lot Size
Market lot size of the All-E Technologies Limited IPO is 4000 shares. Minimum and maximum order quantity is as follows:
| | | | |
| --- | --- | --- | --- |
| Application | Lots | Shares | Amount |
| Minimum | 1 | 4000 | ₹132,000 |
| Maximum | 1 | 4000 | ₹132,000 |
| S-HNI(Minimum) | 2 | 8000 | ₹264,000 |
Uma Converter Limited IPO
Block No. 868, Near CNG Petrol Pump, Santej Road,
Village -Santej, Taluka - Kalol,
Gandhinagar- 382 721, Gujarat, India
Phone: +91 93 2710 3652
Email: cs@umaconverter.com
Website: www.umaconverter.com
Uma Converter Limited IPO Registrar Details:
Bigshare Services Pvt Ltd
1st floor, Bharat Tin Works Building,
Opp. Vasant Oasis, Makwana Road,
Telephone: +91-22-6263 8200
Email: ipo@bigshareonline.com
Website: www.bigshareonline.com
Frequently Asked Question