Arham Technologies Limited IPO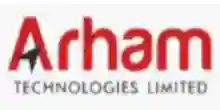 Arham Technologies Limited IPO
Since 2013 Leading Smart Television Manufacturer in India. Arham Technologies limited manufactures Smart Televisions leading the electronic manufacturing space in central India with its headquarters located at Electronic Manufacturing Cluster. Their clientele includes the domestic brands that they cater to as Original Equipment Manufacturers (OEMs). Their Vision is to be the preferred manufacturing partner to the brands operating across India.
They have also launched our "D2C" website www.starshine.co.in for their products which will increase their sales, profits, and brand value and also provide direct benefit to their end users. They are also listing their products on e-commerce platforms like Amazon and Flipkart etc.
• To meet the working capital requirements.
• To meet the Issue Expenses.
• General Corporate Purposes
Financial Information of the Company:
Particulars

Amount in Lakhs (Rs.)

As on 31 Mar 2022

As on 31 Mar 2021

As on 31 Mar 2020

Total Assets

2,314.27

1,542.22

977.71

Total Liabilities

2,314.28

1,542.23

977.71

Net Profit

56.51

203.76

302.01
The offer:
Particulars

Shares Available for allotment

Issue Reserved for the Market maker

1,14,000 Equity Shares

Net Issue to the Public

Retail Individual Investors

10,83,000 Equity Shares

Other than Retail Individual Investors

10,83,000 Equity Shares

Net offer size

21,66,000 Equity Shares
Arham Technologies Limited IPO Details
| | |
| --- | --- |
| Issue Open | 05 Dec 2022 |
| Issue Close | 07 Dec 2022 |
| IPO Price | ₹42 per equity share |
| Face Value | ₹10 per equity share |
| IPO Size | ₹9.58 Cr. |
| Listing At | NSE SME |
| IPO Lot Size | 3000 Shares |
Arham Technologies Limited IPO Promoter Holdings:
| | |
| --- | --- |
| Pre-Issue Share Holding | 100.00% |
| Post-Issue Share Holding | 73.05% |
Arham Technologies Limited IPO Schedule
1. Bid or Offer Opens on: 05 Dec 2022
2. Bid or Offer Closes on: 07 Dec 2022
3. Finalization of BoA: 12 Dec 2022
4. Initiation of Refunds: 13 Dec 2022
5. Credit of shares to Demat account: 14 Dec 2022
6. Listing Date: 15 Dec 2022
Arham Technologies Limited IPO Lot Size
Market lot size of the Arham Technologies Limited IPO is 3000 shares. Minimum and maximum order quantity is as follows:
| | | | |
| --- | --- | --- | --- |
| Application | Lots | Shares | Amount |
| Minimum | 1 | 3000 | ₹135,000 |
| Maximum | 1 | 3000 | ₹135,000 |
| Minimum | 1 | 6,000 | ₹252,000 |
Arham Technologies Limited IPO
Manufacturing Cluster, Sector
Nagarnava, Raipur - 492015,
Phone: +91 70697 66778
Email: cs@arhamtechnologies.co.in
Website: http://www.arhamtechnologies.co.in/
Arham Technologies Limited IPO Registrar Details:
Cameo Corporate Services Limited
Subramanian Building, #1, Club House Road,
Contact Person: Ms. K. Sreepriya
Telephone: +91-44-40020700, 28460390
Email: investor@cameoindia.com
Frequently Asked Question