iTradeOnline IPO Review | Steps to Apply Online, Charges and Details
iTradeOnline Initial Public Offering (IPO) Review
iTradeonline is the part of one of the oldest brokers of the Indian Share Market named as 'Trustline' which was founded by Dr. Mukesh Kansal in 1989 to provide the world-class facilities so that you can easily invest in the share market. iTradeonline facilitate you to invest in equity, derivative, mutual funds, currency, commodity, fixed deposits, sovereign gold bond, NPS and IPO. iTrade marketplace acts as a mediator between customer & depositary organization NSDL & CDSL and offers free demat and trading account. You can open an account by online method or you can call the company's representative on toll free number to open an account or you can write an email in the mentioned email id or you can visit the nearby branch of the company. iTradeonline is one of the oldest platforms whose motive is to bring an unmatched trading experience for you so that you can generate wealth from the share market.
iTradenetwork reviews has its presence in 400 locations across the states and union territories of India. iTrade technology provides free best IPO trading platform and tools which are equipped with modern & technical facilities. iTrade capital is a wide platform and always dedicated to provide you world-class services in a very affordable price.
iTradeonline IPO review
IPO initial public offering definition: an initial public offering is the process through which a private limited company get listed in the share market for the first time and becomes public limited company. As IPO is the best method to raise the capital by selling the shares to the investors. Generally, any company issues an online public offering as IPO to fulfill many financial purposes such as to meet the corporate goals, payment / repayment of outstanding borrowings and to enhance the business processes. For the first time, the company get listed in the national exchanges BSE, NSE, MCX, MCX-SX, NCDEX etc. iTradeonline IPO application is an online and simple process, you can easily apply for an IPO via UPI and ASBA process but you cannot buy IPO on margin. There is no extra iTradeonline IPO charge and for iTrade price you can visit to the iTradeOnline website.
How to apply for an IPO through iTradeOnline?
iTradeonline is a technology-driven digital platform but currently, it does not provide online facility to apply for an IPO on iTrade portal. You can apply for latest IPO offerings and any upcoming IPO's by using ASBA facility available in the net banking of your respective bank account and iTradeonline demat account which will hold your shares, securities and bonds.
Follow the below steps to apply for an IPO using Net Banking and iTradeonline demat account:
1. Login into the net banking of your bank account via website or mobile application
2. Under 'Online Investments' section, click 'Invest in IPO'.
3. Select your bank account and confirm the details.
4. You will get a list of upcoming IPOs, close IPOs and opened IPOs, select an IPO you wish to apply.
5. Enter your iTradeonline demat account details and submit.
Note: After submission of IPO (initial public offering) application, bidding amount will get freeze in your bank account:
• If you will get shares of company's IPO then Freeze amount will get deducted from your bank account and you will receive the shares in your iTradeonline demat account.
• During IPO allotment, if you will not get shares of the company then freeze amount will get unblocked in your bank account and you will receive the SMS and email regarding the same.
You will receive a confirmation message after completing your IPO application process in your mail id and mobile number.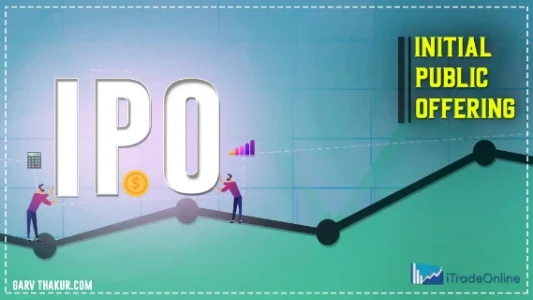 Comments for iTradeOnline IPO Review | Steps to Apply Online, Charges and Details
Frequently Asked Questions
---