SAS Online IPO Review 2023 (Apply Steps, UPI and Allotment Status)
SAS Online Initial Public Offering (IPO) Review
One must have a strategy before investing money in the share market. Investment without any strategy or plan is just like a tourist having no destination. To invest in the share market, SAS Online is one of the popular platforms of India which provides the facility to invest in NSE, BSE and MCX. SAS Online facilitate you to invest in equity, derivative, mutual funds, currency, commodity, fixed deposits, NPS and IPO. The broker offers various brokerage plans in its platform which you can choose as per your portfolio. It is a SEBI registered discount broker of India and a depositary member of NSDL. SAS Online is one of the oldest platforms whose motive is to bring an unmatched trading experience for you so that you can generate wealth from the share market and successfully meet your financial goals.
SAS Online provides free trading software and tools which are equipped with modern & technical facilities through which you can technically analyse the market. SAS Online pricing of software it is a wide platform and always dedicated to provide you world-class services in a very affordable price.
What is an IPO?
Initial Public Offering (IPO) is one of the best methods through which a company can raise capital to meet the corporate goals, payment / repayment of outstanding borrowings and to enhance the business processes. For the first time, after issuing an IPO, a private limited company get converted into public limited company and in this way, that company get listed in the national exchanges (BSE and NSE). Any investor or trader can easily apply for an IPO by using ASBA facility or UPI facility and becomes a part of their favorite company.
How to buy IPO SAS Online?
SAS Online is a diverse platform and offers a wide range of financial products but currently, it does not provide the facility of online IPO in its platform. By using ASBA facility available in the net banking of your respective bank account, you can apply for an IPO and mention SAS Online Demat Account details in the IPO SAS application form. SAS Online demat account will hold your shares, securities and bonds.
Follow the below steps to apply for an IPO using ASBA facility and SAS Online demat account:
1. Open your bank's mobile application or website.
2. Click 'Invest in IPO' under 'Online Investments Section'.
3. Select your type of bank account.
4. Validate and confirm all the details.
5. Select the IPO you want to apply.
6. Enter your SAS Online demat account details and submit.
Note: Bidding amount will get freeze right at the moment in your bank account:
• Freeze amount will get deducted from your bank account after IPO allotment and shares will be transferred to your demat account on the preferred date.
• In case, if you will not get shares during IPO allotment then freeze amount will get unblocked.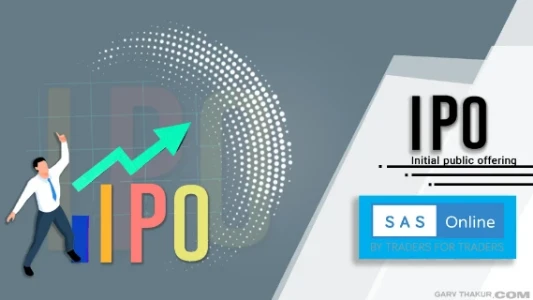 Comments for SAS Online IPO Review 2023 (Apply Steps, UPI and Allotment Status)
Frequently Asked Questions
---