SAS Online Account Opening | Process, Documents, Features and Details
SAS Online Account Opening Review
Stock market provides you an opportunity to earn a good amount of money by investing in the different financial segments. You can trade for a day only or you can invest for long time also, share market is the hub of the 'limited' companies. SAS Online was established in 1995 as a SEBI registered discount broker. Use SAS online to avail its variable brokerage plans through which any trader can invest according to their portfolio. SAS online access offers to invest in country's national exchanges such as BSE, NSE and MCX & in almost every segment such as equity, derivative, currency, commodity and mutual funds. SAS Online is a depositary participant of NSDL and offers demat and trading account to resident Indians or any person having Indian address proof & required documents. SAS Online is the technology-driven platform offers online demat and trading account opening on its platform.
SAS online nest login is a very secure and transparent platform as it does not share your personal and valuable information with any person without your consent. The broker is famous for its transparency, zero hidden charges and variable brokerage plans. SAS Online has an aim to facilitate you with modern technology so that you can enhance your percentage of profit at an enormous rate. SAS opening hours for its branches is mentioned on its website.
SAS Online Account Opening Charges
SAS Online provide the facility of demat and trading account in its platform and SAS online demat account charges are as follows:
| | |
| --- | --- |
| Account | Charges |
| Trading Account Opening Charges | Rs 200 |
| Trading Account AMC | Rs 0 |
| Demat Account Opening Charges | Rs 200 |
| Demat AMC | Rs 200 annually |
SAS Online Brokerage Plans
SAS online account opening offers 4 types of SAS online charges of brokerage plans which are as follows:
1. Rs 9 per trade plan: Brokerage of Rs 9 per executed trade or 0.01% whichever is lower.
2. Rs 999 Equity Plan: Unlimited trading in equity segment in just Rs 999 per month.
3. Rs 499 Currency Plan: Unlimited trading in currency derivative segment at NSE for flat Rs 499 per month.
4. Rs 1999 MCX Plan: Unlimited commodity trading at MCX exchange for flat Rs 1999 per month.
How to open account in SAS online?
By using mentioned below 3 steps for SAS online trading account opening, you can choose any procedure as per your convenience, 3 types are as follows:
1. Online Account Opening (SAS online free account)
Broker provides the facility for SAS online online account opening in just few minutes. You need to first open the website and click on 'Open Trading Account' available at the home page of the website.
2. Download PDF Forms
Official website of SAS Online > Download Section > Account Opening, take a print out of the account opening form and sign it at the required places.
free SAS online has their branches in many Indian cities. You can also locate the broker's branch by visiting the 'Contact us' section of the website. Any trader can visit the branch to open an account or to get the solution of the queries related to trading or stock market.
Documents required for SAS online account opening online
Any individual should have following documents to open an account on SAS Online:
• Signature on a white paper
• Latest 6-month bank statement.
• Passport size photograph.
• Income proof (Only to trade in derivative segment).
Note: For online account, you must have all the above documents in digital form / photographed / scanned.
Procedure to open an account at SAS Online
There are number of ways by which you can open your account at SAS Online. SAS Online offers you to open online demat account by uploading required documents:
• Visit official website of SAS Online or download the mobile application.
• Enter your name, email id, mobile number and click 'Open a trading account'.
• Enter the necessary information such as name, PAN number, date of birth.
• Now, verify the KYC from the central KYC registry.
• Validate the OTP received in your Aadhar linked mobile number to fetch your details from UIDAI.
• Attach all the required documents in the digital form such as PAN, Aadhaar, photograph etc.
• After confirmation of the ESigned form, your account will get opened.
• SAS online alpha login you can easily start your trading in different segments.
Offline Account Opening on SAS Online
You can also open offline SAS online demat account opening on SAS Online by following some simple steps:
• Visit the official website of SAS Online, Downloads >> Account Opening Forms, print & fill the form completely or You can also visit the nearby branch of SAS Online to open an account.
• Any person can call on the toll-free number given in the website to take the help while opening an account.
How to close SAS online account?
If you are not trading in the share market while having demat & trading account with SAS Online then you can choose for SAS online account closure or SAS online demat account closure
by following below steps but before this you have to follow below instructions:
• Transfer your shares, stocks, securities or asset to another demat account.
• Close your all F&O positions.
• Settle dues with the broker.
Steps to close SAS Online Account:
• Open official website of SAS Online.
• Download SAS Online Account Closure form
• Print and fill it completely.
• Attach self-attested required documents with SAS online account closing form
• Send it to SAS Online registered office.
SAS online customer care
If you have any query and issues related to SAS online account number than you can take online help from SAS online helpline customer executives at the following mention details:
1. SAS online contact e-mail id: support@sasonline.in.
2. SAS online customer care number: 01140409999
3. SAS online contact number: 01140409999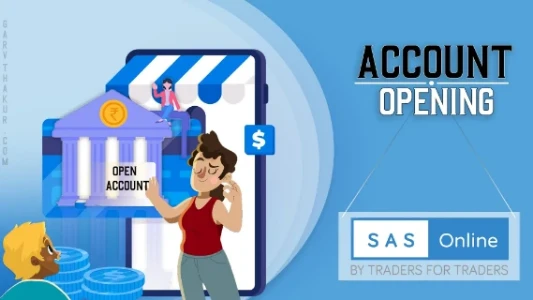 Comments for SAS Online Account Opening | Process, Documents, Features and Details
Frequently Asked Questions
---