Groww Margin Exposure | Limit for Intraday and Futures
Groww Margin/Exposure Limit for Intraday and Futures
Groww margin is the debt or borrowed money from Groww to purchase an investment. Groww margins is the difference between the total value of securities held in an investor's account and the loan account from the broker. From
groww margin details
Groww margin trading facility allows investors to trade many times over the funds available in their account. Gross margin software company
groww margin pledge
offers user-friendly platform with a wide range of facilities.
What is stock margin on Groww?
Act of borrowing money to buy securities is known as "Buying on Margin". Groww app margin trading facility is available for different margin trading platform like delivery margin in groww so, margin details in groww are mentioned below:
| Segment | Trading Margin |
| --- | --- |
| Equity Delivery | 1x (100% of trade value) |
| Equity Intraday | 5x (Up to 20% of trade value) |
| Equity F&O | 1x (100% of NRML margin (Span + Exposure)) |
| Currency F&O | 1x (100% of NRML margin (Span + Exposure)) |
| Commodity F&O | 1x (100% of NRML margin (Span + Exposure)) |
Margin trading on Groww or margin trading in Groww enables you to diversify your portfolio by trading across different segments.
How much margin groww gives for intraday?
Currently, Groww offers Margin exposure on equity Groww margin intraday trades as high as 5x margin on intraday trading Groww the funds available in your account. In this way, with the help of Groww Margin exposure facility, an investor can buy more shares and also customer can increase their gross exposure margin in stock exchange. No gross exposure margin or margin trading groww provided on Equity Delivery Trades. Margin in intraday trading groww makes trading easy for most of the brokers.
Understanding margin trading
Groww margin pledge or Groww margin funding facility is only available for Equity Intraday Trades. This leverage policy is transparent and very clear. Gross exposure meaning is using investment strategy of using borrowed or debt money.
Groww margin trading guide provides different margin limit for different stocks. It totally depends on the volatility of the stocks. Extent of margin is lesser for highly volatile stocks and extent of margin is higher for less volatile stocks. The maximum leverage provided by Groww for Intraday Trade is 5 times the funds available in the investor's account.
Leverage margin trading and groww margin charges
Being a coherent and transparent platform, for margin trading facility in grow it does not impose any groww stock margin charges for the leverage facility. But if the intraday trades are not squared off within the time limit by the investor/trader, Groww initiates auto square off and charges

₹

.50 per position for auto square off.
Groww stock margin calculator
Groww is a technical and electronic platform. Under the tools section, a margin calculator is available on the Groww's website. Investors/traders can use the Groww Margin/Leverage calculator to know the margin limit on your trade.
Groww futures and options margin calculator or Groww options margin calculator or Groww options trading margin calculator and gross trading margin calculator visit the groww official website.
How to read daily margin statement in groww?
Usually, stockbroker sends you several daily margin statement or groww margin statement Groww and various Groww stock margin withdrawal statements or groww margin statement reports etc to ensure transparency on your register email id. SEBI has instructed stockbrokers to send these documents, one such document is Daily Margin Statement (DMS). Groww always used to send gross margin on income statement or Daily Margin Statement (DMS) to the customers. This is a password protected statement and customer can access it by entering PAN as the password. With the help of this, investor can understand the margin amount utilized and how much margin amount is left for trade the next day.
How to pledge shares in Groww for margin?
Step 1: Open Groww Balance section and click on pledge balance.
You can also view access Pledge on Groww through your stock holdings.
Step 2: All the stocks for pledging available in your holdings will be displayed. Choose which stock you want to pledge and then click on the Verify Pledge button.
Step 3: You can edit the stock quantity you want to pledge.
Step 4: Click on the 'Verify Pledge Button' and after clicking, you will be asked for an OTP. On filling in the OTP, you will be redirect to another screen i.e. 'All Request'. You can check your pledge status in the order details tab.
There are several Groww benefits and Groww referral benefits if you refer your family and friends to groww. To get these read full terms and conditions for the refer and earn benefits on groww website.
Why stock margin is negative in Groww app?
If you are facing issue for my stock margin is negative in Groww app or Groww stock margin used is showing negative or gross margin negative then you need to deposit funds to your Groww account. If you have more queries about Groww app investment limit and margin required for option selling in groww or stock margin deducted in Groww app issues contact to groww customer care on groww website.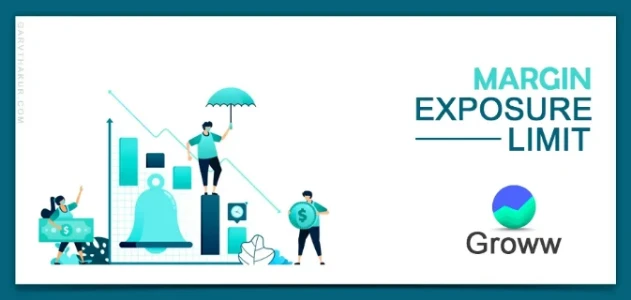 Comments for Groww Margin Exposure | Limit for Intraday and Futures
Frequently Asked Questions
---