Finvasia Demat Account | Review, Features, Charges, and Details
Finvasia Demat Account Opening Charges and Details
In the Indian brokerage industry, Finvasia is a brand that believes in quality rather than brokerage and AMC. As a popular stockbroker of India, it aims to provide world-class services in a very affordable price as it is one of the stockbrokers of India who does not take any brokerage fees from their clients. If you move from traditional broker to technology-driven Finvasia then you can save 90% of the commission paid to the broker.
Finvasia demat account online facilitate you to invest in equity, currency, commodity, mutual fund and IPO as well as it offers various financial services such as free demat & trading account with zero AMC, investment banking, algo trading, corporate demat & trading account etc. Finvasia brokerage charges are zero. Finvasia 3 in 1 account facility is not available and for Finvasia demo you can watch videos on You tube.
How much money required to open demat account?
It does not levy any Finvasia Account Opening Charges:
| | |
| --- | --- |
| Account | Charges |
| Demat Account Opening Charges | Rs 0 |
| Demat AMC | Rs 0 |
Finvasia Demat Account Charges
Various other demat transactions are as follows.
Transaction

Charges

Demat Account Opening Charges

Nil

Account Maintenance Charges

Individual – Rs 0 per year

Corporate – Rs 1000 + GST (Payable upfront per year)

Inter Depositary Transfer (off-market trades)

Buy (Receive) – Nil

Sell (Debit) – Rs 9 (Including CDSL free)

Demat (Per certificate)

Rs 15 + Rs 99 courier charges

Transaction Charges per ISIN (Market Trades)

Buy (Receive) – Rs 0

Sell (Debit) – Rs 9 (including CDSL free)

Remat (Per ISIN)

Rs 15 + Rs 99 courier charges

Pledge per ISIN

Rs 25 + NSDL charges

Unpledge per ISIN

Rs 25 + NSDL charges

Courier charges per demat/demat request

Rs 99

Pledge Invocation per ISIN

Rs 19

Periodic statements

Email : Free | Physical : Rs 99 courier charges

Adhoc/Non-periodic statement

Email : Free | Physical : Rs 5 per page + Rs 99 courier charges

Delivery Instructions

First Booklet : Free | Additional : Rs 99 for 10 leaves

Failed Transactions

Rs 49 per transaction

Check Bounce

Rs 299

Modification in client information

Rs 19 per request

Delay payment charges

2% per month on T+2 days

Demat Closure account

Nil
Finvasia demat account review
Finvasia is a fintech company based in Chandigarh offering financial services to 14 nations across the world including Australia, Brazil and United Kingdom. Finvasia virtual account is provided to every client. Finvasia account opening does not offer demat 3 in 1 account and for Finvasia bank details visit Finvasia website.
Online demat account India
Finvasia provide the facility to trade or invest in BSE, NSE, MCX and NCDEX from a single trading account. Finvasia is a proud member of CDSL and provides depositary services to Indians and Non-Resident Indians (NRIs) across the globe.
Finvasia account opening offers margin/exposure of up to 10x for equity intraday trading.
Benefits of Opening an Demat Account at Finvasia
Finvasia demat account opening offers some excellent benefits which are as follows:
• Finvasia Depositary Participant SEBI registration no. – IN-DP-317-2017.
• Finvasia DP ID with CDSL – 12084300
• Zero charges for Finvasia online account opening.
• Finvasia demat opening have Zero brokerage to trade in any segment.
• Finvasia demat account has Zero demat AMC.
• Open Finvasia account to get Margin/exposure facility.
• Technical analysis software and tools.
• Ultra-fast mobile app through which you can trade from any place.
• Automated trading facility.
• Brokerage and Margin calculators are available.
• Online & offline account opening facility.
• Free call and trade services.
• 24/7/365 online support.
• Live chat option available.
• Zero hidden Finvasia option trading charges.
How to open Finvasia account?
Finvasia offers you to open online 2-in-1 account by uploading required documents:
• Visit official website of Finvasia.
• Click, Finvasia open demat account and register your name, email ID and phone number.
• For E-KYC, enter your name, email id, phone number, PAN number and date of birth.
• Another step is to verify the information pulled from central KYC registry (KRA).
• To fetch your details from UIDAI, validate your Aadhar OTP.
• Now, electronically sign the account opening documents.
• After confirmation to the eSigned form, you account will get open.
• In some cases, you may need to attach few documents such as PAN card, photo, bank statement etc.
Finvasia tpin can be generated by following set of instructions:
• Go to your profile section in SHOONYA app, from there click on "Generate eDIS PIN".
• Once done, you will receive TPIN on your registered mobile number and email.
Whereas, if you are using eDIS on SHOONYA mobile, you will receive the TPIN while authenticating shares, on your registered mobile and email details.
What is the minimum balance for demat account?
Since demat account is used to store shares in an electronic format and not money there is no minimum balance that you need to maintain. Before going to open a demat account you need to learn about the different types of Finvasia demat charges applied to demat account.
What is dp charges in demat account?
DP charges in Finvasia are Rs 9+GST per scrip. These charges are applicable only when you sell your holdings shares.
How to close Finvasia demat account?
Please find below process of account closing:
1. Log in to your PRISM portal
2. Go to the "Services" tab from the left side.
3. Click on "Online Account Close" tab.
4. Fill up the details and submit.
5. Finvasia will check and verify your ticket.
6. After verification, you need to digitally e-signed your closing form by entering the Aadhaar OTP.
7. After the E-signed, your account will be closed within 7 days.
Finvasia customer care number
To know about Finvasia payin charges and Finvasia account opening status contact at Finvasia helpline number +911726750000.
Finvasia Open Demat Account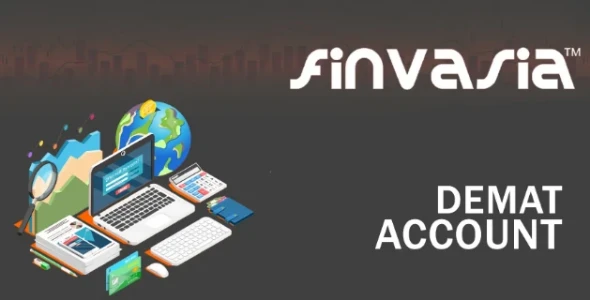 Comments for Finvasia Demat Account | Review, Features, Charges, and Details
Frequently Asked Questions
---