Finvasia Margin|List, Charges, Exposure Limit for Intraday and Futures
Finvasia Margin/Exposure Limit for Intraday and Futures
We should never depend on single income, make investment to create second source. Finvasia is one of the best stockbrokers of India which follows its own tagline 'Simply Commission Free' that means you don't need to pay any brokerage or commission to the broker. Incorporated in 2009 in Canada by experienced and Ex Wall Street bankers Mr. Tajinder Pal Singh and his brother Mr. Sarvjeet Singh who strongly believes that adding value to the products and services will have more meaning than charging brokerage. Finvasia provides financial services ranging from zero brokerage, zero demat & trading account opening, zero AMC and zero clearing charges. (Shoonya) Finvasia Margin is updated according to SEBI As it is a SEBI registered Foreign Institutional Investor (FII), Finvasia provide the facility to trade or invest in BSE, NSE, MCX and NCDEX from a single trading account. For calculating margin details you can use of Finvasia margin calculator. The company has its office located in Chandigarh (India). It has its presence in more than 14 nations including United Kingdom, Brazil, Australia China, Mexico etc.

Finvasia leverage plan charges and Margin List
Trading Margin

Equity Delivery

1x (100% of trade value)

Equity Intraday

5x (Up to 20% of trade value)

Equity F&O

1x (100% of NRML margin (Span + Exposure))

Currency F&O

1x (100% of NRML margin (Span + Exposure))

Commodity F&O

1x (100% of NRML margin (Span + Exposure))
How to open Finvasia Account?
Finvasia account opening process will take 5 minutes without any paperwork, you can open online account on Finvasia as well as you can also open account in Finvasia offline. Finvasia demat account charges are also zero.
Finvasia Exposure
As a depositary participant of CDSL, Finvasia margin trading offers free demat and trading account opening on its platform as well as it does not charge any Annual Maintenance Charge (AMC) in both the account. Finvasia equity margin provides leverage facility of up to 5x Finvasia intraday margin trading. Finvasia margin pledge service provided to customers for using Finvasia collateral margin. Finvasia offers a wide range of software and tools in a very affordable price such as ScalperT, Omnesys NEST, NSE Now, Symphony, Amibroker etc. Finvasia hedged margin provide for reducing risk of traders.
Finvasia Margin Pledge List of Charges
Pledge charges is 20rs + Transaction Charges.
Un-pledge charges is 20rs + Transaction Charges.
Finvasia Margin Calculator
Finvasia offers Margin Calculator which calculates the margin/exposure as the exposure margin required by the exchanges based on volatility of market. With the help of margin calculator, you can calculate the margin required for Finvasia option margin calculator and initiating a trade in the equity, futures & options, currency and commodity segments before trade. Also you can find details Finvasia order types in different segments. Finvasia MCX margin is 1time. You can check option selling margin and others through this Margin calculator is very beneficial when we wish to buy unaffordable shares by using leverage provided by the broker.
Conclusion
Nobody in this world can predict the exact price of any share but with the help of technical analysis, one can book maximum profit. Finvasia Margin funding facility is profitable but only if we have enough experience to understand how to use margin amount to increase the profit. Leverage amount is a kind of loan amount borrowed by the broker, so, one should have enough knowledge about risk added with margin as market is full of risk and uncertainties, anything can happen at any time but if we have fundamental & technical experience, we can manage any type of risk. Finvasia is always here to provide you best trading services with a wide range of different products and software available on its platform.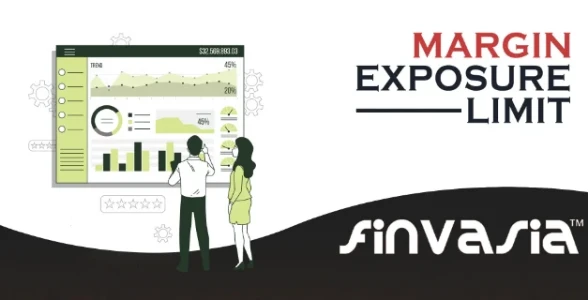 Comments for Finvasia Margin|List, Charges, Exposure Limit for Intraday and Futures
Frequently Asked Questions
---