Finvasia Brokerage Charges, Fees, Plan, Review, and Taxes 2023
Finvasia Brokerage Charges and Transaction Charges
Finvasia is the one of the leading stockbrokers of India which follows its own tagline 'Simply Commission Free', incorporated in 2009 in Canada by Ex Wall Street professionals Mr. Tajinder Pal Singh and his brother Mr. Sarvjeet Singh who strongly believes that financial services brokerage is an old-fashioned business so rather than imposing brokerage, we should add world-class qualities in the products and services that's why a brokerage firm offers financial services ranging from zero brokerage, zero demat & trading account opening, zero AMC and Finvasia zero brokerage. In 2011, Finvasia group was registered with SEBI as a Foreign Institutional Investor (FII) and inaugurated its headquarter in Mohali (Punjab). In 2013, Finvasia became the member of NSE and MCX. Later on, in 2015, Finvasia like brokers became the member of BSE and The Association of Mutual Funds in India (AMFI). In 2016, Finvasia was named among the 20 most promising banking solution companies by Silicon India.
In 2018, after approval from SEBI, Finvasia broker allows its clients to trade on BSE, NSE, MCX and NCDEX from a single trading account. Finvasia sub broker offers margin/exposure of up to 10x for equity intraday trading. Finvasia stock broker offers a wide range of software and tools for trading, technical & fundamental analysis such as ScalperT, Omnesys NEST, NSE Now, Symphony, Amibroker etc. Some software are free to use and some are chargeable. There are different Finvasia brokerage plan available for its users.
Finvasia Account Opening Charges
| | |
| --- | --- |
| Account | Charges |
| Trading Account Opening Charges | Rs 0 |
| Trading Account AMC | Rs 0 |
| Demat Account Opening Charges | Rs 0 |
| Demat AMC | Rs 0 |
Finvasia brokerage review
Here we have mentioned different Finvasia brokerage plans. Finvasia intraday charges or shoonya Finvasia brokerage charges for different segments are mention below:
While buying and selling of stocks, traders need to pay brokerage to the broker which can be variable from one broker to another.
• Futures – Equity / Currency / Commodity: ₹0
• Options – Equity / Currency: ₹0
GST: Charged at 18% of the total cost of brokerage plus stockedge brokerage charges.
SEBI Charges: quality financial brokerage charges is at Rs 10 per Crore.
Finvasia Demat Account Charges
Various other demat transactions are as follows:
Transaction

Charges

Demat Account Opening Charges

Nil

Account Maintenance Charges

Individual – Rs 0 per year

Corporate – Rs 1000 + GST (Payable upfront per year)

Inter Depositary Transfer (off-market trades)

Buy (Receive) – Nil

Sell (Debit) – Rs 9 (Including CDSL free)

Demat (Per certificate)

Rs 15 + Rs 99 courier charges

Transaction Charges per ISIN (Market Trades)

Buy (Receive) – Rs 0

Sell (Debit) – Rs 9 (including CDSL free)

Remat (Per ISIN)

Rs 15 + Rs 99 courier charges

Pledge per ISIN

Rs 25 + NSDL charges

Unpledge per ISIN

Rs 25 + NSDL charges

Courier charges per demat/remat request

Rs 99

Pledge Invocation per ISIN

Rs 19

Periodic statements

Email : Free | Physical : Rs 99 courier charges

Adhoc/Non-periodic statement

Email : Free | Physical : Rs 5 per page + Rs 99 courier charges

Delivery Instructions

First Booklet : Free | Additional : Rs 99 for 10 leaves

Failed Transactions

Rs 49 per transaction

Check Bounce

Rs 299

Modification in client information

Rs 19 per request

Delay payment charges

2% per month on T+2 days

Demat Closure account

Nil
DP charges in Finvasia
DP transaction in Finvasia charges are Rs 9+GST per scrip. These charges are applicable only when you sell your holdings shares. For more details about Finvasia leverage plans charges and Finvasia platform charges you can visit the Finvasia website.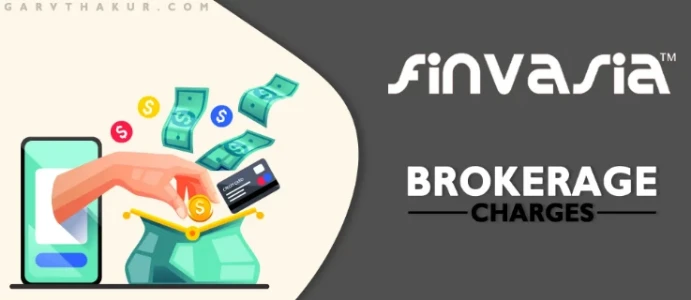 Comments for Finvasia Brokerage Charges, Fees, Plan, Review, and Taxes 2023
Frequently Asked Questions
---