Master Trust Review 2023 | Brokerage Charges, Margin and Details
Master Trust Review | Brokerage Charges, Account Opening
Master Trust is a discount brokerage firm that is a part of Master Trust Capital Services Ltd. This brokerage firm was incorporated in the year 1985. The Capital Services Limited is one of the leading financial firm company in India.
This Master Trust Group has entered to the discount brokerage business since August 2014. The Master group has initiated to offer both the flat fees each trade and the standard trading plans. The company has successfully earned and developed the PAN India presence holding the client base of 2,50,000 that covers more than 300 locations across the 22 states in India.
Here, are some of the unique features of this discount broker.
1. It has a single trading and back-office software for all the segments that includes Equity, Currency, and Commodity. It has a single login for the trading and back-office software that makes it convenient.
2. It offers various flexible feature where in the balance across the various segments i.e. equity, commodity, derivatives and currency can be used as one single balance.
Master Trust provides the two different plans to suit an individual's trading needs.
1. Per order executed- This trading plan provides the trading facility at flat ₹20 per trade irrespective to the size of the trade. The brokerage is charges as ₹20 per executed order. The company does not charge any amount for equity delivery. It allows trading at BSE, NSE and MCX stock exchanges in equity, commodities and the currency derivative segments.
2. Standard Brokerage Plan- This trading plan charges the brokerage on the percentage basis. The brokerage depends on the size of the trade and the investment segment as well. It charges 0.30% on equity delivery, 0.03% for equity Intraday, equity futures, and currency futures. The Equity and commodity options are charged at ₹75 per lot. The currency options are charged at ₹10 per lot.
Trading Software by Master Trust
An individual can trade in Master Trust by using three software which are:
1. Master Swift 2.0 (Installable Trading Software).
2. Master Mobile (Mobile Trading Application).
3. Master Web( Website Trading Platform).
Advantages of Master Trust broker
1. The broker has a very decent offline presence.
2. It has various multiple communication channels.
3. It provides a fantastic range of trading products.
4. It charges low brokerage from its customers.
Disadvantages of Master trust
1. The broker avails its customer with very less exposure or leverage to its customers.
2. They offer a two-in-one account and not the three-in-one account like other brokers to its customers.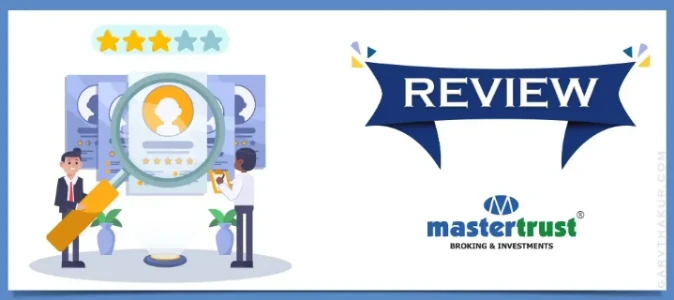 Comments for Master Trust Review 2023 | Brokerage Charges, Margin and Details
Frequently Asked Questions
---